Gilmore, Greenwood, Martin '14, Dottin '13 Attend Planetary Science Conference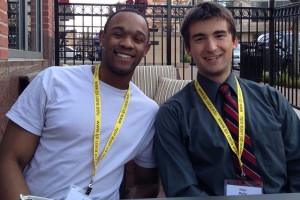 Two faculty, one student and one alumnus made paper presentations at the 45th Lunar and Planetary Science Conference in The Woodlands, Tex., March 17-21.
The Planetary Science Conference brings together international specialists in petrology, geochemistry, geophysics, geology and astronomy to present the latest results of research in planetary science. The five-day conference included topical symposia and problem-oriented sessions. During the conference, Marty Gilmore, chair and associate professor of earth and environmental sciences, presented a paper on the "Venus Exploration Roadmap to the Venus Exploration Analysis Group (VEXAG)" on March 20.
James Greenwood, assistant professor of earth and environmental sciences, presented "Hydrogen Isotopes of Water in the Moon: Evidence for the Giant Impact Model from Melt Inclusion and Apatite in Apollo Rock Samples," on March 19.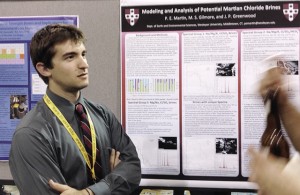 Peter Martin '14 presented his research on "Modeling and Mineralogical Analyses of Potential Martian Chloride Brines" on March 20.  Martin's travel to the conference was funded by a Connecticut Space Grant and a USRA Thomas R. McGetchin Memorial Scholarship Award. Gilmore is Martin's advisor.
James Dottin '13, who is currently a Ph.D. student in geology at the University of Maryland,  spoke on "Isotope Evidence for Links between Sulfate Assimilation and Oxidation of Martian melts from Meteorites MIL 03346, MIL 090030, MIL 090032 and MIL 090136" on March 21.  While at Wesleyan, Dottin participated in the McNair Program. Greenwood was Dotton's advisor.
Gilmore also presented a paper on "Are Martian Carbonates Hiding in Plain Sight? VNIR Spectra of Hydrous Carbonates," which was co-authored by Patrick Harner MA '13. Harner is a Ph.D. student at the Lunar and Planetary Laboratory at the University of Arizona. Harner completed this research while a student at Wesleyan.