Gilmore to Present Research before Film Screening in Hartford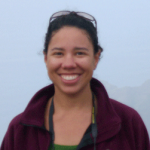 Marty Gilmore, associate professor of earth and environmental studies, will present her work with the MARS Rover missions on Tuesday, April 8 at the final Science of Screen of the year.
The monthly Science on Screen events pair local scientists with screenings of popular movies. Gilmore's presentation of her research will begin at 7 p.m. and will be followed by a screening of Mission to Mars.
Gilmore's primary research involves using images of the surface of Mars and Venus to interpret geological processes and history. For example, her research includes searching for clues regarding where and when there might have been water on Mars. She is also interested in the future of planetary exploration: how to bring back soil samples from Mars and Venus and using artificial intelligence to improve the capabilities of the Mars Rovers.
The presentation and screening will take place at Real Art Ways at 56 Arbor Street in Hartford, Conn. For more information, visit the website.