Roberts '15 Presents Psychology Research at Professional Meeting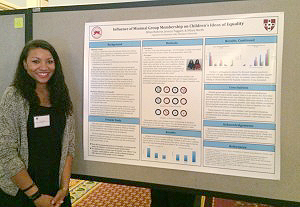 Jillian Roberts '15 presented a poster at the Annual Meeting of the Eastern Psychological Association in Boston, Mass. on March 15.
The poster, titled "Influence of minimal group membership on children's ideas of equality," is co-authored by Jessica Taggart, research associate and Psychology Department lab coordinator, and Hilary Barth, associate professor of psychology, associate professor of neuroscience and behavior.
Roberts developed the project herself and has conducted the research over the past two years.