Gruen Edits New Book on The Ethics of Captivity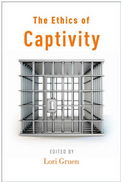 Lori Gruen, professor of philosophy, professor of feminist, gender and sexuality studies, professor of environmental studies, and coordinator of Wesleyan Animal Studies recently edited a new book, The Ethics of Captivity. The book explores the various conditions of captivity for humans and for other animals and examines ethical themes that imprisonment raises.  Chapters written by those with expert knowledge about particular conditions of captivity discuss how captivity is experienced.  The book also contains new essays by philosophers and social theorists that reflect on the social, political, and ethical issues raised by captivity.
One topic covered in many chapters in the book is zoos.  Gruen recently published on Oxford University Press's blog about the high-profile killing of a two-year-old giraffe named Marius by the Copenhagen Zoo because his genes were already "well-represented" in Europe's giraffe population. His body was autopsied in public and fed to lions. Those lions, an adult pair and their two cubs, were later killed to make room for a younger male lion that was not related to any of the captive female lions.
Gruen writes that while zoos were originally designed to entertain visitors, they have increasingly expanded their roles to include conservation and education due to the heightened awareness of endangered species and the danger of extinction. Zoos tend to place more value in the overall genetic diversity of a captive population than on the well-being of an individual animal. Gruen  suggests that seeing animals as disposable may undermine conservation efforts. That attitude towards animals is part of what has lead to so many wild animals to be threatened.  She reminds us that "Causing death is what zoos do. It is not all that they do, but it is a big part of what happens at zoos, even if this is usually hidden from the public. Zoos are institutions that not only purposely kill animals, they are also places that in holding certain animals captive, shorten their lives. Some animals, such as elephants and orca whales, cannot thrive in captivity and holding them in zoos and aquaria causes them to die prematurely."  Some of the chapters in the upcoming book explore how zoos affect animals in the zoos and the people who watch those animals.
Click here to learn more about the book or to purchase it.
Gruen also wrote a post on OUP Blog based on the book.