Wagoner's Book Explores Built Landscape of India's Deccan Plateau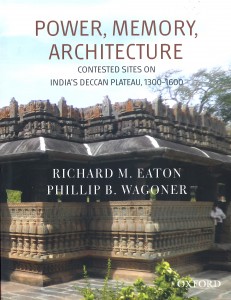 Professor Phillip Wagoner is the co-author of Power, Memory, Architecture: Contested Sites on India's Deccan Plateau, 1300-1600, published by Oxford University Press in March 2014. Wagoner is chair and professor of archaeology, professor of art history.
Focusing on India's Deccan Plateau, this book explores how power and memory combined to produce the region's built landscape, as seen above all in its monumental architecture. During the turbulent 16th century, fortified frontier strongholds like Kalyana, Warangal, or Raichur were repeatedly contested by primary centers—namely, great capital cities such as Bijapur, Vijayanagara or Golconda. Examining the political histories and material culture of both primary and secondary centers, the book investigates how and why the peoples of the Deccan, in their struggles for dominance over secondary centers, promoted certain elements of their remembered past while forgetting others.
The book also rethinks the usefulness of Hindu-Muslim relations as the master key for interpreting this period of South Asian history, and proposes instead a model based on parallel cultures of rulership grounded in different prestige languages, Sanskrit and Persian. Further, the authors systematically integrate the methodologies of history, art history and archaeology in their attempt to reconstruct the past, as opposed to the standard practice of using one of these methodologies to the exclusion of the others. The book thus describes and explains the interstate politics of the medieval Deccan at a more grass-roots level than hitherto attempted.