Roach '14 to Transform Abandoned Urban Land into Community Gardens as Project for Peace Recipient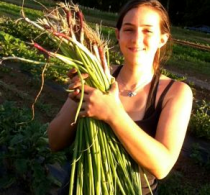 Four years ago, Jennifer Roach '14 co-founded Summer of Solutions Hartford, a food justice and youth leadership development program in Connecticut's capital. Since 2010, Summer of Solutions has grown to seven garden sites across Hartford, continuously working to "increase access to healthy food and community green spaces in Hartford by empowering young people as innovators in the food justice movement and providing them tools and opportunities to create solutions to food inequality in the city."
This month, Roach's organization was the recipient of a $10,000 grant from the Kathryn W. Davis Projects for Peace program. The Projects for Peace grant will allow Summer of Solutions to expand its nine-week summer program to a seven-month internship for youth interested in urban agriculture.
Now in the its eighth year, Projects for Peace is "an invitation to undergraduates at the American colleges in the Davis United World College Scholars Program to design grassroots projects that they will implement during the summer.
By funding the summer component of the Summer of Solutions internship, Davis will enable Roach and her team to amplify their impact in Hartford. Twelve garden interns will work alongside community members, maintain seven gardens, teach gardening and cooking classes, and come together weekly for a workshop series on food justice, sustainability and community resilience. In addition, they will partner with Capital Workforce Partners, a youth employment initiative in Hartford, to run a five-week Urban Farming 101 program for 10 high school students in July.

Roach explains that "by transforming abandoned urban land into valuable community resources, young people can work together to…cultivate safe, green spaces in our community. Training interns in leadership skills creates a ripple effect through the community, and building gardens in abandoned lots transforms the character of the street."
Four of the Summer of Solutions garden sites are located at elementary schools across Hartford. These use previously empty land to create natural educational spaces. Roach's team works with 350 students through summer school activities, and they expect to reach at least 600 students as they expand science programming through the school year.
"The students have a hand in every aspect of the garden, from planting to cooking the harvest. These classes provide a peaceful learning setting as an alternative to their daily activities. More than 40 percent of children in Hartford and 57 percent of the children in a neighboring Frog Hollow area live below the poverty level and suffer many barriers to healthy food. By integrating gardening into their school curriculum, we are creating a safe space for them to learn and a healthy food source."
The Zion Street Community Garden, built in 2011, is tended by about 70 community members.
"Before the Zion Street Community Garden was built, those lots were home to 6-foot tall weeds, garbage and hiding places for illicit activities. Now, we have 120 raised beds where our neighbors are growing healthy food, teaching their children how to garden and building relationships in their neighborhood," Roach said. "By opening up these vacant lots to the community, we built a welcoming space that has a vibrant presence in the neighborhood and discourages local crime. Our garden serves not only as a food source, but as a community gathering place, and green space for children."
With this Davis Projects for Peace grant, Summer of Solutions will be able to expand to new schools each year, soon engaging thousands of students in urban agriculture.
The Davis grant has been awarded to one or more Wesleyan students each year since 2007. Read about past Project for Peace recipients in these Wesleyan Connection articles:
Mfundi Makama '14 and Greg Shaheen '13
Kennedy Odede '12 and Jessica Posner '09
Tasmiha Khan '12
Robert McCourt ''08 and Nyambura Gichohi ''08
Jessica French Smith ''09 and Kudakwashe Ngogodo ''08 
To learn about the grants administered by the Patricelli Center for Social Entrepreneurship, visit www.wesleyan.edu/patricelli/grants/index.html.
(Story contributed by Makaela Kingsley)