Wesleyan seniors share their theses with the world on The Huffington Post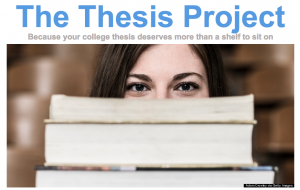 The Huffington Post is on a mission to share excellent student research and writing with a wider audience through "The Thesis Project." With the motto "Because your college thesis deserves more than a shelf to sit on," the project offers students an opportunity to share the fruits of their academic labor with a wide audience. Wesleyan is one of about a dozen schools partnering with The Huffington Post on the project.
The first four Wesleyan senior theses have been published on The Huffington Post site. Matt Donahue '14, a double major in psychology and neuroscience and behavior, writes about the struggle of psychology researchers to confirm the validity of their experimental findings, and the bogus "lie detector" device they developed to identify deceptive subjects.
For her thesis, Taylor Goodstein '14, a biology and neuroscience and behavior double major, interviewed people affected by mental illnesses and wrote about their daily struggles in hopes of "illuminat[ing] and rectify[ing] some of the stigma that is associated with neurological disease."
Oluwaremilekun "Remi" Ojurongbe '14, a psychology and government double major, wrote about portrayals of immigrants in the print news media in 1996 and 2013, during the deliberation/passage of immigration legislation.
And for her thesis, theater major Emma MacLean '14 used theater as an "experimental landscape" to explore the question "What does the disabled body look like?" She considered the portrayal of disabled characters in plays as old as Shakespeare's Richard III and as recent as John Belluso's The Rules of Charity (from the 2000s).
Check back as more theses are added to Wesleyan's collection.