Lefevre '14 Delivers Senior Class Welcome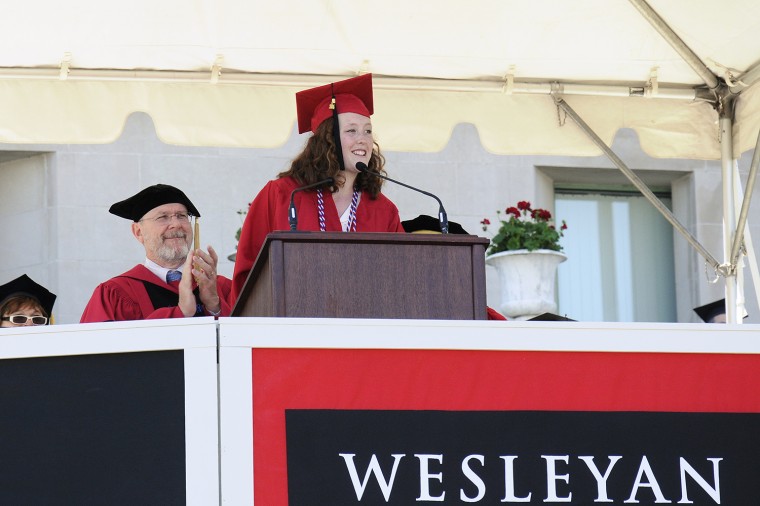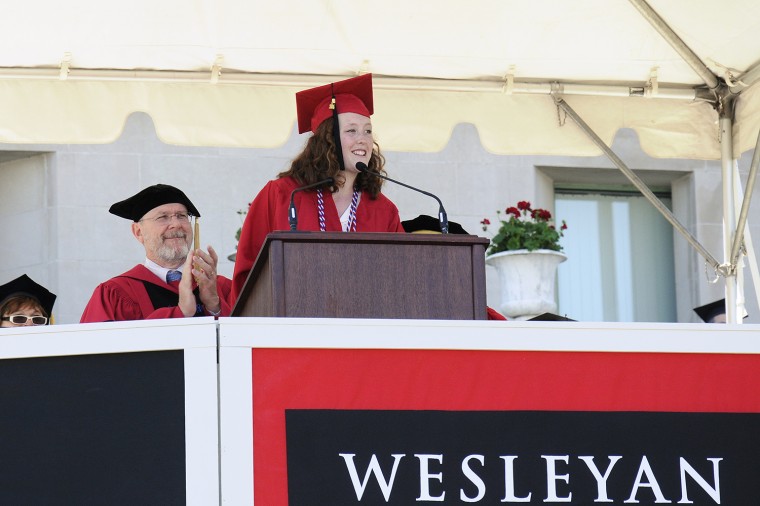 Manon Lefèvre '14 delivered the Senior Class Welcome at Commencement on May 25:
I want to talk about what it means to question. We are taught here at Wesleyan that we have a responsibility to challenge structures of power, to stand up for what we believe is right, to envision a better world for ourselves and for others. Brilliant ideas, challenging theories, and profound, radical ways of thinking thrive on this campus. I have learned more in my four years here than I could have ever imagined possible. And today, I am truly saddened to be saying goodbye to my community and leaving the place I have come to call home.
Still, Wesleyan as an institution is its own paradox, proud of its principles of inclusion yet inherently exclusive in nature. Being here is a privilege. Wesleyan as an institution permits structures of power to exist, and many of us encounter and live with that reality every day. It is impossible to deny that we have seen injustice during our four years here, from controversies surrounding sexual assault; housing policies; racial profiling; chalking; need-blind admissions policy; endowment investments; workers' rights; trans* student discrimination; and most recently African-American Studies, and many others. Some of these are battles we have lost, for now. I have asked myself whether I would be here today had the University put into place its need-aware policy four years ago instead of two, something I wish I didn't have to wonder. And I'm not alone; many of us here have had to prove others wrong in order to get to where we are today. Until we find a language and platform to honestly question why these systems continue to exist as an entire community, we cannot begin to make productive, genuine change.
Yet, today, as I prepare to say goodbye, I don't want to remember Wesleyan as an institutional power, because we all know that this place is so much more than that. Rather than feeling frustrated to think of the work that still needs to be done, I find myself overwhelmingly thankful to be part of a community that challenges what it believes to be wrong. Wesleyan is a place of joy and kindness and celebration and creativity, and, most importantly, of questioning. Instead of fixating on all that we know is unjust, we have proved that we have the power and voices to ask why these injustices exist, and more importantly to refuse to accept that they do. When the class of 2014 has met injustice, we have taken meaningful action: combatting sexual assault on campus, changing our food system and campus landscape, standing up for our workers, marching for need blind, sleeping on Wall Street, demanding divestment, supporting the rights of trans* students, and rallying behind African American Studies. Though we have been knocked down in the past, we have proved that we can get back up and think of solutions together. I am so grateful to my Wesleyan community, the people I have met, the teachers I have learned from, the ideas I have encountered, the movements I have seen grow, for showing me that we can only begin to accomplish anything if we first confront the very structures of power of which we are a part.
There is a spirit of resistance in this place, a unique and powerful solidarity, and I hope that it will only grow stronger as the world gets more challenging. It is necessary to see where injustice lives, and to understand our own culpability in it, in order to open new possibilities for change. There is still work to be done, here and everywhere. Yet, it is just as important to celebrate our potential to re-think the status quo, and our ability to remember that even in the face of adversity and defeat, things can be different if we decide to take action ourselves. Wesleyan is a very special place, and I will hold close to my heart all that it and you have given me. So let's take this day to celebrate all that we have taught each other, all that we have accomplished, and all that we will achieve if we keep asking the right questions.
Thank you for listening, and congratulations!