McAlister Teaches "Ethnography of Religion" Seminar in Haiti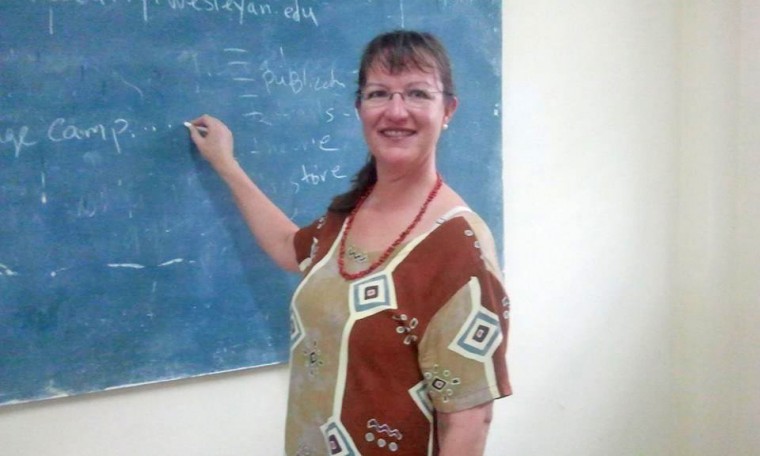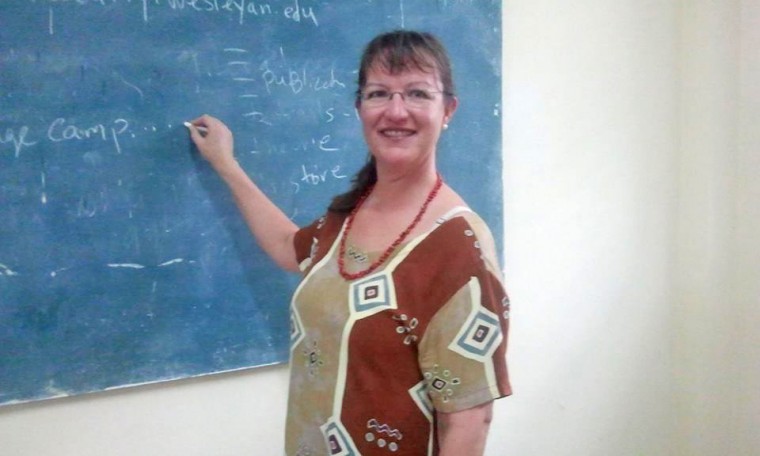 Professor Elizabeth McAlister recently presented a weeklong intensive seminar on the ethnography of religion at the Anthropology and Sociology Department, Faculté d'Ethnologie, at the State University of Haiti, Université d'Etat d'Haïti. McAlister is professor of religion, professor of African-American studies, professor of American studies.
Her seminar catered to Haitian university students who are training in field methods of ethnography of religion.
The seminar wrapped up McAlister's four-month study on "Understanding Aggressive Prayer Forms in Evangelicalism and Afro-Atlantic Religions."
Her research was supported by a grant from the John Templeton Foundation in "New Directions in Study of Prayer." Developed through the Social Science Research Council's program on religion and the public sphere, the funds support the academic ventures of 28 scholars and journalists on multidisciplinary aspects of prayer in a modern, global context.
While in Haiti, McAlister observed and interviewed both Pentecostal prayer warriors and Haitian sorcerers.
"I created the category 'aggressive forms of prayer' as a way to look at recent Evangelical Christian prayer that seeks to harm or diminish another party," McAlister said. "I am comparing Evangelical aggressive prayer with Afro-Haitian prayer practices called malediction—which literally means 'speaking evil.' In creating this comparison, I'm hoping to call attention to the aggressive strands of global evangelicalism and at the same time dispel some misconceptions surrounding the traditional Afro-Haitian religion Vodou."
McAlister's interests lie primarily in correcting misconceptions about Vodou.
"Vodou is best known by outsiders for its association with 'curses,'" McAlister said, "but it turns out that practitioners almost always see themselves as doing defensive prayer against someone else who attacked them first. This prayer practice is part of a larger system of local ideas about justice, in a country where there is not a functioning formal justice system for the vast majority of the people."
Her recent findings are part of a larger comparative study that maps the rise and delineation of aggressive prayer forms in transnational Evangelical networks. This also means that she will be examining their rise within the culture of militarism emanating from the U.S. and spreading throughout the Americas and beyond. The university was interested in having her discuss her research methods to a group of students preparing their own research projects.
McAlister, formally trained in American studies at Yale University, borrows several anthropological field methods in her study of Afro-Caribbean religions.
"Because my research centers on religion in Haiti," McAlister said, "this necessarily means that I study race, migration and diaspora and now, since the 2010 earthquake, the humanitarian crisis and the Evangelical movement that wants to convert people away from Vodou and into Christianity."
As one of Haiti's most prestigious and established institutions of higher education, the State University of Haiti boasts interdisciplinary undergraduate and graduate degree-granting programs in sociology, anthropology, psychology and urban development. The faculty's efforts are concentrated on encouraging students to conduct and participate in active research within their respective fields throughout duration of their studies. Publication and presentation of a thesis is a mandatory graduation requirement for both undergraduate and graduate students.
McAlister wanted to introduce to the students techniques typical of a small, liberal arts college classroom, but not without challenges. Traditionally, university professors in Haiti have very little opportunity for intimate student contact, she said. This can be largely attributed to the university being understaffed, the faculty being underpaid, and the department being undersupplied.
McAlister explained that these constraints, coupled with a poor technological infrastructure and a volatile political climate, further complicate the intimate, discussion-style process that is so beneficial to teaching and understanding ethnography.
"When I was there, one of my classes was postponed because students were protesting the Martelly government, calling for his resignation and transparent elections," McAlister said. "The students at what we'd call the high-school level organized demonstrations in the streets because the government had not paid teachers in nine months. Some students were tear-gassed and beaten. Their solidarity with their teachers was deeply impressive. I even watched (on video, later) the police shooting tear gas into the school, under the gate! The students were not even outside protesting at that point. It was a totally unprofessional violation of human rights."
"Most professors in Haiti lecture and the students absorb," McAlister said. "At the end of a lecture, there may be a brief time for a Q&A. I really wanted to bring seminar discussion-style teaching to the university students. This proved to be a great technique. We had some vigorous discussions about the different challenges in studying religion in Haiti, such as how to study one's own culture or religion; how to frame, in analytic terms, the political problems of Haiti; and thorny issues about ethics in the field."
McAlister commends the university for taking appropriate measures in introducing a curriculum that is both flexible in its approach to ethnography and suitable for the current political and academic state.
And now there is a new problem: an epidemic of Chikungunya Fever, a virus spread by mosquitoes that is spreading rapidly throughout the Caribbean. It is ravishing Port-au-Prince in particular since the sub-par sanitation system means washing and waste water run through rivulets next to most sidewalks, creating mosquito breeding grounds.
"Students kept dropping in and out of the seminar because of Chikungunya. In fact, I had to cut short the last session because I came down with it myself. All of a sudden I felt a huge wave of fatigue, and could not get up from my chair to write on the board," she said. "'Ah, you've been taken by the 'Chicken Gouyad,' the nickname for the fever that roughly means, 'Chicken Dance,' said the class. They recommended various herbs for me to take, to drink lots of coconut water, and go home and rest."
"It was humbling to be part of the academic community at the Faculté d'Ethnologie " McAlister said. "Scholars' work in Haiti continues to flourish in the context of huge challenges."