Poulos Studies Changing Perceptions of Whales Aboard World's Last Wooden Whaling Ship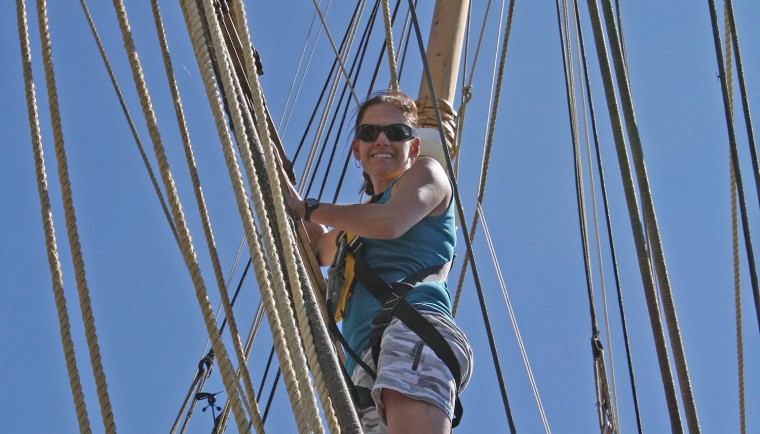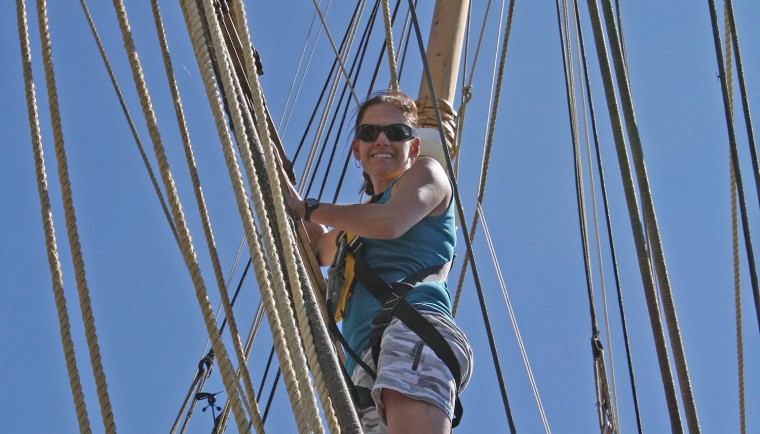 On June 15, Helen Poulos, a postdoctoral fellow in the College of the Environment, set sail aboard the Charles W. Morgan, the last remaining wooden whaling ship in the world. Built and launched in 1841, the Morgan embarked on 37 voyages up until 1921, roaming every corner of the globe in pursuit of whales. She had been docked at the Mystic Seaport in Connecticut since 1940, and underwent major restoration work in recent years. This month, she took one final commemorative voyage in order to call attention to the importance of historic ships and America's maritime heritage, as well as raise awareness about changing perceptions of whales and whaling.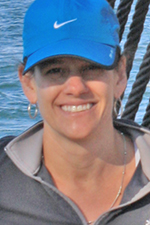 Poulos is one of 79 individuals—including artists, historians, scientists, journalists, teachers, musicians, scholars and whaling descendants—selected to take part in this unprecedented public history project. Together, the group will produce a creative work for the Mystic Seaport to share online, and through exhibits, publications and public programs. On nine different legs of the journey, they will work alongside staff from the Mystic Seaport museum to "examine every aspect of the journey, and to better understand the past experiences of those who sailed this ship and others like her," according to the project's website. The ship will stop in a number of historic ports in New England, including Martha's Vineyard, Provincetown and Boston. The journey wraps up August 9 with a homecoming celebration at Mystic Seaport. Poulos took part in the first leg of the voyage, from New London, Conn. to Newport, R.I. An ecologist who was the only resident scientist in the College of the Environment's think tank this year, Poulos has been studying sustainable management of common resources, including the world's oceans. "Who owns the world's oceans? Who owns the fish?" said Poulos. "There's a problem inherent in this because anyone can take from the oceans, and this leads to over-harvesting." Poulos is particularly interested in the notion of shifting baselines when it comes to maintaining natural resources. "Even though we have lots of historical information about how natural resources have changed in abundance over time, we continue to limit our perspective to change that has occurred only within our lifetimes. So every generation accepts this lowered bar," she explained. "I've used whales as an example to think about sustainability and the need for integrating long-term, rather than short-term, information about human-environment relationships."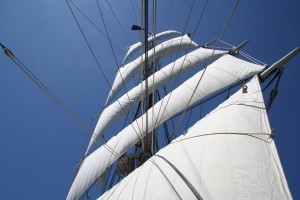 During her 24-hour trip on the Morgan, Poulos surveyed the crew and other participants to understand how human perceptions of whales and whaling have changed over time. After the voyage, she will extend these interviews to the general public, whale-watching tourists and members of the whale-watching industry. "I'm interested in understanding how human perceptions of whales have shifted over time from that of a commodity to a conservation target. I'll be investigating the concept of shifting baselines in the whale-watching industry, and using surveys to study how whale populations have changed since the spike in the whale-watching industry following the 1986 International Whaling Commission's moratorium on whaling. I'm also interested in how whale-watching influences whale conservation, the whale-watching industry itself, and human perceptions of whales." In addition, Poulos took a number of panoramic and 3D photos from the ship. Poulos plans to write two papers—one popular and one academic—analyzing the responses from interviews about changing perceptions of whales. She also will develop lesson plans for the Wesleyan course she teaches, Research Methods in Environmental Studies, in which students are tasked with using captain's logs and other archival records to understand how whaling influenced whale populations over time. Read more about the Morgan's 38th voyage here.