Center for the Humanities Explores "Mobilities" in Fall Lecture Series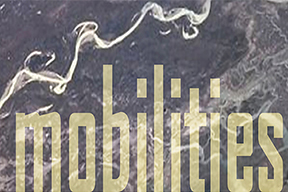 Over the past decade, a new approach to the study of mobilities has emerged involving research on the combined movement of peoples, animals, objects, ideas and information. This can be viewed through the lens of complex networks, relational dynamics, and the redistribution or reification of power generated by movement.
This fall, Wesleyan's Center for the Humanities will offer 10 lectures on the theme of "Mobilities" as part of its lecture series. Five of the speakers are from Wesleyan.
All talks begin at 6 p.m., are open to the public, and are held at Daniel Family Commons. The dates, topics and speakers are:
Sept. 8
Ecological Poetics, or, Wallace Stevens' Birds
Cary Wolfe, professor of English, Rice University
Sept. 15
Beyond Synthesis: The Return of Micro History in Global Contexts and the "Relationing" of History
Angelika Eppel, professor of history, Bielefeld University, Germany
Sept. 22
The Roma Question in France and the Return of Race
Éric Fassin, professor of sociology, École Normale Supérieure, Paris
Sept 29
Celluloid Classicism: Intertwined Histories of the South Indian Dance Revival and Early South Indian Cinema
Hari Krishnan, assistant professor of dance, Wesleyan
Oct. 6
Illicit Sexuality and the Politics of Movement: Dance and the Kalavantulu Community in South India
Davesh Soneji, associate professor of South Asian religions, McGill University
Oct. 13
What Do Mobile Phones Mobilize? On Space, Place, and Personhood Through Technological Designs in Post-Unification Berlin
Jordan Kraemer, the Andrew W. Mellon Postdoctoral Fellow in the Center for the Humanities, Wesleyan
Oct. 27
Translation, Concept of "Rights" and the First Opium War
Sinkwan Cheng, research fellow in the Center for the Humanities, Wesleyan
Nov. 3
Meritocracy and Mobility
Basak Kus, assistant professor of sociology, Wesleyan
Nov. 10
Traveling to the Future: Networks of Acceleration and the End of the Middle Ages
Gary Shaw, professor of history, professor of medieval studies, assistant professor of English, Wesleyan
Nov. 17
On the Living Death of Statelessness: From Euripides to Hannah Arendt
Debra Bergogffen, Bishop Hamilton Lecturer in Philosophy, American University; emerita professor of philosophy, George Mason University