"Freedom Summer" Commemoration to Feature Concert, Speakers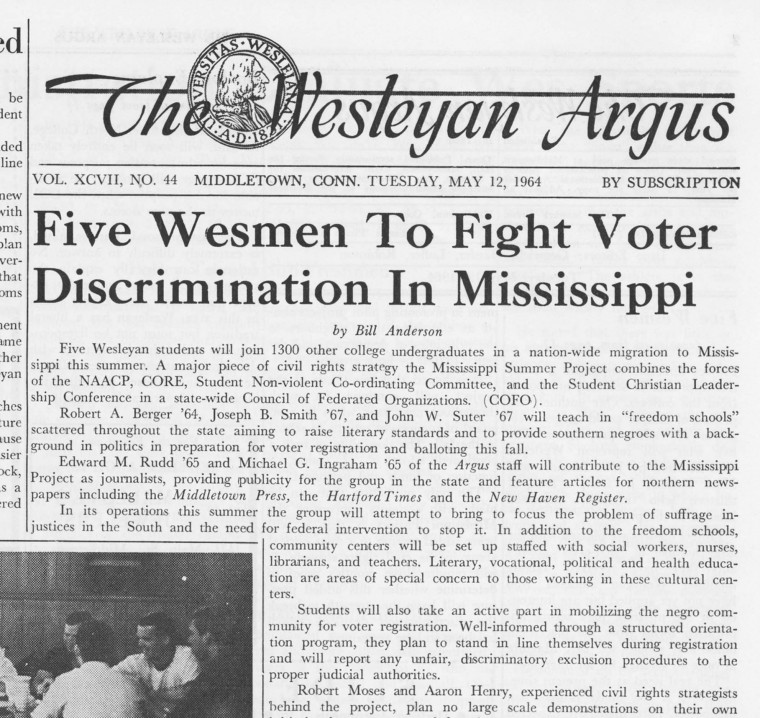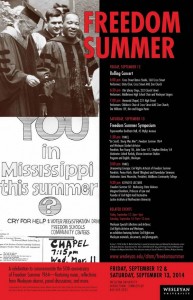 The summer of 1964 saw thousands of young people — many from colleges and universities in the North – mobilize to register voters, educate citizens, and support other civil rights work in the Jim Crow South. What came to be known as "Freedom Summer" is credited with ending the isolation of states where racial repression and discrimination was largely ignored by news media and politicians, despite the  the landmark Civil Rights Act passed that July.
Wesleyan students joined the struggle. "Five Wesmen to Fight Voter Discrimination in Mississippi," said a front-page headline in the Argus. That May, Rev. Martin Luther King, Jr. had given the baccalaureate sermon, and other civil rights leaders had visited campus.
A commemoration Sept. 12 and 13 celebrated not only Wesleyan's participation, but the unique moment Freedom Summer occupies in American history. (See photos here.)
"Wesleyan's tradition of engagement and activism goes back over half a century," said Rob Rosenthal, the John E. Andrus Professor of Sociology and director of the Allbritton Center for the Study of Public Life. "This will be a tremendously exciting chance for students and the community to hear from Wesleyan alums who traveled South to participate in this extremely important period of history, and from activists who were at the forefront of the struggle to gain voting rights for all Americans."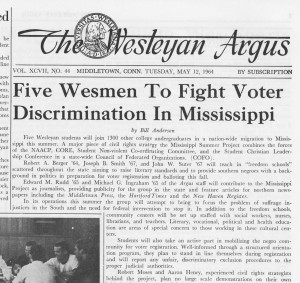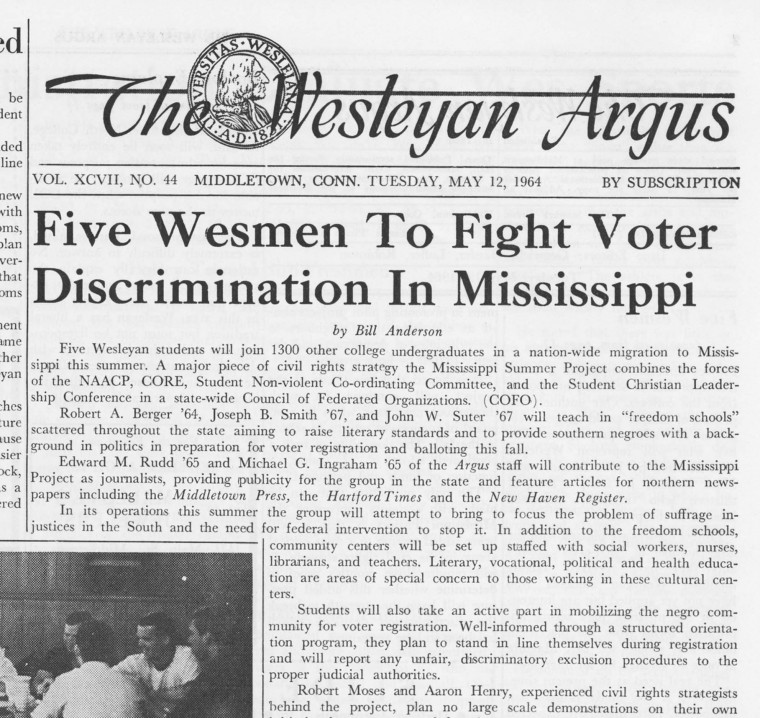 Of particular interest to Rosenthal and to Lois Brown, director of the Center for African American Studies, is the connection between organizers of the 1960s and today's student activists. Brown is also chair and professor of African American studies, the Class of 1958 Distinguished Professor, professor of English, professor of feminist, gender and sexuality studies.
In a recent op-ed for the Huffington Post, Rosenthal and Brown said: "… The task of our activists is not to tell their young successors how to carry on their struggle, but to convey the joy that deliberate engagement, unapologetic persistence, and luminous integrity brings."   Steve Oleskey  '64, who worked in civil rights in Mississippi as a law student in 1966, says he was deeply influenced by events at Wesleyan as an undergraduate. He cites the Wesleyan-Tuskegee exchange, which allowed students from both universities to visit the other for a week during the semester, as a critical moment.
"Going to Alabama, meeting our contemporaries, seeing the South, was extremely influential," he said. "And at Wesleyan, Dr. King was being brought in to speak. … we had James Baldwin and Malcolm X.
"It was a time of great ferment and change," he said. "When my class came in, Dwight Eisenhower was in the last months of his presidency. John Kennedy was sworn in the following January. So it was a time of political transition."
Oleskey, who has been active in civil rights law and social politics throughout his life, says student activists today face a heavy slate of challenges. His advice: "Keep it up. Find your own path. Build it into your life now so it's in your life after Wesleyan."
The events began Sept. 12 with a "rolling concert" from Cross Street to the Memorial Chapel, led by Dar Williams '89 and featuring the Unity Choir of the Cross Street AME Zion Church, the Middletown High School Choir and Wesleyan Singers, the Children's Choir of Zion, and Kim and Reggie Harris. The following day, a "Freedom Summer Symposium" in Beckham Hall featured Ron Young '86, John Suter '67 and Oleskey. A second panel featuring activists Penny Patch, Muriel Tillinghast and Gwendolyn Simmons preceded the keynote lecture by Margaret Burnham, founder of the Civil Rights and Restorative Justice Institute at Northeastern University.
An exhibit featuring historic Civil Rights-era Wesleyan materials, documents, and photographs will be on display at Special Collections and Archives on Friday, Sept. 12 from 3 – 5 p.m. and Saturday, Sept. 13 from 9 a.m. -noon.
"Part of what we'll do is excavate that past, explore that history," Rosenthal said. "But I know the panelists and musicians are just as interested in how to connect those struggles with the struggles of today." For more information, go here.