Royer's Study Published in PLOS Biology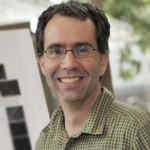 Dana Royer, associate professor of earth and environmental sciences, is the co-author of "Plant Ecological Strategies Shift Across the Cretaceous-Paleogene Boundary," published in PLOS Biology on Sept. 15.
The study reveals that a meteorite that hit Earth 60 million years ago – and may have led to the mass extinction of the world's dinosaur population – also led to a shift in the landscape of plants, particularly deciduous plants.
Royer and his colleagues showed how they applied bio-mechanical formulas to fossilized leaves of flowering plants dating from the last 1.4 million years of the Cretaceous period and the first 800,000 of the Paleogene. Read more about Royer's study in this News @ Wesleyan article.