Tennis Star Chong '18 Represents Hong Kong at the 17th Asian Games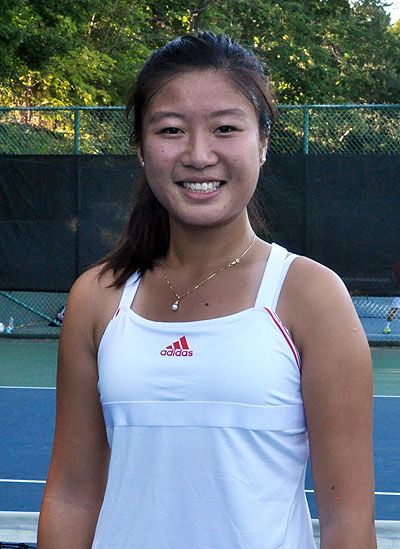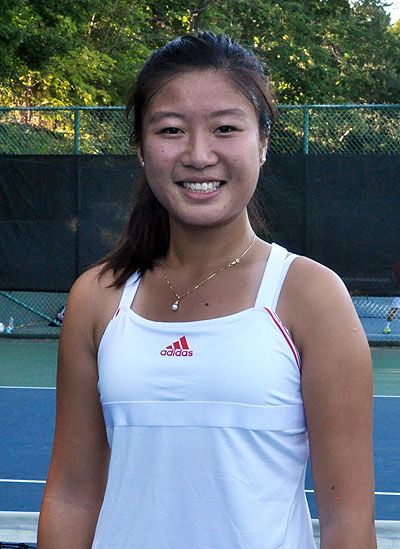 Eudice Chong '18 has blossomed as the top player on Wesleyan's women's tennis team in her first season. Recently in action during a tournament at Conn. College (Oct. 5), she defeated Trinity's #1 player and Amherst's #2 player, both in straight sets.  Each opponent was a top-eight seed in the Intercollegiate Tennis Association (ITA) New England fall championship, which Eudice missed in September in order to traveled to South Korea for nearly two weeks to represent her native Hong Kong at the 17th Asian Games.  Here is a bit about Eudice and her experience:
Q: You just finished playing the the 17th Asian Games in South Korea, essentially the regional Olympics for some 45 nations. How would you describe the experience and nature of the competition?
A: The Asian Games was definitely one of the best experiences I've ever had, playing players ranked in the top 100 World Tennis Association (WTA) and getting to meet some people up close I've only seen on TV. Everyone in the tournament is very good — everyone was chosen to play in the Asian Games because they are the best in their country.
Q: In what events did you participate? How well did you do?
A: I played in the Team, Mixed Doubles and Women's Doubles Events. During the Team Event, Hong Kong lost to China in the quarterfinals as my teammates and I lost to players all ranked in the top 200 WTA. In the Women's Doubles Event, my partner and I won one round, but lost to a Thai pair which had a player who was ranked as high as 20 and another who is currently ranked top 200. Lastly, for the Mixed Doubles Event, my partner and I advanced to the round of 16, losing to a Taiwanese pair with the woman reaching the finals of Mixed Doubles in Wimbledon this year.
Q: You've been living in Hong Kong since you were about a year old. How wide-spread is the interest in tennis in the region and when did you figure out you were hooked on the sport?
A:  Well, I'd say tennis is more of a social game in Hong Kong. If you walk around the city, you'll tend to see older adults playing and having a great time with each other. Parents also try to make their kids start playing young, but since competitive tennis is so tough and training takes up so much time, most of them quit when they get into high school. For me, I actually never really started to like tennis until I was 11. I used to take lessons once a week for 45 minutes and I absolutely loathed it. I would always try to make excuses and think of ways to get out of it, but it never worked. I guess my coach realized I didn't like playing one on one with him so he signed me up for some training program with the Hong Kong Tennis Association, and that's when I realized I loved playing tennis — practicing with kids my age and getting to meet new people.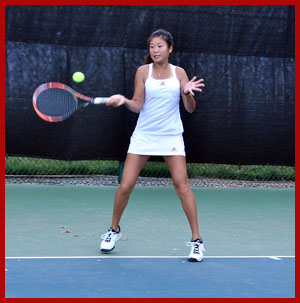 Q: How intense was the tennis competition for you growing up and how did you rise to become a top-400 world junior player?
A: My highest ranking was 200 for the juniors. I stopped playing junior tournaments for more than half a year now, so that's why my ranking has dropped below 300 (343). I first started traveling overseas to play tournaments when I was 12. I still remember it pretty vividly, and I absolutely loved it after that. I would travel and play a few tournaments every year overseas, but if I wasn't, I would be playing national tournaments in Hong Kong. It wasn't until I was 14 that I really start to travel a lot (I had to be 13 to be eligible to play in the junior International Tennis Federation (ITF) tournaments). For my freshman and sophomore years in high school, I actually missed 10 weeks of school each year for tournaments, not even counting the two months of summer!  Well, most of the reason of why I was ranked 200 was definitely from the training. I trained four hours a day from Monday to Saturday, and that was what really prepared me for long matches and lots of traveling!
Q: What drew you to come to Wesleyan and lend your outstanding talents to the Cardinal tennis squad?  What else do you like about Wesleyan?  Have you decided upon a course of study?
A:  I was still considering between some other schools, but as soon as I came to visit Wesleyan, I immediately knew I wanted to come here. I loved the feeling I got when I visited Wesleyan compared to the other schools I visited, and loved how everyone made me feel like family, especially Coach Mike Fried. Coach Fried is definitely the best coach out of all the other coaches I met, and I knew that if I would be spending four years with my team, I would definitely have to like them, or it would be such a pain. As of now, I still haven't decided what I want to major in, but I'm really enjoying taking a variety of different classes.
Q: Do you have any goals for your first year in the extremely competitive world of New England Small College Athletic Conference (NESCAC) tennis?
A: Well, as a team, our first goal is definitely to beat Amherst first! Our bigger goal would, of course, be to win all our matches and be able to play in the NESCAC tournament and do well, since we didn't qualify for it last year. For me, I'm just hoping to be a good contributor to the team and help with reaching these two goals. Hopefully if we do well, we'll be able to win NESCAC and play in the Nationals!
Q: What else should we know about Eudice Chong?
A: To be honest, there's not much more to know about me! Something interesting would be I actually used to swim and be on the swim team in middle school, but I had to stop after I chose tennis and didn't have the time for both.