NASA Supports Greenwood's Extraterrestrial Materials Research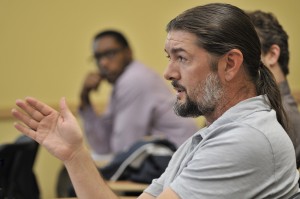 Jim Greenwood, assistant professor of earth and environmental sciences, was awarded a Faculty Seed Research Grant from the Connecticut Space Grant Consortium, supported by NASA. The honor comes with a $6,000 award.
Greenwood will use the grant to support his research on "D/H of 'Dry' Extraterrestrial Materials."
Understanding the distribution, delivery, and processing of volatiles in the solar system is of fundamental interest to planetary science. Volatiles influence a number of important properties of planetary bodies, such as the cooling, differentiation, volcanism, tectonism, climate, hydrosphere/atmospheres and especially habitability.
Greenwood will use the award to develop a new state-of-the-art inlet system for the measurement of hydrogen and water and their hydrogen isotope composition in nominally anhydrous extraterrestrial materials. This inlet system will work in conjunction with the Wesleyan Hydrogen Isotope Mass Spectrometer, a Thermo Delta Advantage isotope ratio mass spectrometer installed in August 2014.
With the new system in place by the end of the project period, Greenwood and fellow researchers will be in position to measure hydrogen and water in two Apollo mare basalt rock samples.
"This will increase sensitivity for water by 250x our current measurement," Greenwood said. "The added capability will allow us to make new and exciting measurements of volatiles in important planetary materials, such as these lunar rock samples."
Read past News @ Wesleyan stories on Greenwood here.