Sociology Major, Football Player Fabien '15 Planning to Coach, Join Special Forces after Graduation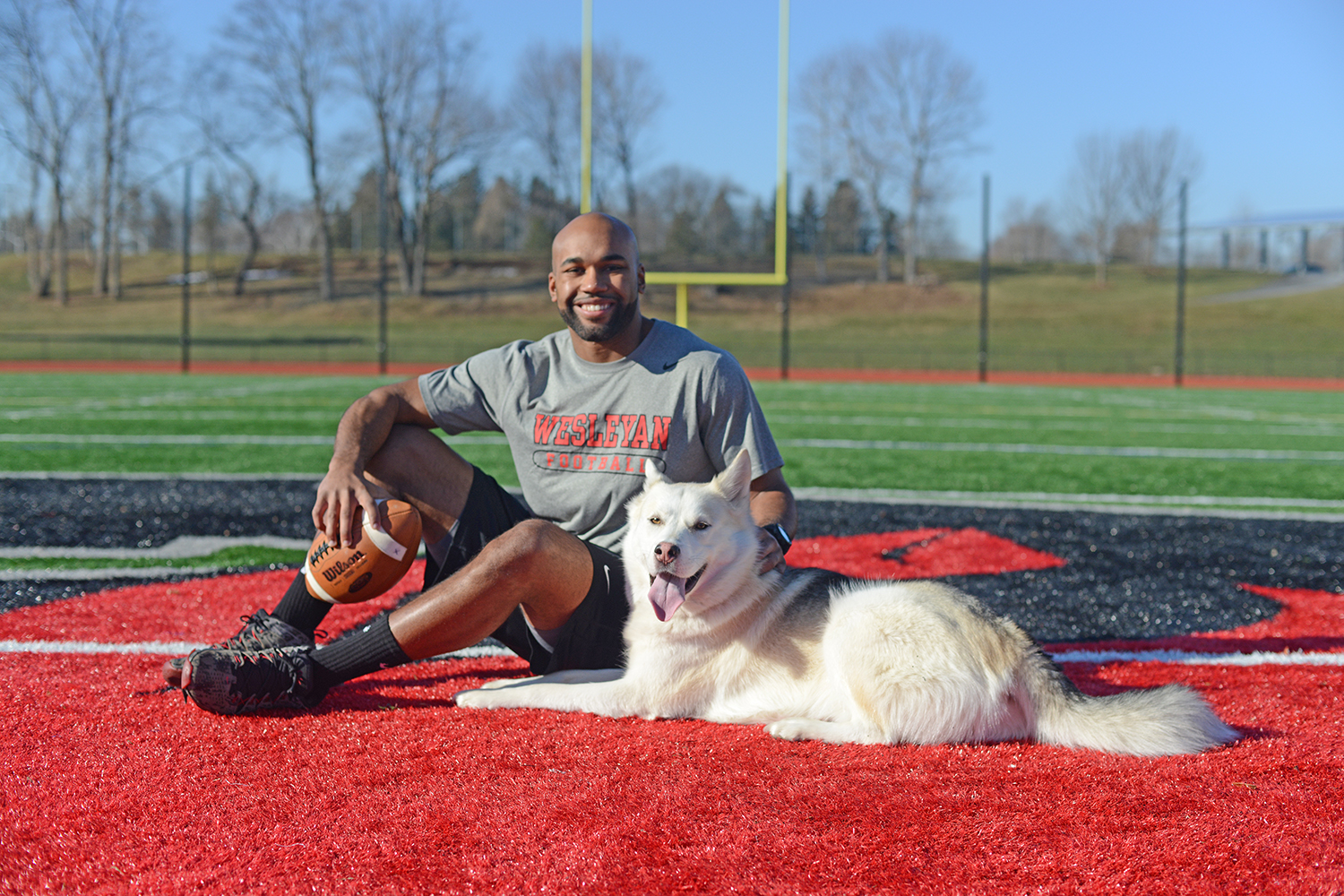 He loves "chick-flicks" and played alto-sax in high school. But he also wants to earn a spot in the Special Forces after graduation. In short, the Cardinals' No. 80 in football has many layers. They all start and end with respect, and comfort in being himself, on and off the field.
He's no prima donna, even though he has only played one position since he was 9 — wide receiver. Being a distraction to the team is not in his DNA.
"I've never been that way," said Jay Fabien '15. "I love all aspects of being a wide receiver."
Fabien ended his Wesleyan football career last fall. He played in 32 games and had 115 receptions, 1,506 yards and 13 touchdowns, averaging 13.1 yard per catch.
He knows how important leadership is to the team.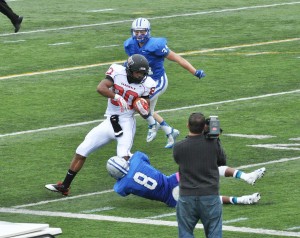 "[As a leader], you have a real role when it comes to winning and losing, because you have people looking up to you when times get tough," he said. "I like being that guy."
Fabien grew up in Bushwick, a small working-class neighborhood in Brooklyn, N.Y. He attended a small high school during his first two years that didn't offer athletics, so he joined the NYC Youth Football League, playing on the Brooklyn Skyhawks team.
"If it wasn't for that program, Wesleyan wouldn't have been a part of my life," Fabien said. "One of the coaches there introduced me to a prep-school coach who started recruiting me."
At the age of 16, Fabien decided to leave home and enroll in the Salisbury School, a private, all-boys boarding school in Connecticut. After two years at Salisbury, Fabien made the decision to come to Wes because he felt a "comfort level with the campus and the environment." Associate Head Coach Dan DiCenzo called the high-school senior and told him, "We're trying to turn around this program. It's going to be a championship program by the time you're a senior. We want you to be a part of it." That's all the ultra-competitive Fabien needed to hear. He enrolled and began his Wesleyan journey knowing how much an education from a university with a powerful tradition and network could help him in the future.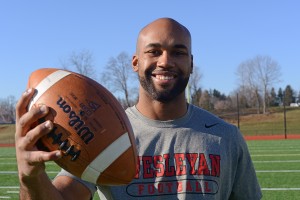 After four years, the Wesleyan spirit has molded Fabien into the successful student-athlete he is today. Over this time, his desire to become a part of the U.S. Army's Special Forces has also evolved from a dream into a firm career plan.
"Ever since I was a kid, I've always loved the idea of the Special Forces," he said. "But the time management, leadership skills, resources and mentors that Wes has given me have helped a lot [to bring the dream closer to reality]."
As a sociology major, Fabien enjoys the study of people and their interactions. He especially enjoys social psychology classes; Associate Professor of Sociology Jonathan Cutler is his favorite teacher, thanks to his personality and instruction style.
Fabien also finds time to give back to his community. He is a math tutor for students at Macdonough Elementary School where he "joins [the students] for their recesses and bring kids to Wesleyan when we host special events and recesses."
Fabien has quite a few hobbies. "GoRuck is a big thing I'm into. They host events that bridge the gap between civilians and the Special Operations Forces community. The events give a small taste of what [the lives of Special Operations Forces] are like, physically and mentally," Fabien said. "I like going to the shooting range, and doing combat pistol courses. I love driving, on racecourses and in general." The shooting practice will also pay off when he enters the "Q" Course (Qualification Course) for the Special Forces.
Fabien has specific post-graduation plans, including coaching football at his alma mater.
"I'd really like to work with other wide receivers to see how I feel about coaching. It might be something I'll come back to after the Special Forces," he said.
Fabien is also the owner of a 4-year-old husky, Glacier, that he rescued from Tennessee. He has trained him off-leash since he owned him.
"We connected as soon as we met," Fabien said.
(This article was co-authored by Nicholas Vennochi and Bryan Stascavage '18.)