Jazz Quartet Stanley Maxwell to Perform World Premieres March 1 at Russell House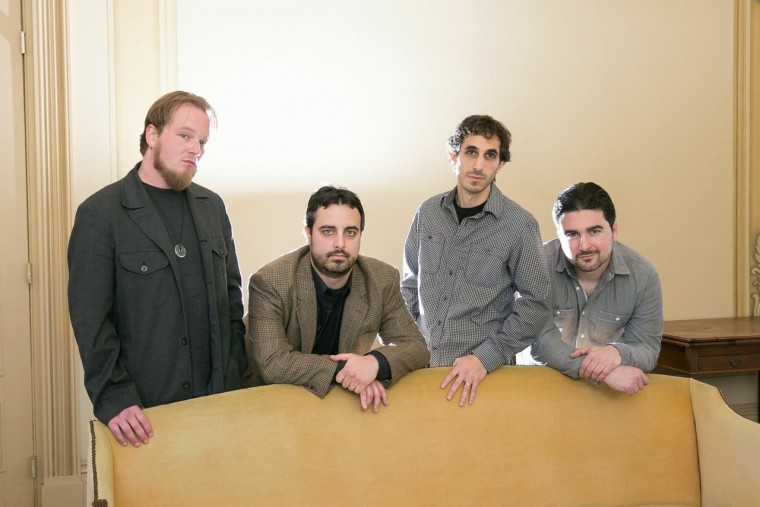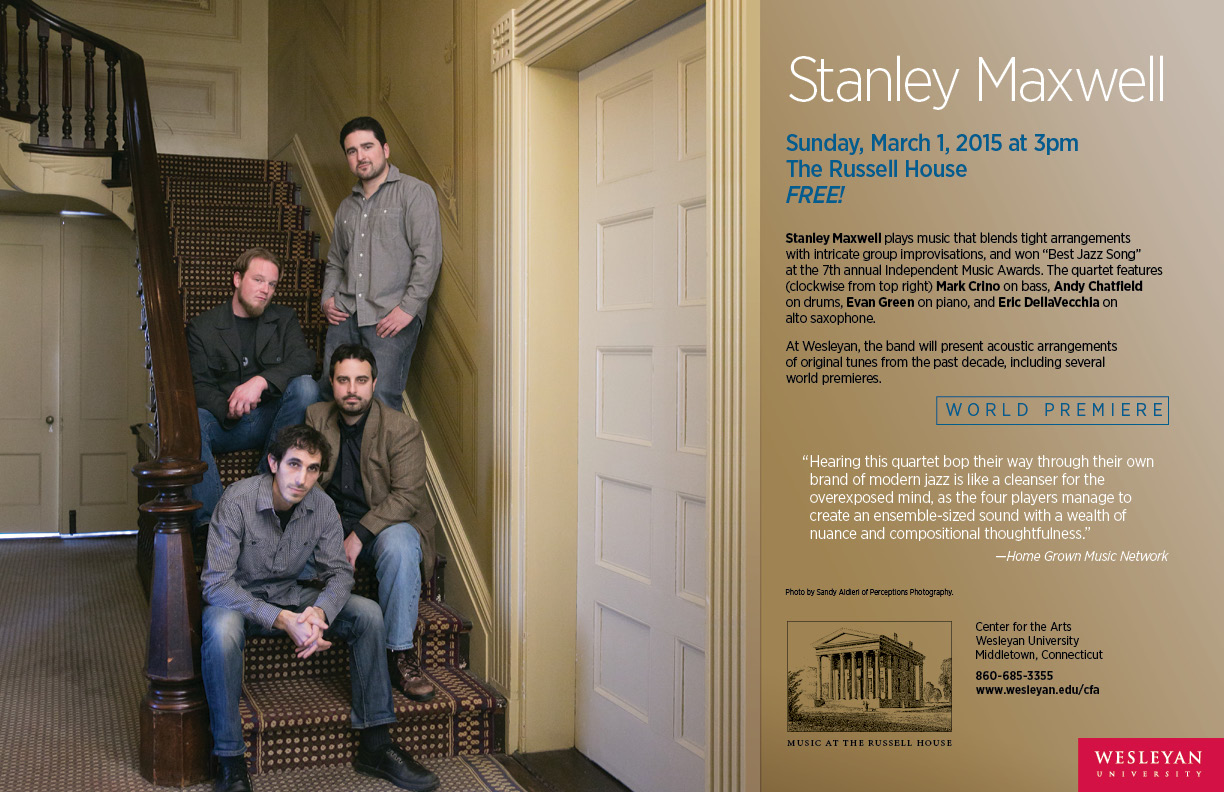 Wesleyan's "Music at the Russell House" series concludes with a free concert by the Connecticut-based jazz quartet Stanley Maxwell at 3 p.m. March 1 in the Russell House. The group plays music that blends tight arrangements with intricate group improvisations. The concert at Wesleyan will feature acoustic arrangements of original tunes from the past decade, including several world premieres.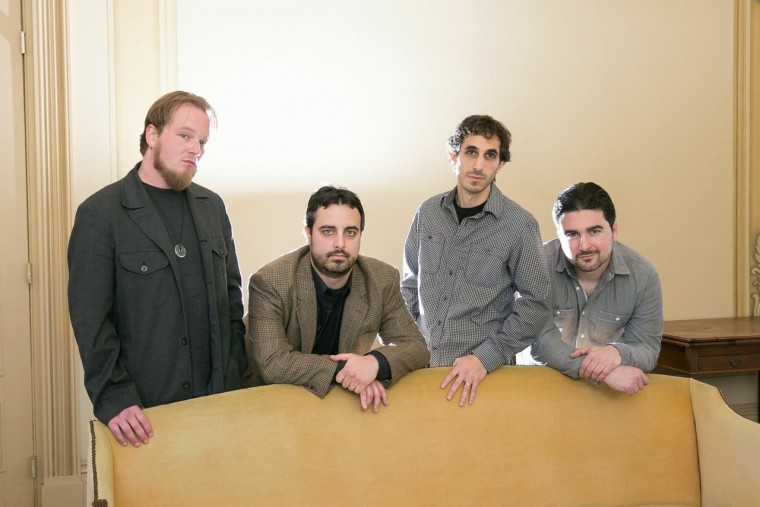 Stanley Maxwell features the CFA's Press and Marketing Director Andy Chatfield on drums, Mark Crino on bass, Eric DellaVecchia on alto saxophone, and Evan Green on piano.
The group has built a grassroots name for themselves at colleges and festivals throughout the northeast since 2001, combining the virtuosic and the simple into a visceral concoction, which helped lead to their winning "Best Jazz Band" in the Hartford Advocate's Grand Band Slam Readers' Poll in 2007, 2009, and 2010.
"Mousetrap," an 11-bar blues written by pianist Evan Green, was influenced by Thelonious Monk, and was featured on Stanley Maxwell's debut album Don't Wake The Baby!  The band's recording of the composition attracted international attention, including "Mousetrap" winning "Best Jazz Song" at the 7th annual Independent Music Awards in December 2007. The band also won the Relix Magazine November 2007 "JamOff" contest for unsigned artists, with "Mousetrap" featured on that month's Relix CD sampler, included with over 100,000 issues of the internationally distributed magazine, dedicated to jam bands and improvisational music.
Past acoustic performances by Stanley Maxwell in Middletown have included appearances at The Buttonwood Tree Performing Arts and Cultural Center in 2003, and a benefit concert for Riverview Hospital for Children and Youth, held at the Green Street Arts Center in 2008.
Several live shows by Stanley Maxwell can be downloaded for free from the Internet Archive's Live Music library.
Admission to the concert is free. The concert will be followed by a reception with food provided by The Green Room and Nardelli's Grinder Shoppe.
Original music has been featured in The Russell House since May 1950, when Wesleyan students under the direction of John Spencer Camp Professor of Music Emeritus Richard K. Winslow '40 performed a recital of chamber music, including works by Wesleyan undergraduates.
Past artists that have been featured on the "Music at The Russell House" series since 1997 include Bruce Molsky; Private Lessons Teacher Carver Blanchard; Charlie Kohlhase's Explorers Quartet with Eric Hofbauer, Mike Connors, and Jef Charland; "Dead Cat Bounce" with Matt Steckler '97, Jared Sims, Terry Gross, Dave Ambrosio, and Private Lessons Teacher Bill Carbone MA '07, Ph.D. candidate; "Elite Syncopation" with Private Lessons Teachers Roy Wiseman and Perry Elliot, Liz Smith, Ettie Luckey, and Gary Chapman; Private Lessons Teacher Fred Simmons with Phil Bowler; Private Lessons Teacher Giacomo Gates with Jeff Fuller; "Jazz Alive!" with John Banker, Al LaPorte, and Sherman Kahn; Ken Wessel '79 Trio; "The Music of Lennie Tristano" Quintet featuring Anthony Braxton (on piano), Jackson Moore '98, Andre Vida '97, Mike Szekely, and Chris Lightcap; Visiting Instructor in Music Noah Baerman's Trio with Henry Lugo and Vinnie Sperrazza, playing the music of Kenny Barron; Private Lessons Teacher Qi Liu and Visiting Assistant Professor of Music Pheeroan akLaff; Susan Davis Pereira '77 and Sabor Brasil; the Taylor Ho Bynum '98 MA '05 and Tomas Fujiwara Duo; Private Lessons Teacher Tony Lombardozzi; the "Turn of the Century Jazz Quartet" with Adjunct Professor of Music and African American Studies Jay Hoggard '76 MA '91 and Paul Brown; and William Tatge.