Jenkins Writes About "Eye-Opening" Performance of Indonesian Dancers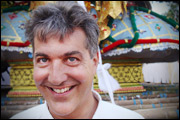 Professor of Theater Ron Jenkins wrote in The Jakarta Post about recent performances of Rateb Meuseukat, a form of Acehnese dance from Indonesia, at Wesleyan and a few other New England colleges, which gave American audiences "an eye-opening introduction to an aspect of the Muslim world that is rarely seen in the West."
The group "Tari Aceh" performed at Wesleyan's Crowell Concert Hall on Feb. 27. The day after the performance, some audience members returned for a workshop in which they learned how to do the movements they had seen onstage.
Jenkins writes:
Images of Muslim women in Western media often focus on the restrictive nature of head scarves and other customary clothing, but the dancers of Aceh shattered these naïve stereotypes through the liberating power of their performances.

The women's colorful woven headscarves accentuated the sassy energy of their movements. Their modest costumes used traditional textiles to heighten the dynamic quality of their choreography.

The hooting, stomping, finger snapping and body slapping that punctuated their dances gave the performance an unstoppable sense of momentum that erased all notions of female passivity.

The women dancers of the "Tari Aceh" tour were clearly the masters of the remarkable universe they created onstage.