Feinman '16, TeamIMPACT Child Speak at Boston Gala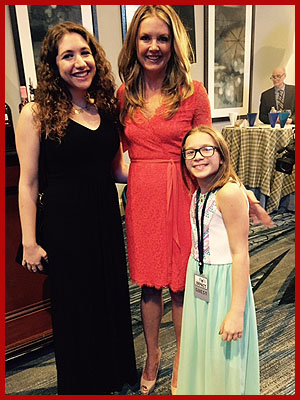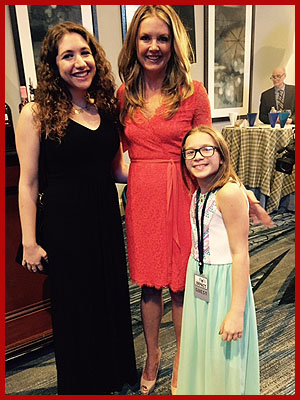 On April 2, Carly Feinman '16, a diver on Wesleyan's swimming and diving team, and 10-year-old Aliana Fichera, a local girl who has become an honorary member of the team, spoke on a panel during the TeamIMPACT Game Day Gala in Boston.
In November 2014, Aliana was "drafted" onto the Wesleyan team through the TeamIMPACT program, which matches children facing life-threatening and chronic illnesses with local college athletic teams. Aliana has attended numerous Wesleyan meets and team functions, and the team members have visited with Aliana during her treatments for Common Variable Immunodeficiency (CVID) and for her meets with her swim team in Rocky Hill, Conn.
At the event this month, a major fundraiser for TeamIMPACT, Aliana and Feinman were asked by the event's Emcee, ESPN personality Wendi Nix, to describe their experience in the program. In the nearly four years TeamIMPACT has been in operation, more than 650 children nationwide, covering 42 states, have been united with college teams. The children thrive in the association with the older student-athletes and the college players gain immeasurable understanding of what it means to grow up with a handicap.
The principle sponsors of the gala were The Kraft Group, with co-chair Dan Kraft of the New England Patriots' Kraft family, and J. Calnan and Associates Construction Managers, with co-chair Jay Calnan.
"The greatest thing that has come out of this relationship with Aliana for our team is that she has allowed the athletes on our teams to put adversities and challenges in perspective," said Peter Solomon, head men's and women's swimming and diving coach. "Aliana has been a true inspiration to us."
"Aliana and Carly did an incredible job representing Wesleyan University," Solomon continued. "They were treated like celebrities the rest of the evening from those who introduced themselves to thank them for their involvement and for their insightful comments on the panel."
Also in attendance at the event was the governor of Massachusetts, Charlie Baker, and his wife, Lauren.