Bow Shock Study by Redfield, Cauley Published in Astrophysical Journal
Seth Redfield, associate professor of astronomy, and Wilson Cauley, postdoctoral researcher in astronomy, led the effort on a paper titled "Optical hydrogen absorption consistent with a thin bow shock leading the hot Jupiter HD 189733b" accepted for publication in The Astrophysical Journal.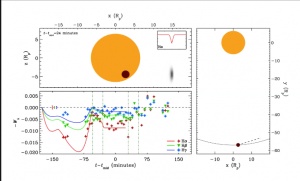 Bow shocks are ubiquitous astrophysical phenomena resulting from the supersonic passage of an object through a gas. In this paper, the authors present a robust detection of a time-resolved pre-transit, as well as in-transit, absorption signature around the hot Jupiter exoplanet HD 189733b using high spectral resolution observations of several hydrogen lines.
Better knowledge of exoplanet magnetic field strengths is crucial to understanding the role these fields play in planetary evolution and the potential development of life on planets in the habitable zone.
Cauley's research is funded at Wesleyan through the National Science Foundation to study the extended atmospheres of exoplanets. For more information and to view a animation that summarizes the paper's results, visit Cauley's website.
In addition, Redfield and Cauley will present results from an observation made at the largest telescopes in the world, the Keck Telescope in Hawaii, during the International Astronomical Union General Assembly in August.