Johnston Reveals Truth About Bombings of Hiroshima, Nagasaki in Op-Ed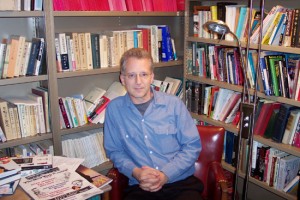 Seventy years later, it is widely believed that President Harry S. Truman made a decision to authorize the bombings of Hiroshima and Nagasaki. The truth, writes William Johnston in the Hartford Courant, is that he never did, at least not explicitly.
Johnston, professor of history, professor of East Asian Studies, examines in an op-ed how history has been rewritten surrounding the bombings. In fact, Truman's first explicit decision about atomic bombs was to later order that their further use be stopped without his "express authority." But in summer 1946, Johnston explains, the need arose to write an alternative narrative, as the bomb's horrific effects on the people of Japan were revealed, and critics started asking whether the atomic bombings had been necessary, or even truly effective in ending the war.
Johnston writes:
The historian's job is to explain the past using the most complete evidence available. That evidence shows both that Truman's most substantial atomic decision was to demand his express authority for future bombings and that the bombings' role in ending the war was ambiguous.

We may not like it when history is fuzzy, but that's how it is.

It is more important now than ever that we understand history's ambiguities, especially when it comes to the history of World War II and the atomic bombings of Hiroshima and Nagasaki.

Our country today faces many national security threats, from terrorism to global warming. A healthy democracy requires a well-educated populace, and history plays a major role in that education. Science, technology engineering and math cannot replace it.

The 70th anniversary of the atomic bombings of Japan is a good time to recall their history and meaning. We need to remember where we have been while keeping an eye on the future. It is hard for those who are blind to the past to have a clear vision for the future.
Johnston is also professor of Science in Society, and professor in the Environmental Studies Program.