3 Wesleyan Baseball Players Sign Professional Contracts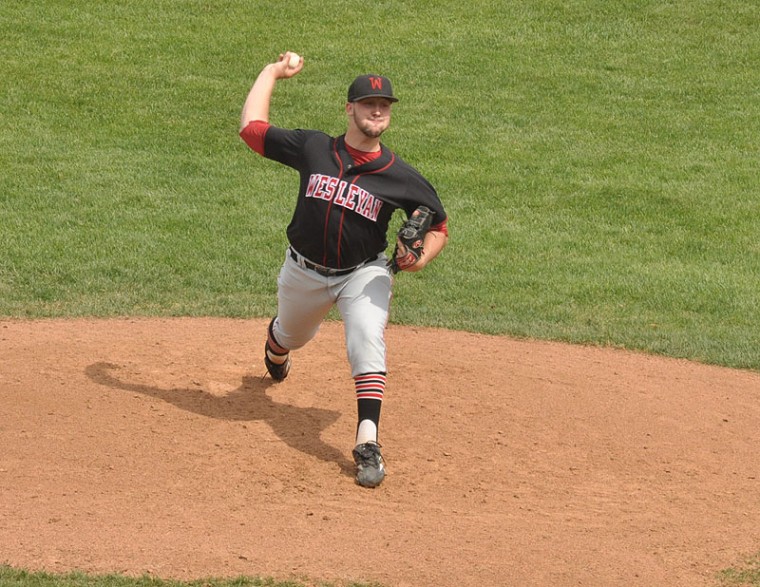 <div class="at-above-post addthis_tool" data-url="https://newsletter.blogs.wesleyan.edu/2015/08/10/baseballpros/"></div>Three key players in Wesleyan baseball's fantastic run over the last three years have signed professional baseball contracts this summer. Gavin Pittore '16 signed a free-agent contract with the Los Angeles Dodgers; alumnus Nick Cooney '15 signed a contract with the Fargo-Moorhead RedHawks in the independent American Association; and Donnie Cimino '15 was drafted in the 37th round by the Chicago Cubs.<!-- AddThis Advanced Settings above via filter on get_the_excerpt --><!-- AddThis Advanced Settings below via filter on get_the_excerpt --><!-- AddThis Advanced Settings generic via filter on get_the_excerpt --><!-- AddThis Share Buttons above via filter on get_the_excerpt --><!-- AddThis Share Buttons below via filter on get_the_excerpt --><div class="at-below-post addthis_tool" data-url="https://newsletter.blogs.wesleyan.edu/2015/08/10/baseballpros/"></div><!-- AddThis Share Buttons generic via filter on get_the_excerpt -->
Three key players in Wesleyan baseball's fantastic run over the last three years have signed professional baseball contracts this summer. Gavin Pittore '16 signed a free-agent contract with the Los Angeles Dodgers; alumnus Nick Cooney '15 signed a contract with the Fargo-Moorhead RedHawks in the independent American Association; and Donnie Cimino '15 was drafted in the 37th round by the Chicago Cubs.
"This is a thrilling achievement for Wesleyan baseball," said Head Coach Mark Woodworth. "For three great young men to achieve at an elite level academically, while simultaneously becoming world-class athletes is so special and unique. We are so proud of all three of them, and thank them for the leadership and commitment to Wesleyan and the baseball team."
All three players were instrumental in helping the Cardinals win the NESCAC championship in both 2014 and 2015, as well as three straight Little Three titles.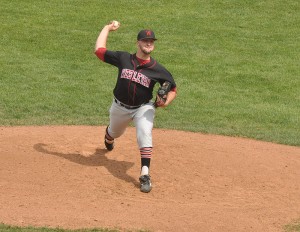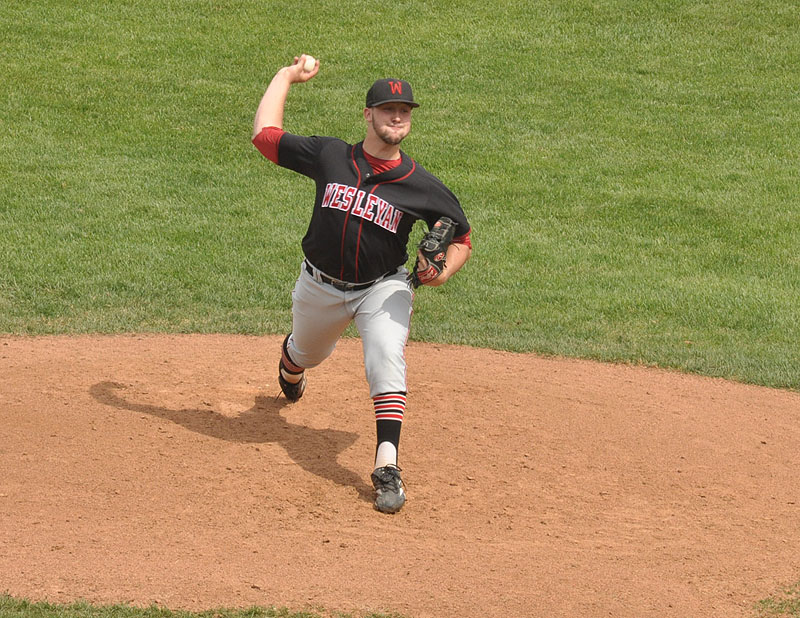 Gavin Pittore '16
Pittore signed a professional contract with the Los Angeles Dodgers on July 30, following an outstanding career pitching for Wesleyan, and a fantastic summer in the Cape Cod League.
Pittore was dominant in his three years for Wesleyan. In 2015, he had a 1.54 ERA with a 7-2 record and opponents only batted .185 against him. He won numerous crucial games, including a Little-Three-clinching 1-0 win over Amherst, and a winner's bracket game over Amherst in the NESCAC Tournament. In 2014, he went 7-1 with a 2.88 ERA with 65 strikeouts in 59.1 innings. He was on the mound as Wesleyan won its first-ever NESCAC championship over Tufts.
Playing for the Bourne Braves in the prestigious Cape Cod League in 2015, he was named an all-star, primarily for not allowing an earned run in 17 innings along with 17 strikeouts.
"I am so happy for Gavin as he begins this next chapter," says Woodworth. "This achievement is one of the great stories in college baseball. His rise to becoming one of the best college pitchers in the country at all levels is a testament to perseverance, loyalty and commitment. All of us with Wesleyan baseball can't wait to see what he achieves in professional baseball."
Read more about Pittore in this Q&A.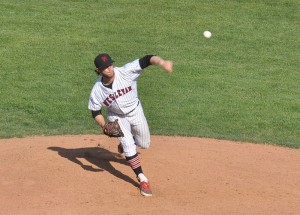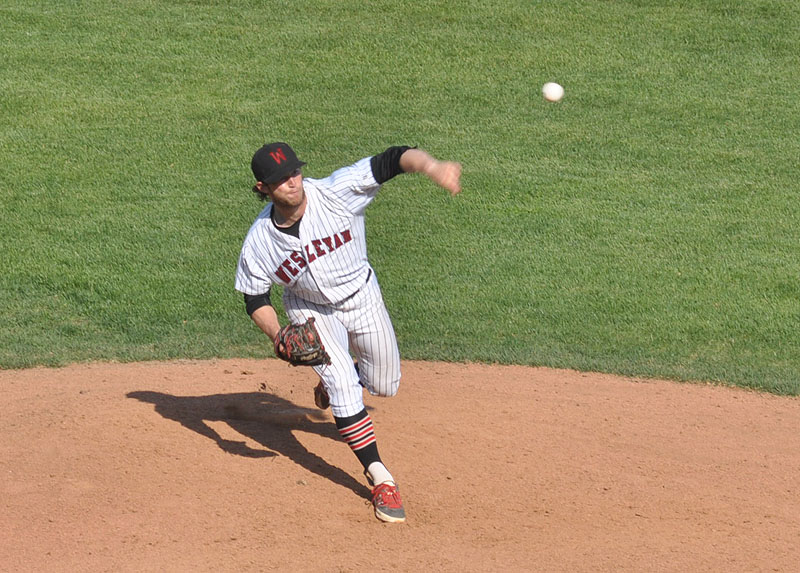 Nick Cooney '15
Cooney signed with the Fargo-Moorhead Redhawks on July 28 after a record-setting Wesleyan career with the Cardinals.
He set the Cardinals' single-season strikeout record (87 in 2014) as well as the career strikeout record (252). As a senior, he went 8-2 with 81 strikeouts in 69.1 innings and a 2.73 ERA. His junior season, he struck out 10.5 batters per nine innings and hitters only hit .192 against him.
The Friday conference-weekend starter for three seasons, Cooney went 11-0 in his 12 NESCAC starts. He was named all-NESCAC three times and was outstanding in NESCAC and NCAA play both as a starter and reliever. In 2014, he pitched in the Cape Cod League for the Falmouth Commodores.
"Nick has been instrumental in the rise of Wesleyan baseball and for him to be recognized for his ability by professional baseball is much deserved," says Woodworth.
"His ability and heart to take the ball in game one every weekend for three years and always deliver was inspiring to the team. Everyone in Wesleyan baseball couldn't be prouder of Nick."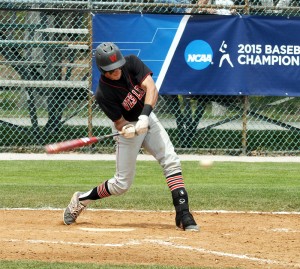 Donnie Cimino '15
Cimino was drafted by the Chicago Cubs in the 37th round of the Major League Baseball first-year draft on June 10. The 1103rd overall pick, he was just one of 10 Division III players drafted.
Cimino is the all-time leader for Wesleyan in career hits (240) and was named all-NESCAC in centerfield all four years. As a freshman and sophomore, he led the NESCAC in batting average and he finished with a career .373 average. He was named all-New England twice, and was a two-time captain.
He also was a two-time football captain at Wesleyan as a defensive back and kick returner, and was a captain for two straight 7-1 football seasons as the Cardinals got a share of the NESCAC title in 2013.
"This is a great moment for Donnie, and the entire Wesleyan baseball family is so happy for him," said Woodworth. "His character and work ethic and commitment directly led to this outstanding achievement. He has been the heartbeat of Wesleyan baseball and football, and his leadership will be missed, yet will be rewarded at the next level."
Read more about Cimino in this profile in Wesleyan magazine.
Read more about the three players in this article in The Middletown Press.