Smith is New Associate Director of Fellowships, Internships, Exchanges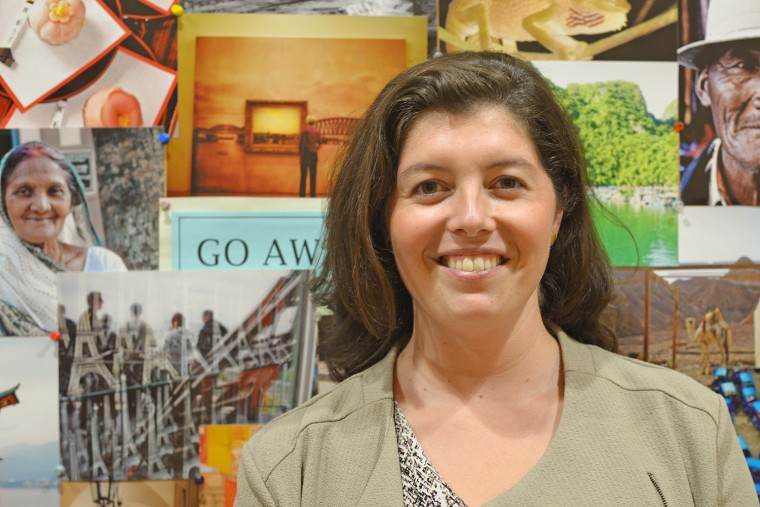 In this Q&A we speak with Kathleen Smith from the Center for Global Studies. Smith helps identify and cultivate a global perspective that is meaningful to students, alumni, and faculty across the university. 
Q: Welcome to Wesleyan! When did you start?
A: My first day was Aug. 3, so I am still learning my way around campus!
Q: As the associate director of fellowships, internships and exchanges for the Center for Global Studies (located in Fisk Hall), what is your mission when working with students?
A: The role is a little bit of everything – fellowships, internships and exchanges – so I see myself as a resource to students (and in some cases alumni) depending on what they would like to accomplish. My goal when working with students is to help them navigate the numerous opportunities that exist. I see part of my role as supporting students (and alumni) in exploring various fellowship opportunities.
I will also promote partnerships with peer institutions in the United States and with targeted institutions abroad. Overall, my role within the Center for Global Studies is to identify and help cultivate a global perspective that will address what would be most meaningful to students, alumni and faculty across Wesleyan University.
Q: What is a typical day like?
A: At the moment, 9 to 5 is an orientation of Wesleyan. I have been meeting faculty, staff and deans from across campus because my work intersects with a few different areas. With students back on campus, I expect it to be more student-centric. I have begun to advise students and alumni on fellowships because deadlines are coming up.
Q: Wesleyan offers about 15 fellowship opportunities that require nomination from Wesleyan faculty or staff (including the Fulbright, Rhodes, Marshall, Mitchell, Watson, Goldwater and the Winston Churchill Foundation Scholarship, to name a few.) How do you assist students with this application process?
A: The process really varies from student to student. I provide a wide range of guidance: understanding what a fellowship is, offering feedback on a written statement, discussing how to ask for a letter of recommendation, providing insight about graduate school abroad, how to further investigate specific degrees or programs, and more. The most critical piece of the process is knowing that these fellowships exist. The sooner students are aware of fellowship options, they can begin to consider them, and with more time to prepare or contemplate a fellowship, the more comprehensive the application can be.
Q: When are fellowship applications generally due? Is this a busy time?
A: Now until mid-November is the busy season for fellowships. Oct. 1 is the primary deadline for fellowships, such as Rhodes, Marshall and Mitchell. And Fulbright is due the following week. For the fellowships that require a nomination, there is an earlier on-campus deadline and application process internal to Wesleyan. Students who are most successful with those fellowships have been working on their application, personal statement or research over the summer, or in some cases – even longer.
Q: When it comes to internships, how does your work overlap that of the Career Center?
A: I work closely with the Career Center to support advancement and development of international internships. More specifically, I administer credit for internships, and I hope to provide support to students in that capacity as well.
Q: What is the difference between study abroad and exchanges?
A: Exchanges are a little different than traditional study abroad because exchanges are based in university agreements. An agreement could be something as simple as Wesleyan would like to work with an international institution, very collegial but not specific. Other agreements might state that Wesleyan will send a certain number of students to a particular university and in return students might attend Wesleyan for a semester exchange.
Q: How many students do you expect to work with this year?
A: This year I think that will really depend on student interest. In the future, I will be able to reach out to students, promote deadlines, and provide programming surrounding fellowships.
Q: What attracted you to Wesleyan?
A: I was most interested in having the opportunity to work at a small liberal arts institution. I attended a similar school and really enjoyed how curious and driven my fellow students were. I was drawn to the love of learning that is reflected in the Wesleyan community. In my most recent position, I focused on study abroad at a larger university. I knew that in my work at Wesleyan, I would have more time to dedicate to individual students by supporting their interests and goals based on my experience in international education.
Q: Where were you working prior to the Center for Global Studies?
A: I was previously in the greater Philadelphia area at Villanova University as the assistant director for the Office of Education Abroad. The majority of my day was focused on advising students interested in study abroad, and I managed the Villanova programs based in Italy, Spain and France. I have worked in higher education for a number of years now, including time at George Washington University, where I also advised on fellowships.
Q: What did you study in college?
A: I have a BA in political science and Spanish from Wellesley College and an MA in international education and a Certificate in Career and Workforce Development from George Washington University.
Q: Do you have any international experience?
A: Yes. I've had the opportunity to work, intern and volunteer internationally. My first experience abroad was as a volunteer on a project in rural Mexico. I continued to pursue the study of Spanish language through a semester abroad in Spain. After graduation, I participated in the North American Language and Culture Assistants program administered by the Ministry of Education in Spain, teaching in a primary school. As a graduate student, I developed my own internship abroad with a study abroad office in Rome, Italy, for a summer working on the international end of student affairs by welcoming incoming students and preparing for students to arrive in the fall semester. Based on my background and education, I am better able to inform and support students pursuing one of these many avenues of international experiences.
Q: What are your hobbies and interests?
A: I love to travel, even if it is just a day trip. I like to explore new places, try local food, and visit local shops. I really enjoy hiking, so it is great to be in Connecticut because it is so accessible to parks and trails all over New England and New York.
Q: What is your initial impression of Wesleyan?
A: I am really glad to be here. Everyone at the Center for Global Studies and across campus has been so helpful and offered support and insight as I settle into the Wesleyan community.