"25 Years of German Unity" Discussed at Talks, Film Screening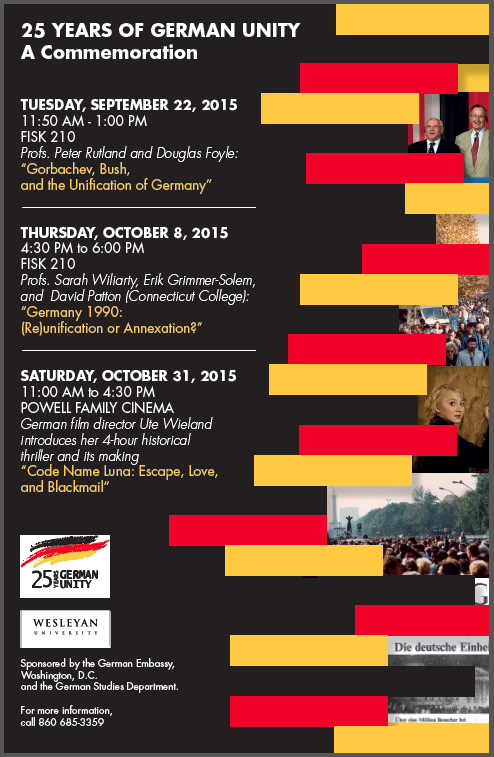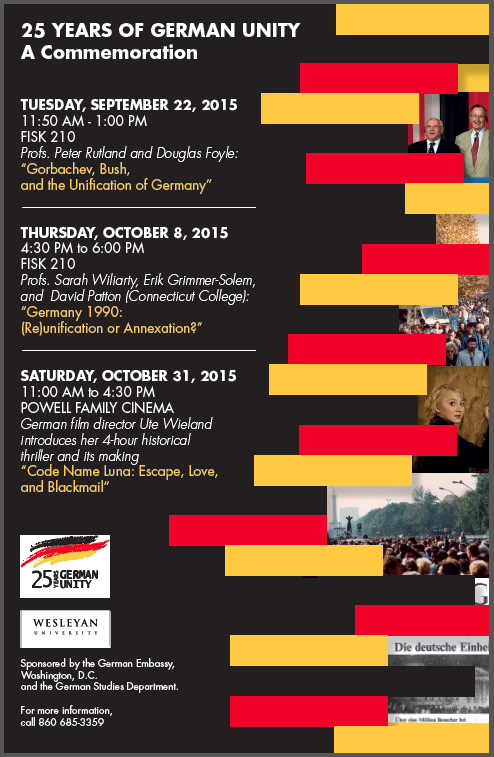 This fall, the German Studies Department and German Embassy in Washington, D.C. are sponsoring a three-part commemoration of "25 Years of German Unity" at Wesleyan.
The series, which features discussions with a German filmmaker, a scholar from Connecticut College, and four Wesleyan faculty is made possible by a $3,000 grant from the German Embassy.
The first talk, "Gorbachev, Bush, and the Unification of Germany" on Sept. 22 featured Peter Rutland, the Colin and Nancy Campbell Professor in Global Issues and Democratic Thought, professor of government, and Douglas Foyle, associate professor of government, who spoke on the important role that Russia, Mikhail Gorbachev, and the U.S. played in the German unification process. 
The second talk, "Germany 1990: (Re)unification or Annexation?" will take place from 4:30 to 6:30 p.m., Oct. 8 in Fisk 210. Sarah Wiliarty, director of the Public Affairs Center, associate professor of government; Erik Grimmer-Solem, associate professor of history; and David Patton, professor of government and international relations at Connecticut College, will talk about the events that took place before, during, and shortly after the two German states were united, with attention to the hopes of West and East Germans during this process of "unification," and the disillusionment they experienced. Refreshments will be served and a Q&A will follow the talk.
The third talk will take place from 11 a.m. to 4:30 p.m., Oct. 31 in the Center for Film Studies' Powell Cinema. A film screening and lunch is included. German film director Ute Wieland will introduce and screen her historical thriller "Code Name Luna: Escape, Love, and Blackmail." This four-hour-long TV production tells the story of an ambitious Rostock shipyard worker, Lotte (Anna Maria Mühe) who, in the early 1960s, aspires to be selected for the East German cosmonaut program. The seed of her passion has been planted by her grandfather, Professor Arthur Noswitz (Götz George), an prominent rocket engineer, who is working in the West, in Augsburg. When the Wall is built, Lotte has to bury her dream of becoming a cosmonaut. She joins a resistance group that is betrayed by her boyfriend, Holger (Christian Näthe). A short time later Holger is killed, under mysterious circumstances, and Lotte becomes the main suspect. She manages to escape to the West, where she visits her grandfather. The Stasi officer Moll (Heino Ferch) tracks her down and urges Lotte to come home. He promises her that she will be able to get her brother out of prison, provided that she agrees to spy on her grandfather. Lotte faces a painful choice.