Poets, Novelists, Kim-Frank Visiting Writer Speak at Russell House Fall Series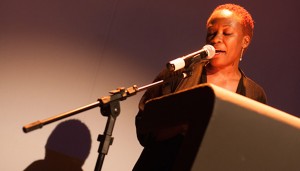 Writing at Wesleyan presents the Fall 2015 Russell House Series of Prose and Poetry. All events are free and open to the public.
M. NourbeSe Philip and Professor of Anthropology Gina Athena Ulysse will speak at 7:30 p.m. Oct. 15 in Memorial Chapel.
NourbeSe Philip is a Toronto-based poet, essayist, novelist, and playwright. Her most recent poetry collections are She Tries Her Tongue, Her Silence Softly Breaks, which has been reissued by Wesleyan University Press, and Zong!, also published by Wesleyan. Her essay collections include A Genealogy of Resistance and Showing Grit.
Ulysse has performed her one-woman show "Because When God Is Too Busy: Haiti, Me and THE WORLD" and other works internationally. She is the author of Why Haiti Needs New Narratives and Downtown Ladies.
This event is co-sponsored by the Center for the Americas and the English Department's Concentration in Creative Writing; co-sponsored by the Center for the Arts and Wesleyan University Press.
Leslie Jamison will speak at 8 p.m. Oct. 28 in Russell House. Jamison's collection of essays, The Empathy Exams, won the Graywolf Press Nonfiction Prize
and was named one of the best books of 2014 by NPR, The New York Times, and Publishers Weekly. Her novel, The Gin Closet, was a finalist for the Los Angeles Times Art Seidenbaum First Fiction Award.
Jaimy Gordon will speak at 8 p.m. Nov. 4 in Russell House. Gordon is a past fellow of the Fine Arts Work Center in Provincetown, Mass. and the Bunting Institute at Harvard University. Her fourth novel, Lord of Misrule, won the National Book Award for Fiction.
A Wesleyan alumnus and former trustee, Dr. Joseph Fins '82 will speak at 8 p.m. Nov. 5 in Russell House. Dr. Fins is the Kim-Frank Visiting Writer at Wesleyan, chief of the Division of Medical Ethics at Weill Cornell Medical College and director of ethics at Weill Cornell Medical Center. His books include A Palliative Ethic of Care: Clinical Wisdom at Life's End and, most recently, Rights Come to Mind: Brain Injury, Ethics, and the Struggle for Consciousness.
Eduardo Corral will speak at 8 p.m. Nov. 11 in Russell House. Corral is the author of Slow Lightning, which won the 2011 Yale Series of Younger Poets competition. He has also received a Whiting Award, and his poems have appeared in publications ranging from The Best American Poetry to Huizache.
Gregg Bordowitz will speak at 8 p.m. Nov. 18 in Russell House. Bordowitz is a writer and artist whose books include Volition; The AIDS Crisis Is Ridiculous and Other Writings, 1986–2003; and General Idea: ImageVirus. His videos and performances—including Fast Trip, Long Drop—have been seen at the Tate Modern, the Museum of Modern Art, and other venues.
Rick Barot will speak at 8 p.m. Nov. 19 in Allbritton 311. Barot attended Wesleyan and The Writers' Workshop at the University of Iowa. He has published three books of poetry, all with Sarabande Books: The Darker Fall; Want, winner of the Grub Street Book Prize; and, most recently, Chord. He is a former Jones Lecturer in Poetry at Stanford, where he was also a Wallace E. Stegner Fellow.
Support for this series is provided by the English Department's Concentration in Creative Writing, Wesleyan's Writing Certificate, Center for the Arts, Center for the Americas, Wesleyan University Press, the Kim-Frank Family fund, the Annie Sonnenblick fund, the Joan Jakobson fund, the Jacob Julien fund, the Millett Writing Fellow fund, the Center for the Arts, and the Shapiro Creative Writing Center.