Psychology Class Learns about Memory, Brain at Wesleyan's Archaeology Collection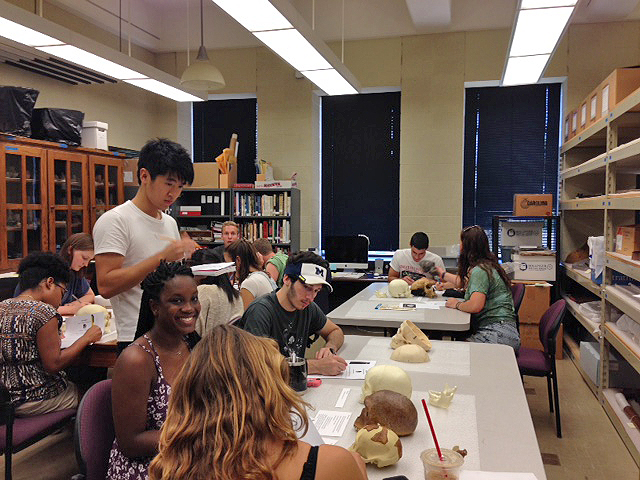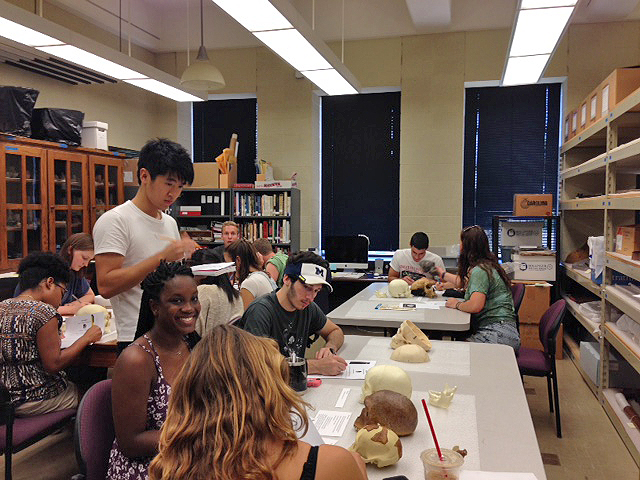 On Sept. 16, students enrolled in the PSYC221 Human Memory course used the Wesleyan University Archaeology and Anthropology Collections for hands-on learning.
The class, taught by Erika Fulton, visiting professor of psychology, visited the collections to learn more about memory and the brain. Students compared and contrasted three skulls from disparate time points in human evolution and used their observations to make inferences about how different parts of the brain must have evolved.
"They had to think about the relationships among a changing environment, memory demands, and brain lobe development," Fulton said. "I think it was a fun way for them to learn a little archaeology, anthropology and psychology, and a much more engaging way to learn brain lobes than through a lecture."
Jessie Cohen, archaeological collections manager, encourages Wesleyan faculty to take advantage of what the WUAAC has to offer. The collection contains more than 30,000 archaeological and ethnographic objects from around the world available for hands-on teaching, she said.