Money and Social Change Class Awards $10K to 4 Local Non-Profits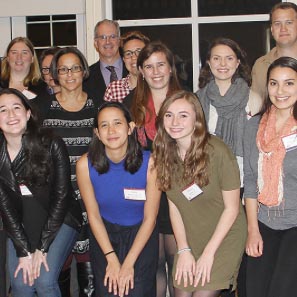 The gift-giving season came early for four non-profit organizations in the local community. On Dec. 7, a class of 10 innovative problem solvers with an interest in philanthropy, awarded $10,000 in grant funds to selected organizations.
As part of the the course Money and Social Change: Innovative Paradigms and Strategies, students spent the fall semester thinking about the role of capital in social change. Students researched the mission statements of 188 organizations in Middlesex County, compared them side by side, and after a final six-hour voting process, whittled their selection to four. The surprise monetary awards, provided to the class by the Learning by Giving Foundation, were presented to the Connecticut Legal Rights Project, Gilead Community Services, the Connecticut Library Consortium, and the Community Foundation of Middlesex County.
"We felt these organizations best fostered sustainable independence and helped to bridge systemic gaps," said student Gaby Montinola '17.
Montinola, who is majoring in psychology, minoring in East Asian studies and is pursuing an Education Certificate, enrolled in the class because she was looking for a practical, hands-on course.
"We got to deal with real money and talk with real heads of real businesses," she said. "I learned that the grant-making process is more subjective than I thought, but it was just as tedious and thorough as I expected it to be."
The class is taught by Joy Anderson '89, visiting assistant professor of public policy and president of Criterion Ventures, and is part of the Service-Learning course cluster at Wesleyan. Anderson asks the students to question: "How do people make decisions about using their money for social change? Where will funds have the most impact? When do shifts in the rules or the use of capital create systemic change and address structural inequities?"
"Our class learned a lot about the grant-making process, but we also learned that there are so many great people in the Middlesex area, and we, as Wesleyan students, should try harder to transcend that threshold so we can interact with adults doing the things we're all passionate about," Montinola said.
Additional photos of the grant award ceremony on Dec. 7 are below: (Photos by Rebecca Goldfarb Terry '19)