Mozart in the Jungle, Co-Created by Weitz '88, Wins 2 Golden Globe Awards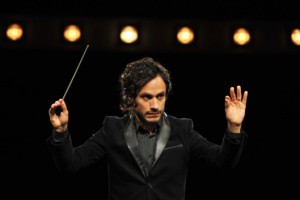 At the Golden Globe Awards ceremony televised on NBC on Jan. 10, honoring film and television achievements, the Amazon Studios TV series Mozart in the Jungle received two awards, Best Television Series – Comedy and Best Actor in a Comedy Series (Gael Garcia Bernal).
The series deals with off-screen adventures and love life of a symphony conductor and is co-created, directed and executive produced by Paul Weitz '88, who also recently directed and wrote the hit film Grandma with Lily Tomlin. Season 2 was just released on Amazon Prime at the end of December.
According to Entertainment Weekly, the comedy series' win was a bit of a surprise because of its strong competition, which included such popular and acclaimed shows as Transparent, Orange Is the New Black, HBO's Silicon Valley and Veep, and the new Hulu series Casual.
In a recent interview in Indiewire about the season 2 of the series, Weitz says: "The show is about the great passion of art and it's a great way to manifest that, with music. I don't think this one particular show could exist without it being that, because it needs to be contemporary. People devoting themselves to something that's been going on for hundreds of years. … What's the role of creativity in one's life? What's the role of passion, and how much does that overwhelm everything else?
For those unfamiliar with the show, New York magazine/Vulture recently published "What Is Golden Globe Winner Mozart in the Jungle All About?"