Bay '86 Directs New Film about 2012 Benghazi Events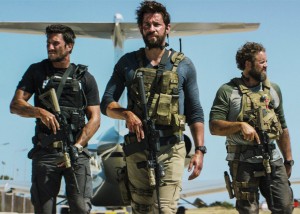 Michael Bay '86 has directed a new film 13 Hours: The Secret Soldiers of Benghazi (Paramount), which opened in U.S. theaters on Jan. 15. Based on the non-fiction book of the same name, the movie traces what happened Sept. 11–12, 2012, when terrorists attacked two Central Intelligence Agency compounds in Benghazi, Libya.
The film tracks six security operatives, most of them former military, who defended the diplomatic compound and nearby CIA annex. The cast includes James Badge Dale, John Krasinski, Max Martini, Toby Stephens, Pablo Schreiber, David Denman, Dominic Fumusa and Demetrius Grosse.
In his review in Slate, film critic David Ehlich writes: "Bay has stated that his intentions were simply to honor the heroism of the guys on the ground, and 13 Hours bears that out. The result … is one of the most politically astute films about America's foreign politics in years …."
In National Review, critic Stephen Miller also praises the film: "Audience members familiar with the director's style will still appreciate all the hallmarks of a Michael Bay film present in 13 Hours. Witness the gritty close ups, muted slow motion, earth-rattling explosions, and long tracking shots of bombs and bullets that will draw direct comparisons to his previous work on The Rock and Bad Boys. … this is Bay's most serious film to date. He does a good job of laying out exactly how and when the attacks took place at the consulate and later at the annex building. We never feel lost in the firefights."
For featurettes and a trailer for 13 Hours, go to the director's website.