Award-Winning Film by Grillo '80 in Limited Release Feb. 26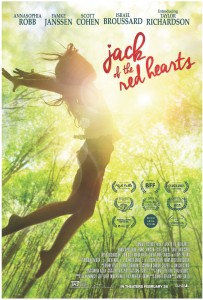 Jack of the Red Hearts, a film by director and executive producer Janet Grillo '80, depicts a family raising a child with autism, as did her first feature, Fly Away. 
This new work features Famke Janssen (of Taken and X-Men) and AnnaSophia Robb (Carrie Diaries and Soul Surfer). Jack of the Red Hearts has garnered 11 festival awards both in the United States and abroad including the jury award at the inaugural Bentonville Film Festival, co-founded by activist/actor Geena Davis, to promote women and diversity in filmmaking. Jack of the Red Hearts will open in limited theatrical release on Feb. 26, in 25 AMC theaters across the country. It will also air on LIFETIME during April, which is Autism Awareness month.
"As a filmmaker, I'm committed to exploring what it means to be human; our humor, pain, clarity and contradiction," Grillo wrote in her director's statement. "Movies, like life, can be hilarious and heart wrenching, in turn. When we explore and express ourselves with total candor, the truth shows up. It charms and alarms, entertains and moves us. My guiding principle in directing Jack of the Red Hearts has been authenticity … allowing the audience to become a 'fly on the wall,' entering the worlds and experience of these characters. Including the autistic child's point of view, according to her neurological difference, illustrates that the 'spectrum' of her experience is related to our own."
See the trailer here or on Facebook.