New Student-Run Workshop Allows Any Student to Pursue Creative Projects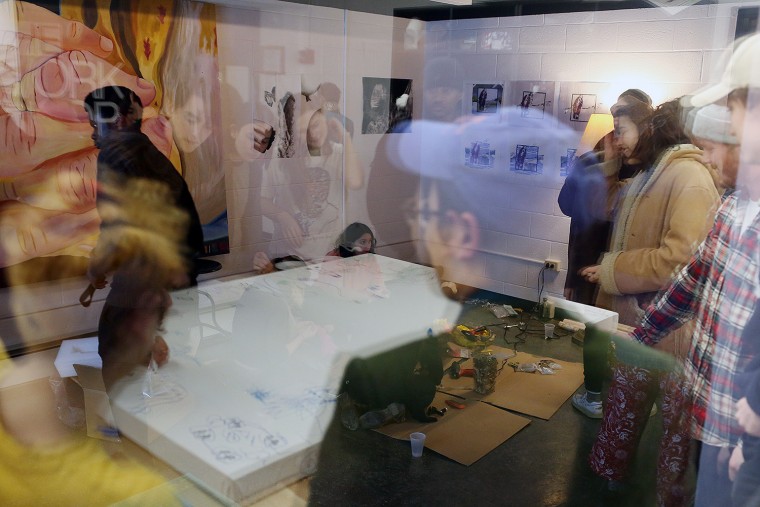 <div class="at-above-post addthis_tool" data-url="https://newsletter.blogs.wesleyan.edu/2016/02/29/workshop/"></div>This month, the Workshop, a new student-run arts collective, opened in the basement of Hewitt 8, The collective was created to provide space, support and resources to any student wanting to pursue a creative project—from bookmaking and woodworking to photography and filmmaking to sewing and weaving.<!-- AddThis Advanced Settings above via filter on get_the_excerpt --><!-- AddThis Advanced Settings below via filter on get_the_excerpt --><!-- AddThis Advanced Settings generic via filter on get_the_excerpt --><!-- AddThis Share Buttons above via filter on get_the_excerpt --><!-- AddThis Share Buttons below via filter on get_the_excerpt --><div class="at-below-post addthis_tool" data-url="https://newsletter.blogs.wesleyan.edu/2016/02/29/workshop/"></div><!-- AddThis Share Buttons generic via filter on get_the_excerpt -->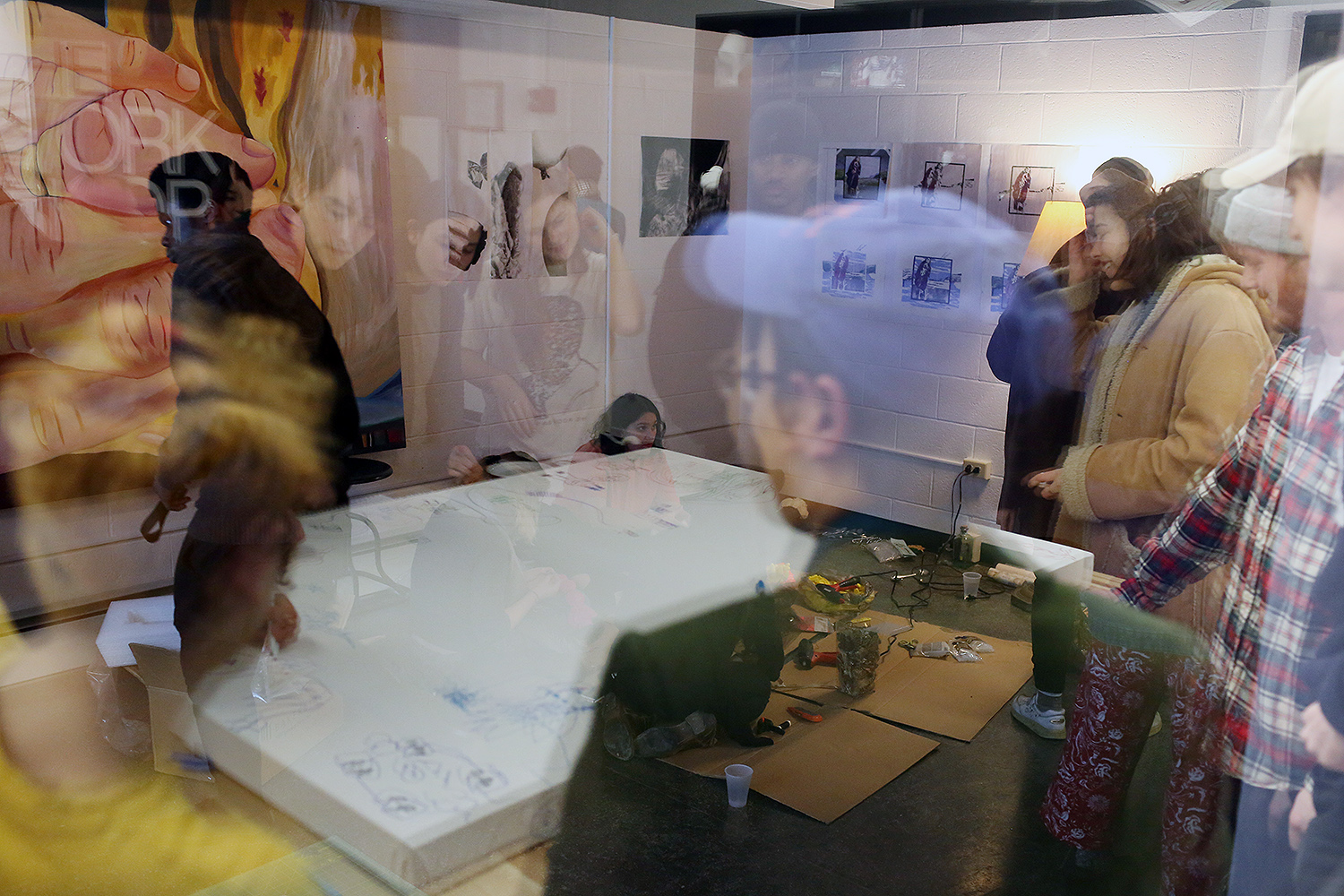 This month, the Workshop, a new student-run arts collective, opened in the basement of Hewitt 8. The collective was created to provide space, support and resources to any student wanting to pursue a creative project—from bookmaking and woodworking to photography and filmmaking to sewing and weaving.
The approximately 1,800-square-foot arts space had its grand opening on Feb. 13. In the weeks prior to the opening, there was a call for art in any stage of completion, which was shared in the gallery portion of the opening. There was a brief performance portion of the opening, with live-responsive drawing, poetry and songs. Students were encouraged to walk around the space, explore the different rooms, and engage with each other in creative capacities.
The idea for the Workshop was independently conceived by Isaac Schneider '16 and Rachel Day '16. As a university major, falling outside a traditional department, Schneider felt like he was lacking access to campus art facilities, and wanted to help others like him find resources to do creative work. Day had been running the DIY Collective for a few years, which provided funding for students to pursue creative projects outside the curriculum, but found that the group's success was stunted by not having a physical space in which to work on projects and store materials. The two got to know each other while working on a senior film thesis, and began developing plans for the Workshop last spring.
In April 2015, Schneider and Day pitched the idea to President Michael Roth, who responded favorably and provided a stipend to support infrastructure improvements in the space. The concept of the Workshop was consistent with a recommendation made by campus planning team Sasaki Associates, Inc. and Eastley & Partners to create more informal learning spaces on campus.
"We explained the need for a student-run space," said Day. "In my experience, when students pursue projects outside of the reward system of grades, they have a huge feeling of ownership and stewardship. It opens up a whole new world of motivations and curiosities; it allows for a lot more exploration—thoughtful fooling around." She added that faculty members will be welcome in the Workshop, but as peers and collaborators, rather than leaders.
Beginning last summer, Schneider and Day worked with staff in Physical Plant, Student Affairs and other university departments to figure out a floor plan, design, furniture and other details of the new space. They also formed a student working group—comprised of Tess Altman '17, Paola Maseda '17, Angus Macdonald '16 and Christian Black '18—to help manage logistical and administrative needs for the Workshop over time.
"Going forward, the success of the entire project is reliant on the energy and participation of a broad base of students," said Day.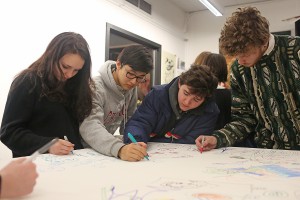 At its opening, the Workshop was equipped with a wide range of gear and supplies, including film and photo gear, powerful computers for design work and film editing, a woodworking bench and power tools, a soldering iron, art supplies and a sewing machine.
"We're trying to support most crafts," said Schneider. The group is collecting gear that already exists at the school into one central location, and will likely buy more gear once it's apparent how students are using the space and what their needs are.
The group has been advertising and holding open meetings to get other students involved. Turnout has been impressive. "It feels like it's being embraced in the community pretty quickly," Schneider said.
"This space is a physical validation that your creative projects are worthwhile," Day said. "It will be really crucial that we make sure students who haven't thought of themselves as artists can find a comfortable place to start tapping into their artistic side."
The group also plans to create a fund to support individual projects, so students are able to pursue creative work, even if it strains their budget. Student project facilitators will be on hand at the Workshop to assist and train students as needed. The group will hold community meetings on alternating weeks, to be attended by students working on a project or new students looking to get involved. For more information, email the.workshop.art.space@gmail.com.
More photos of the Workshop's grand opening are below: (Photos by Ryan Heffernan '16)