Students, Faculty, Alumni Present Research at Planetary Science Conference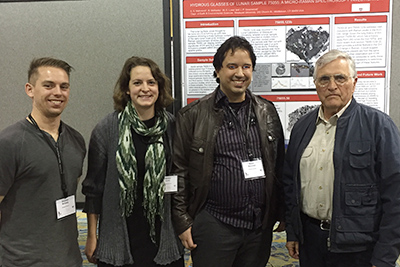 Three Wesleyan students, faculty and several alumni recently attended the 47th Lunar and Planetary Science Conference in The Woodlands, Texas.
This conference brings together international specialists in petrology, geochemistry, geophysics, geology and astronomy to present the latest results of research in planetary science. The five-day conference was organized by topical symposia and problem-oriented sessions.
Earth and environmental sciences graduate students Ben McKeeby and Shaun Mahmood, and earth and environmental science major Melissa Lowe '17 presented their ongoing planetary science research at the conference. Lowe received a NASA CT Space Grant travel award to attend the conference.
McKeeby shared his research titled, "An investigation of jarosite and associated alteration mineralogy
in Martian Meteorite Roberts Massif 04262 using Micro-Raman spectroscopy;" Mahmood presented his study titled, "Hydrous glasses of lunar sample 75055: A Micro-Raman spectroscopy investigation;" and Lowe spoke about her study titled "Cl-rich britholite substitution in apatite of high-titanium basalt 75055: A chlorine and REE-enriched phase of lunar phosphates."
The students were accompanied by their advisor, James Greenwood, assistant professor of earth and environmental sciences. Greenwood presented on "Volatile content of the lunar magma ocean: Constraints from KREEP basalts 15382 and 15386." In addition, Martha Gilmore, chair and professor of earth and environmental sciences and the George I. Seney Professor of Geology, was an author on two Venus presentations at the conference.
Several alumni also made contributions at the planetary sciences meeting including Ian Garrick-Bethell '02; Peter Martin '14; Bob Nelson MA '69; James Dottin '13; Keenan Golder MA'13; Tanya Harrison MA '08; Nina Lanza MA '06; and Ann Ollila MA '06.