Kolcio, Students Attend Ukraine in Washington Forum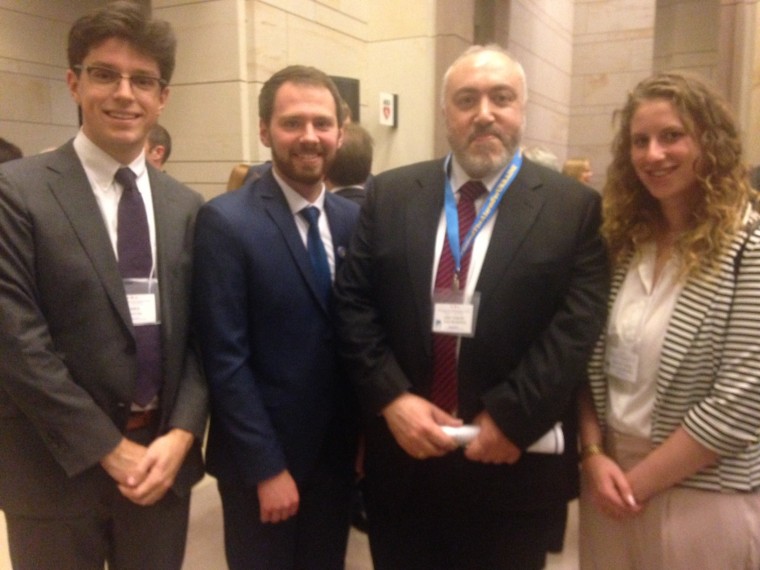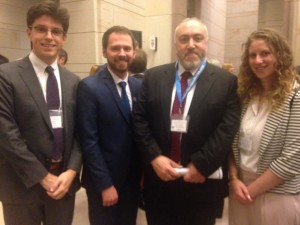 Katja Kolcio, associate professor of dance, associate professor of environmental studies, and a group of students attended the Ukraine in Washington forum at the Capitol Building in Washington, D.C., on March 30, where Ukrainian President Petro Poroshenko delivered the keynote address. Poroshenko was in Washington for President Barack Obama's Nuclear Summit.
The trip was funded by the Dean of Social Sciences and the Dean of Arts and Humanities. According to Kolcio, the highlight of the trip occurred when Poroshenko responded to a question posed by Misha Iakovenko '18 about the president's efforts to deal with corruption, and a recent article that appeared in the Kyiv Post by gas company CEO and anti-corruption advocate Oleg Prokhorenko. The group also heard panels on Humanitarian Crisis, Economic Reform, and Political Context: Budapest to Minsk Agreements.
Reflecting on the experience, James Reston '18 said, "I learned more about the nature of corruption in Ukraine. President Poroshenko was much more forthright about the topic than I expected him to be, especially after the panel members heavily criticized him. The president seemed to be trying to balance the different factions in politics (for instance, the activists vs. the oligarchs). However, just [recently] he was implicated in the Panama Papers leak. Corruption is ingrained in Ukrainian society, and everyone engages in it or with it to survive."
Watch Poroshenko's address here (bottom of page). Beginning around 54 minutes, he answers question from the audience, including the first question from "a Wesleyan University student."
Misha Iakovenko, '18, the student who asked the question, said of the experience: "As a Ukrainian citizen and an active participant in the Revolution of Dignity in 2014, I was very excited to meet President Poroshenko in person and hear him talk on the progress my homeland is making. During the elections in 2014—when he gained an 54.7 percent of votes, unprecedented in Ukrainian history—I was an avid supporter of his candidacy. Fresh off the revolution, saddled with a recessive economy with almost-empty foreign exchange reserves, and an active far-right movement, Ukraine was not the best country to become the president of. Yet Poroshenko took the risk and did a decent job trying to make things better.
"In his speech, he talked a lot about all the achievements the government has made over the past couple years and the challenges that Ukraine is still facing. I had an opportunity to ask the president about one of such challenges, corruption in state-owned enterprises. As one may expect from a politician, his answer was vague. But unlike all the previous presidents, he did admit that oligarchy and corruption exist and explained his next steps in fighting the problem. And this gives me hope that one day, despite all the post-soviet legacy, Ukraine will have its own Trente Glorieuses and will become a prosperous country with democratic values and a transparent economy."