Athletics Celebrates Partnership with Community Foundation of Middlesex County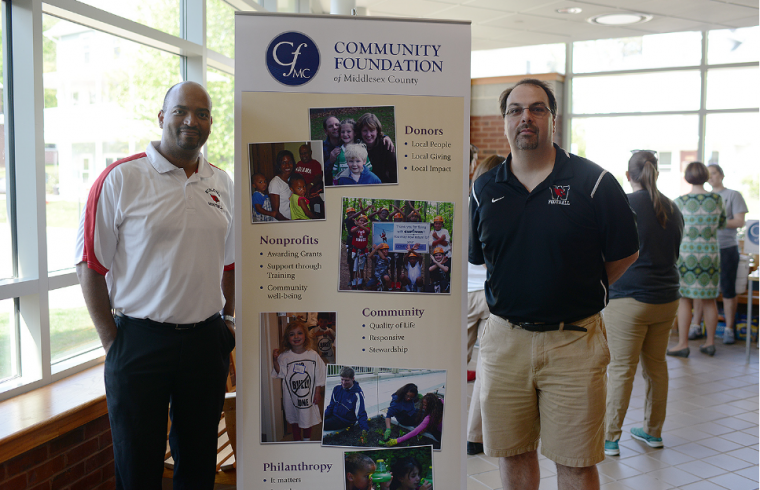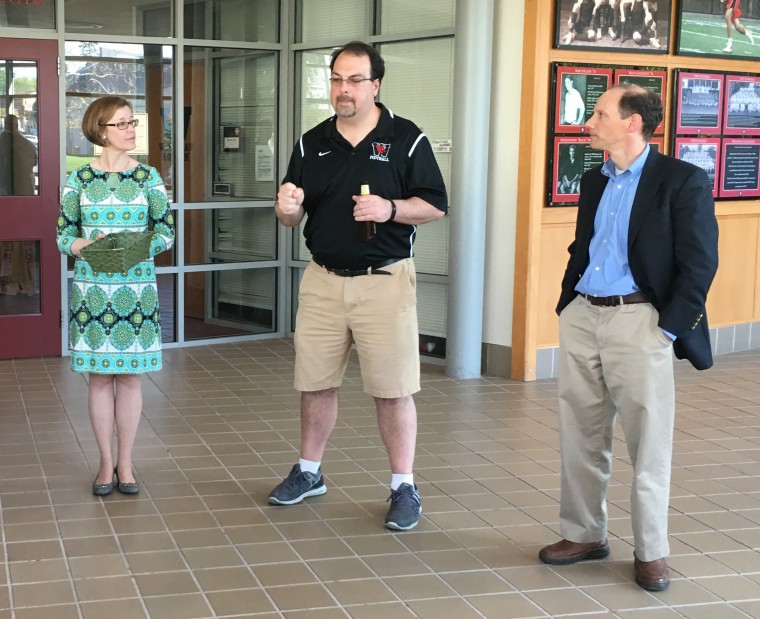 The Community Foundation of Middlesex County (CFMC) invited Wesleyan coaches for "A Slice and A Celebration" in the Warren Street Lobby of Freeman on May.
Over pizza and a beverage, the coaches were celebrated for their community involvement, as well as offered the opportunity to learn more about the Community Foundation and how it can be a resource to the nonprofits and our broader community. Foundation leaders in attendance were Cynthia Clegg, president and CEO; Thayer Talbott, senior director of programs and operations; and Wallace Jones, CFMC board chairman. Also Frantz Williams '99, CFMC board member—and director of development at Wesleyan—co-hosted the event with Jeff McDonald, Wesleyan's assistant football coach and a member of CFMC's 365 Fund. Clegg noted that Athletics Director Emeritus John Biddiscombe, a former CFMC board member and chairman, had been instrumental in continuing the relationship between Wesleyan and the Foundation forged 19 years ago when CFMC was founded.
To illustrate how this relationship is active today, McDonald told the story of his involvement: Members of Student Athletic Advisory Committee (SAAC) were mentors to students at MacDonough School in Middletown's North End. SAAC had expressed the desire to further their local mentoring and community activities by supporting anti-bullying programs.
McDonald met with Talbott to learn more about the Community Foundation and its Campaign for Bully-Free Communities, a train the trainer, peer-based initiative promoting positive behaviors in our schools and communities. The SAAC sponsors a dodgeball tournament and decided to commit the money raised at the tournament to support bus transportation for the Middletown schoolchildren who attended The Bully at the Ivoryton Playhouse, a musical with an anti-bullying message.
"The CFMC took us beyond just talking to the kids—they took us to the next level, so we were involved in even more meaningful activities together," he said.
Photos below by Rebecca Goldfarb Terry '19 and Cynthia Rockwell: