Lewen's ('86) Prison University Project Receives National Humanities Medal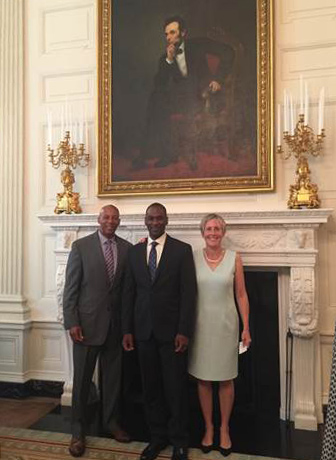 The National Endowment for the Humanities awarded the Prison University Project the National Humanities Medal for transforming the lives of incarcerated people through higher education. The Prison University Project is run by founder and executive director, Jody Lewen '86.
Lewen accepted the medal at a ceremony Sept. 22 at the White House, along with former students, Pat Mims and David Cowan. The medal honors individuals or groups whose work has deepened the nation's understanding of the humanities and broadened our citizens' engagement with history, literature, languages, philosophy and other humanities subjects.
At Wesleyan, Lewen earned a BA in history. She received an MA in philosophy and comparative literature from Freie Universität and a PhD in rhetoric from University of California – Berkeley. Lewen has published and presented extensively in the fields of psychoanalysis, literary theory and criminal justice. She was the 2006 recipient of the Peter E. Haas Public Service Award from UC Berkeley, and a recipient of the 2015 James Irvine Foundation Leadership Award.
This month, Lewen will be a panelist at Wesleyan's 15th Annual Shasha Seminar for Human Concerns. She will speak at the Oct. 15 session of "How College-in-Prison Makes for Better Universities and Better Communities." The Shasha Seminar is an educational forum for Wesleyan alumni, parents, and friends that provides an opportunity to explore issues of global concern in a small seminar environment. This year, the focus will be on mass incarceration and the University's role in this seemingly intractable problem. Click here to learn more.