Williams '15 Awarded NSF Graduate Research Fellowship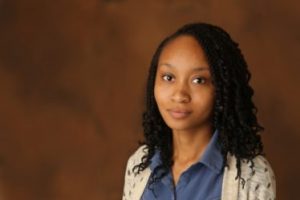 LaNell Williams '15, currently enrolled in the Fisk-Vanderbilt Master's to PhD Bridge Program, was named a National Science Foundation (NSF) Graduate Research Fellow for 2016. This fellowship program not only recognizes but also supports outstanding  students in NSF-supported STEM disciplines who are pursuing research-based master's and doctoral degrees at accredited U.S. institutions. With more than 17,000 applicants, Williams was one of 2,000 selected for the three-year stipend, with its professional development and international research opportunities.
At the Fisk-Vanderbilt program, which aims to increase the number of underrepresented minority students engaged in PhD-level STEM research, Williams is focusing her research on the development of an innovative medical imaging radiation detector, examining new types of crystalline materials that will improve the resolution of Gamma ray detection.
A physics major as an undergraduate at Wesleyan, Williams was an integral member of that community. Christina Othon, assistant professor of physics, was Williams' advisor.
"LaNell was a vital mentor and friend to many of our students in the sciences, and she went out of her way to support her fellow students by fostering networks, support systems, and a sense of community," Othon said. "Even today, she continues to mentor undergraduates at Wesleyan, despite undertaking the challenges of starting her own graduate career in physics. Her success is well deserved."
Class Dean Renee Johnson Thornton praises William's work ethic and scientific mind.
"When I think about the impressive young woman in a Memphis, Tennessee high school that Cliff Thornton, associate dean of admission, was determined to enroll at Wesleyan so many years ago, I am reminded that LaNell was always destined for greatness. We, at Wesleyan, are lucky that she chose us. Her commitment to breaking barriers and encouraging others to pursue science is the standard we should all emulate."