Schorr's Flying Carpets Exhibition Explores Childhood Memories, Creative Process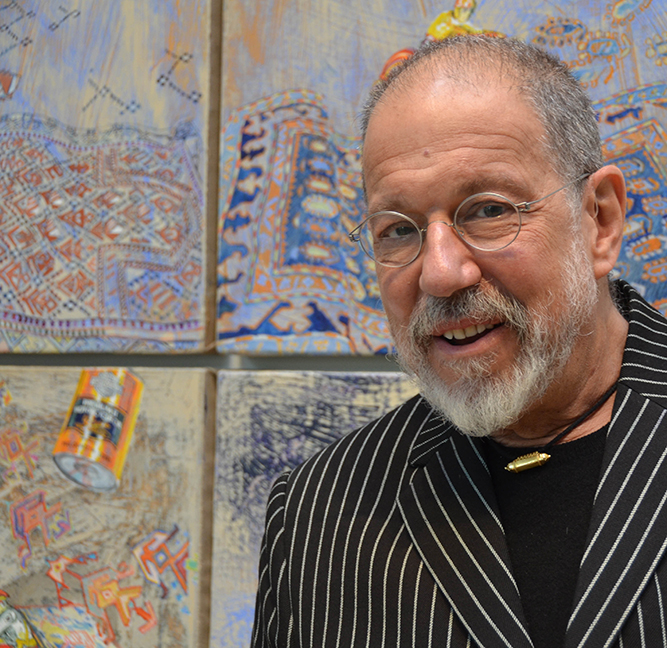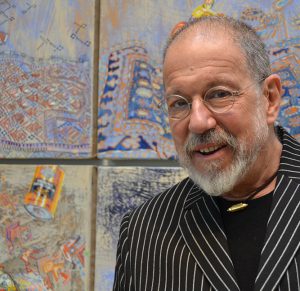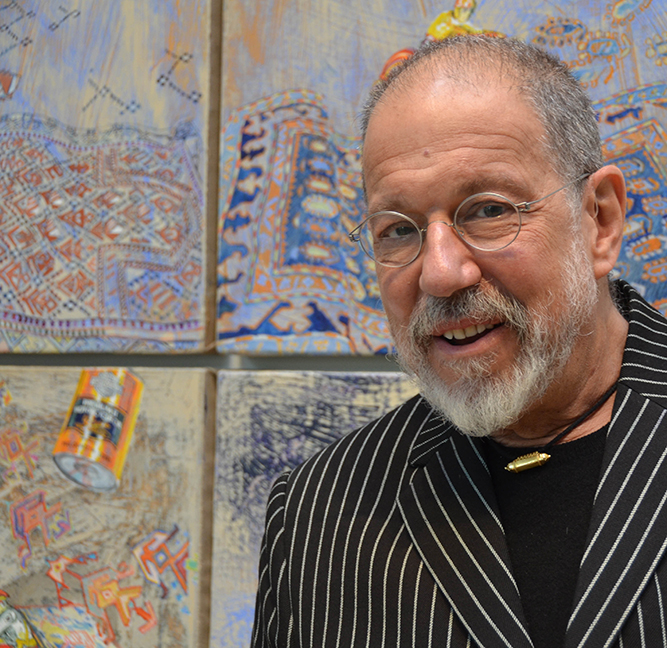 On Nov. 1, Professor of Art David Schorr's Flying Carpets—New Paintings by David Schorr opened at Wesleyan's Ezra and Cecile Zilkha Gallery with a standing-room-only reception and gallery talk by the artist. This solo exhibition and the site-specific installation, Flying Carpets, revisits Schorr's childhood days spent playing on his grandmother's Persian rugs. A few days earlier, on Oct. 29, Schorr had previewed this opening in an WESeminar for Family Weekend.
In his remarks, Schorr shared the artists' process through which the series came to be. "One of the questions my students ask is, 'Where do ideas come from?'" he began. "And alas, I have no easy answer. I can say where an idea begins, but often like a working title which is discarded, my ideas are not born fully formed and as I try to give them form I am actually trying to understand what it really is I am trying to say…..
"What I do care most about from the start is whether the idea that I am chasing is a potent metaphor for my viewers. I don't need to know that the images they are seeing what I am seeing. I do need some assurance that these images are stirring memories or thoughts or emotions in my viewers. And only then do my own doubts begin to abate and I can keep working on…"
Beginning with a conversation about childhood moments spent playing with toy vehicles on grandparents' carpets—and the memories he saw that this triggered in his friends, Schorr traced the creative path, following the evolution of this series from the image of sturdy metal toys against the colors and patterns of the carpet, to the sense of play and abandoned boundaries that childhood imagination imbued in each.
Gradually, also, his subconscious introduced other forgotten pieces of a childhood in the 1950s to the paintings, and painted cans of Hills Brothers coffee—his parents' favorite—and cardboard caps of milk bottles—the kind left by a morning milk man—joined the objects summoned by memory of a bygone era. Complementing the images, Schorr also quoted from Robert Louis Stevenson's Child's Garden of Verses, the poetry offering an aural incantation to re-enter the era with the artist.
"As my students have heard me say," he concluded, "Transformation is the most important single factor in the making of art."
The exhibit will be on display at Wesleyan's Zilkha Gallery through Sunday, Dec. 11, 2016 (closed Wednesday, Nov. 23 through Monday, Nov. 28, 2016). Flying Carpets—New Paintings by David Schorr will open at the Ryan Lee Gallery in New York City in January. The exhibition is accompanied by a fully illustrated catalog designed by David Schorr, featuring an essay by poet Jonathan Galassi.
Photos of Schorr's reception and gallery talk on Nov. 1 are below: (Photos by Caroline Kravitz '19)