Wesleyan Celebrates Installation of Its New Solar Photovoltaic System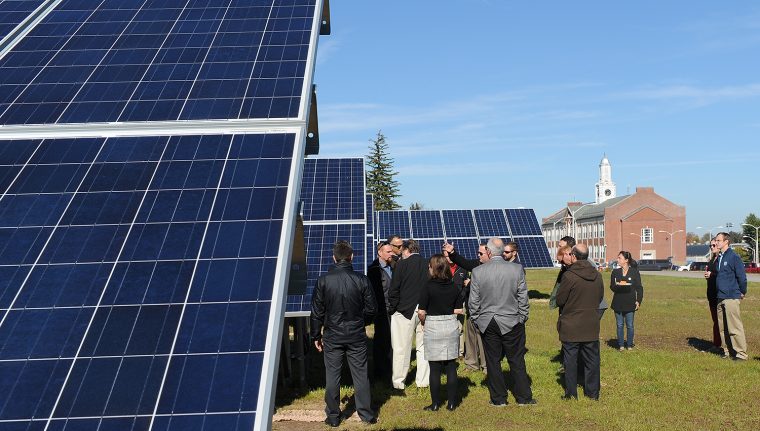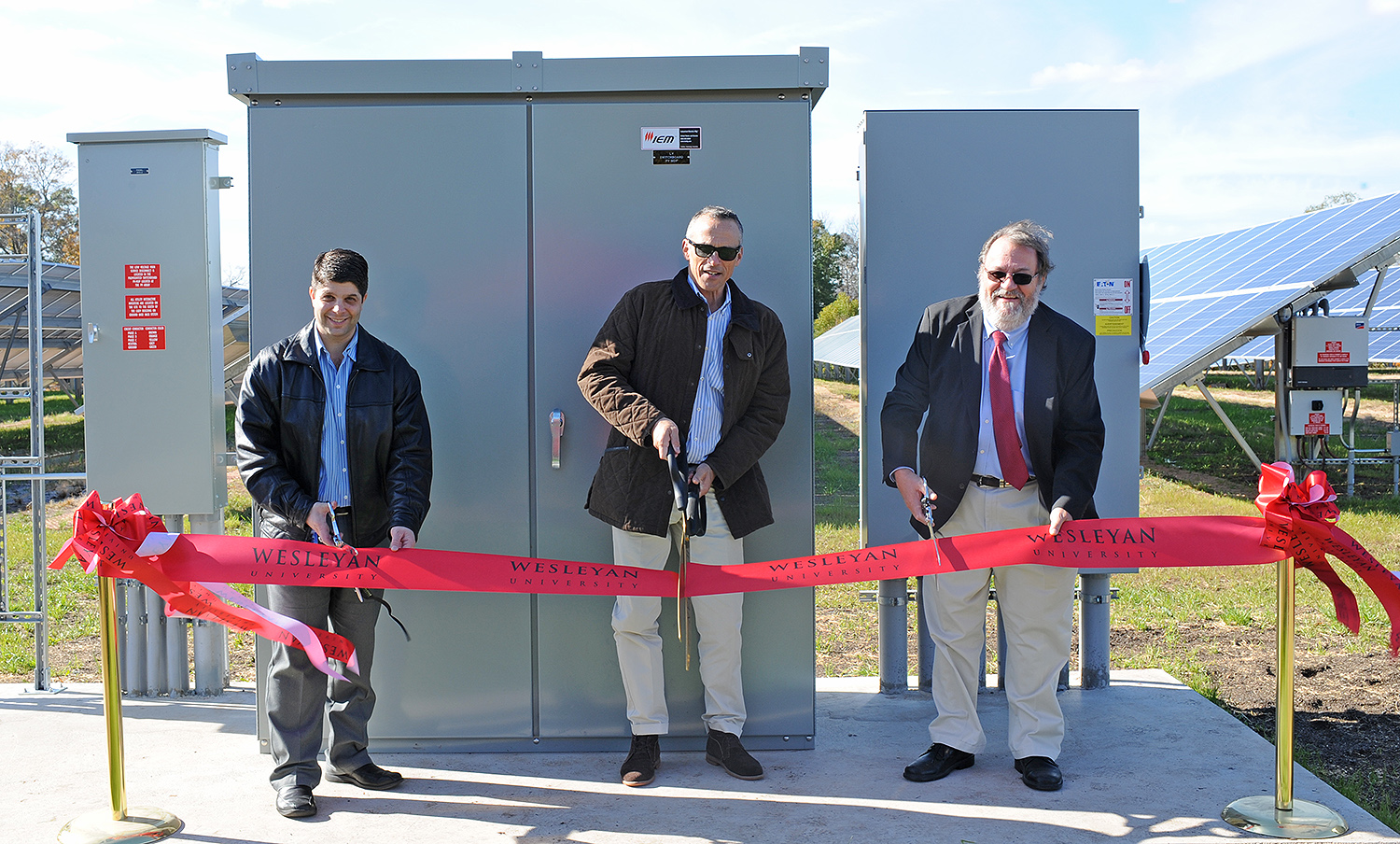 On Nov. 1, Wesleyan celebrated the installation of a 750 kW-AC ground-mounted solar photovoltaic system, or solar farm, located near Physical Plant, at the corner of Long Lane and Wadsworth Street.
The array is under a Power Purchase Agreement with Greenskies Renewable Energy LLC, a Middletown-based solar energy company. It will produce 1.2 million kilowatt hours of clean renewable energy each year amounting to about five percent of Wesleyan's annual electric consumption.
"If we get more days like today, it will even produce a lot more energy that that," said Nate Peters, vice president for finance and administration during a ribbon-cutting ceremony. "The solar array will take the university closer to our goal of being a carbon neutral campus as well as increasing our energy self-reliance."
(Watch a video of the ribbon cutting ceremony in The Hartford Courant)
The new solar PV array will work in collaboration with two existing natural gas co-generation facilities on the Wesleyan campus. It will supply power directly to the university's existing microgrid which was completed in March 2014 with the assistance of a grant received from the state Department of Energy and Environmental Protection.
Wesleyan has 311 buildings on campus, of which approximately 80 are connected to the university's current Cogen power grid. This solar array will give the university the opportunity to bring that power grid further out toward Long Lane, which will capture a few more buildings.
"Every once in a while we do something big, and this project is really big," said Wesleyan President Michael Roth. "Wesleyan acquired this land and John Meerts (Wesleyan's former vice president for Finance and Administration) was able to come up with a plan to convert it into a solar farm. It's been extraordinary to see and experience."
Middletown Mayor Daniel Drew participated in the ribbon cutting ceremony and commended Wesleyan and Greenskies on the project.
"People who populate this university have respect for the environment. I'm proud of Wesleyan for being so progressive … and for its efforts on social, environmental and economic justice. This (solar farm) is one more step towards a more equitable future," Drew said. "By involving Greenskies, a local company, this is a win-win for Middletown, the local community, and it puts Wesleyan on the map for being a model to other universities."
The solar farm is the fourth solar array that has been installed on the Wesleyan campus. The other three are at the Freeman Athletic Center, a student-residence at 19 Fountain Ave. and on the Office of Admission building.
State Senator Paul Doyle, State Representative Joe Serra, State Representative Matt Lesser and several members of Wesleyan and Greenskies staff also attended the ribbon-cutting ceremony.
(Photos by Olivia Drake and arial photos by John Wareham)