Baileys Support Groundbreaking Approach to Environmental Studies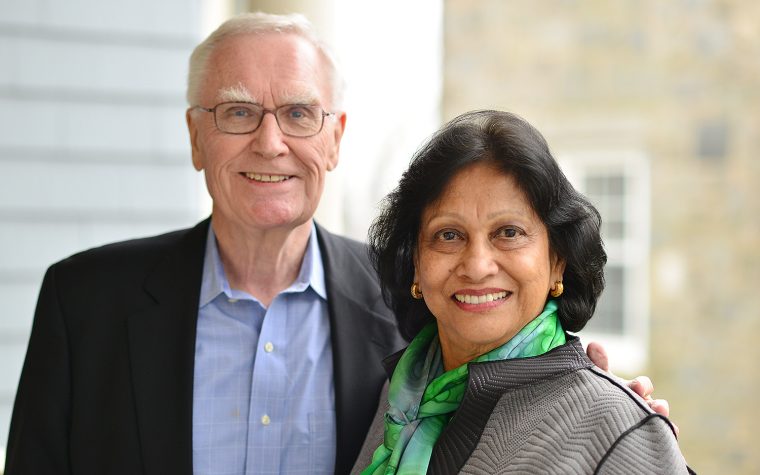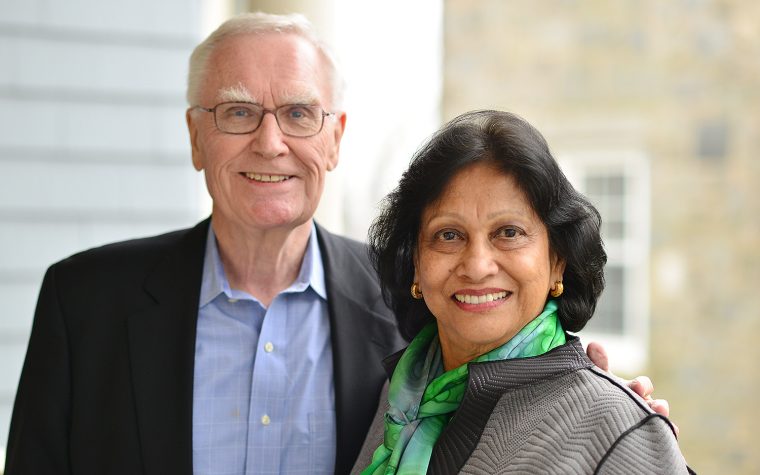 Essel Bailey '66 believes that science is the foundation for addressing questions of environmental policy, which aptly describes the purpose of Wesleyan's College of the Environment. Now, he and his wife, Menakka, have increased their support of the COE with a new $4 million commitment to its programs, faculty and students – bringing their total gift to the COE to $7.5 million.
In part, their endowment gift will fund a multi-pronged effort to extend the work and themes of the Menakka and Essel Bailey Think Tank throughout the campus, explained Barry Chernoff, chair of the COE and the Robert Schumann Professor of Environmental Studies. Chernoff is planning for seminars, workshops and faculty-student research grants as means for engaging the wider community in Think Tank themes, such as next year's topic – Disruptions to Disasters: Confronting the Human-Environmental Relationship. The fund also supports a Distinguished Visiting Scholar, a position currently held by Professor Henry Adams of Case Western University.
"Wesleyan is committed to graduating informed citizens who will become involved in a broad range of environmental practices and policy-making," said President Michael Roth '78. "We are so grateful to Essel and Menakka for their sustained support of the College of the Environment and its curricular initiatives. They have helped the College achieve its mission with distinction."
"At a time when some are calling into question the value of environmental science, it's refreshing and reassuring to receive generous support from two individuals with such a clear view about the importance of decision-making based on scientific evidence," Chernoff said. "Their gift will benefit Wesleyan's educational mission and its faculty and students for generations to come."
The Bailey's gift also will establish an Endowed Experience Fund, which will support internship learning opportunities for students of all majors with financial need who are pursuing studies related to environmental research. They are also funding an endowed scholarship for juniors or seniors who have demonstrated exceptional academic accomplishment and are pursuing the environmental studies linked major or the environmental studies certificate through the COE.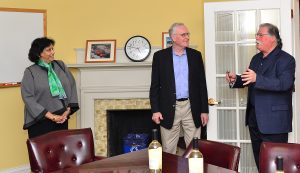 "Mennaka and I admire the work that Barry and his colleagues have been doing to build the College of the Environment into a multidisciplinary program that addresses environmental issues from a variety of perspectives," Essel Bailey said. "This is exactly the kind of pragmatic, broad-minded approach that will help students figure out how they can contribute to a world that faces important environmental challenges."
The COE Think Tank brings together outside scholars, Wesleyan faculty and students to address a significant environmental topic each year. Recent topics have dealt with shifting landscapes, sustainable cities, water and stresses on natural systems. Think Tank faculty have produced 94 peer-reviewed articles since the COE's founding in 2009, as well as art shows and performances.
Essel Bailey acquired his appreciation for the natural environment growing up on farms in his native state of Michigan. A lawyer and executive in Ann Arbor, Mich., he is a trustee of The Nature Conservancy and other environmental groups. He and Menakka currently own a farm in Northern California that grows sustainably produced grapes used in making premium wines under the KnightsBridge label.
The Baileys are committed to the Wesleyan educational experience and the importance of educated graduates who value science as the basis for understanding environmental policies and alternatives.