StemCONN Symposium Shows Connecticut is Leader in Stem Cell Research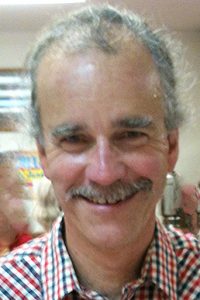 The annual StemCONN conference, held April 27 in New Haven, made clear that Connecticut's commitment to stem cell research has helped the state become a national leader in this burgeoning area of research and commercial development.
Wesleyan is one of the founders of the StemCONN conference, along with Yale and the University of Connecticut. This year marks the 6th StemCONN conference, an event that brings together more than 500 individuals from academic institutions, bioscience industry, and government.
"Stem cell research continues to be an exciting and fast-paced field with new discoveries fueling prospects for new therapies based on regenerative medicine for a range of debilitating medical conditions, and Connecticut is at the leading edge of this field," said Janice Naegele, professor of biology and one of the symposium's organizers. "A major emphasis of StemConn's mission is education, and this year's conference attendees included undergraduate trainees, graduate students, and postdoctoral fellows. Special interactive sessions over lunch provided a fabulous small group format for undergraduate and graduate students to ask questions and discuss career paths with our invited speakers. This is a one of a kind opportunity for many of our trainees."
Connecticut passed ground-breaking legislation in 2005, becoming the first state to fully approve funding for stem cell research. The 12-year, $100-million per year initiative has enabled the state to compete successfully for scientific talent in the field and has helped to establish a growing bioscience corridor in the Hartford-New Haven area.
Connecticut State Senate President Martin Looney of New Haven said the 2005 bipartisan achievement "has borne fruit in all the ways we hoped it would." Another state official, Catherine Smith, commissioner of the Connecticut Department of Economic and Community Development, called bioscience a "core" part of the state's economy and noted that genomics and pharmaceutical companies have been locating here.
To build on progress to date, Connecticut has established a $200 million bioscience innovation fund to support initiatives at startups, nonprofits, and educational institutions.
Speakers at the conference were indicative of the scope of ongoing stem cell work.
Valerie Horsley, a Yale scientist and chair of the conference organizing committee, noted that laboratory discoveries are leading to medical breakthroughs and new clinical therapies.
Molly Shoichet, who holds the Canada Research Chair in Tissue Engineering at the University of Toronto, underscored the point with a talk titled, "Can We Really Regenerate the Brain?" The discovery of adult neural stem cells has opened the door to what was once thought impossible – regenerating brain cells in ways that could prove useful in treatment of spinal cord injury, stroke, and degenerative diseases that cause blindness. Shoichet described a technique for delivering proteins that stimulate neurogenesis directly to the brain. While results have been promising, she emphasized that a great deal remains to be learned.
Other speakers described ongoing work in stem cells and regenerative medicine that address lung diseases. Non-malignant lung diseases kill 120,000 Americans each year, and only 1,700 lungs become available yearly for transplant. Efforts are underway to develop organoids that function like lungs. The lung is a complex organ with multiple cell types, which makes replicating its function an immense challenge, said Hans-Willem Snoeck of Columbia University. He stressed the need for government funding if the field is to advance and noted that the research relies on discarded human fetal tissue – a controversial topic.
Basic research is a virtually endless frontier for the field. Wesleyan Professor of Biology Stephen Devoto, for instance, described his work with zebrafish investigating how some embryonic cells develop into specialized, non-dividing cells, while others develop into stem cells that underlie the enormous growth that occurs from early embryogenesis to adulthood. He and his research team have characterized the role of a protein, Tbx6, in regulating these early cell fate choices. They have found that Tbx6 is part of a gene regulatory network that promotes stem cell development and, in a way, protects cells from becoming non-dividing, specialized muscle fibers.
Mutations of this protein, he notes, are found in patients with diseases of the spine.
Stem cell research is also attracting venture capitalists and startup entrepreneurs to Connecticut. Eight companies have been created in Connecticut that are directly related to stem cell research, while others are in the process of formation. All told, more than 150 scientists across the state work in stem cell research, as well as significant numbers of support staff.