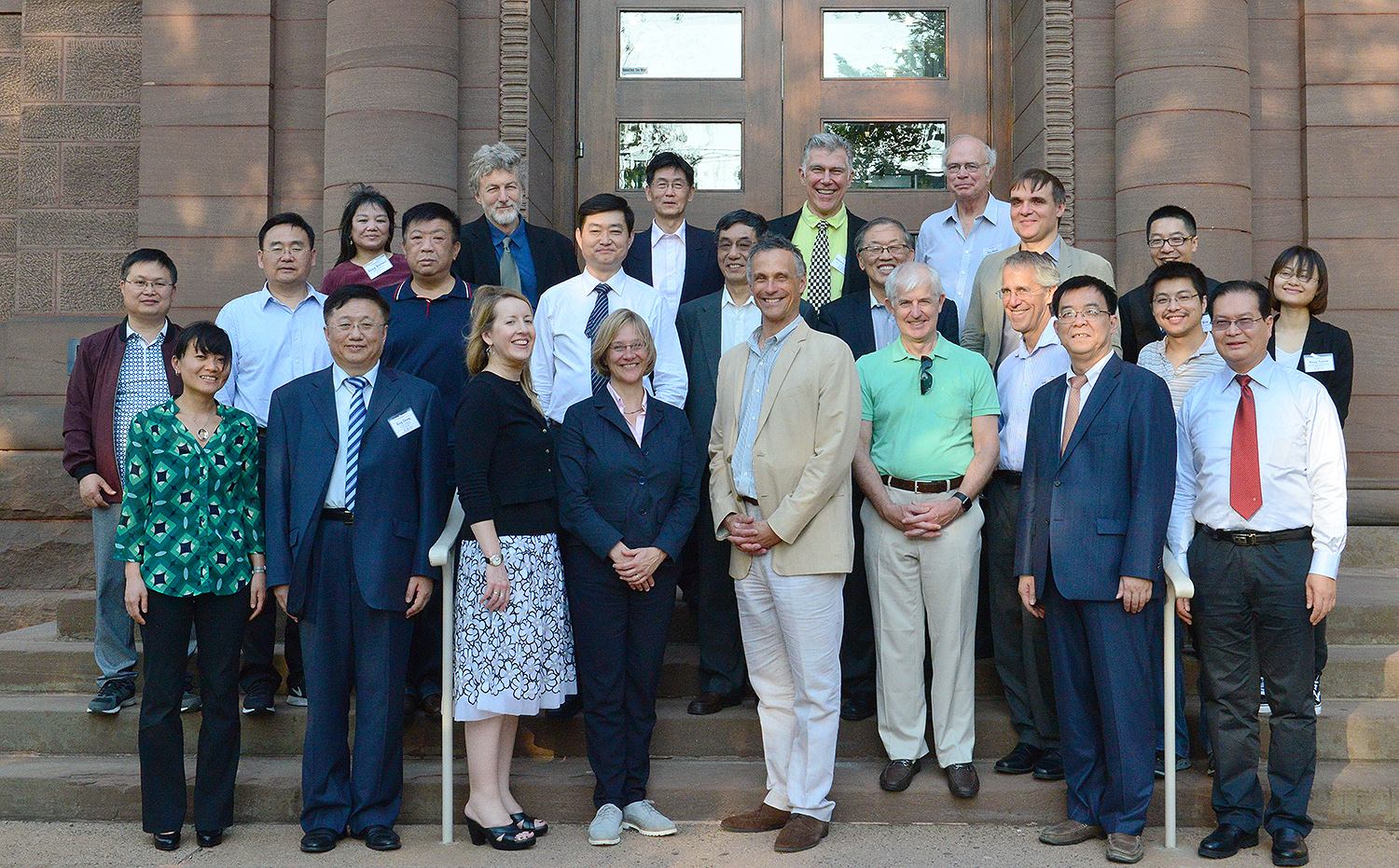 From May 17-19, the Fries Center for Global Studies hosted the Wesleyan University — Social Sciences in China Press Forum on Globalization.
The 18 conference participants — all faculty or research fellows — hailed from universities and academies in China, Germany and the U.S. Participants from Wesleyan included Lisa Dombrowski, professor of film studies; Don Moon, the Ezra and Cecile Zilkha Professor in the College of Social Studies, professor of history; William "Vijay" Pinch, professor of history, professor of environmental studies; and Paula Park, assistant professor of Spanish.
The Forum Addresses were led by Wesleyan President Michael Roth and B. Antonio Gonzalez, professor of Spanish, director of the Fries Center for Global Studies. Additional remarks were presented by Gary Yohe, the Huffington Foundation Professor of Economics and Environmental Studies, and Wang Limin, executive deputy editor-in-chief of Social Sciences in China Press.
Topics of the forum included: "The Change of Global Governance and the Construction of the Human Community of Shared Future: China's Mission and Possible Contribution;" "The Structural Shift from 'Eurocentrism' to Global Vision;" "China and Globalization in Historical Perspective;" "China From Afar: Chin in the Popular Imagination in North India at the Turn of the 20th Century;" "The Spirit of the Manila Galleon: Latin America and the Shifting Tides of the Pacific Ocean;" and "The Past and the Future of the Human Community;"
Also "The Governance of the Global Risk Society and China's Participation;" "Expanding the Market for Foreign-Language Cinema in the United States: Two Studios, Two Strategies;" "Historiography as Global Professional Field;" "Global Governance: Constructing a New Global Governance Philosophy;" "The Theoretical Essence of the Interaction between Global Governance and National Governance;" "The Paradox Between Immigration and Political Correctness — Pluralism and Conservatism in the Era of Globalization;" and "Urban Societies: Cultural Diversity and the Community of Shared Future."
In December 2014, Wesleyan signed a memorandum of understanding with the Social Sciences in China Press (SSCP), the publishing arm of the Chinese Academy of Social Sciences (CASS), which formalized an ongoing partnership between the two institutions. The agreement calls for a biennial scholarly forum involving representatives from Wesleyan and SSCP; mutual advertising to help each gain recognition in the other's home country; exchange visitors; and cross-publishing of content between Wesleyan's international journal History and Theory and SSCP's Historical Research.
The event was co-sponsored by the Office of the President; Center for the Humanities; College of East Asian Studies; Dean of the Arts and Humanities; Dean of the Social Sciences; History and Theory (Journal); the Social Sciences in China Press and Chinese Academy of Sciences.
Photos of the conference and reception are below: (Photos by Olivia Drake and Rebecca Goldfarb Terry '19)