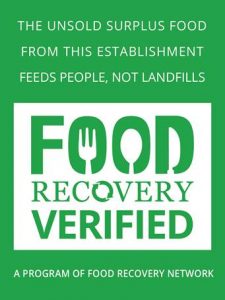 The Food Recovery Network recently named Wesleyan's Dining Services "Food Recovery Verified" for donating unsold surplus food to a local charity.
The Food Recovery Verified (FRV) program recognizes and rewards food businesses of any type that are working to fight waste and feed people through food recovery.
Now in its sixth year, Wesleyan's student-run Food Rescue organization donates its unsold food from Usdan's Marketplace, Summerfields and Pi Cafe to the Eddy Shelter in Middletown, which provides emergency shelter and meals for single adults. Food Rescue is an Office of Community Service program under the supervision the Jewett Center for Community Partnerships.
Lydia Ottaviano '17 and Lili Kadets '17 have co-coordinated this group since spring semester 2014. Throughout the academic year, the duo works to schedule about 34 volunteers who pick up and deliver food, three times a day, from Wesleyan to the Eddy Shelter, located about five minutes away from campus.
"We are the Eddy Shelter's sole source of consistent food," Ottaviano said. "The shelter has 30 residents at any given time and raises that number to 50 during the winter months."
During the 2017 spring semester, Food Rescue collected 277 trays of food from Usdan; 217 trays from Summerfields; and 283 bags and boxes of food from Pi Cafe. During the 2016 fall semester, the group collected 195 trays from Usdan; 131 trays from Summerfields and 179 bags and boxes from Pi Cafe.
Volunteers also participate in an aluminum tray washing shift.
In addition, Food Rescue raised $500 during its semi-annual Hunger Banquet with its umbrella group, Hunger and Homelessness. They also partnered with Wesleyan's Waste Not! to establish food donation bins for students leaving campus to donate their non-perishable items. These items are all donated to the Eddy Shelter and St. Vincent de Paul.
As a FRV institution, Wesleyan is leading the charge for USDA and EPA Food waste reduction goals of 50 percent reduction by 2030. America wastes approximately 40 percent of the food it produces, and much of this waste occurs at the consumer-facing level.
More more information, watch this video on ways Wesleyan is combating food waste, created by Kadets, and read a Food Rescue reflection by Ottaviano.