Community Celebrates Opening of Wesleyan RJ Julia Bookstore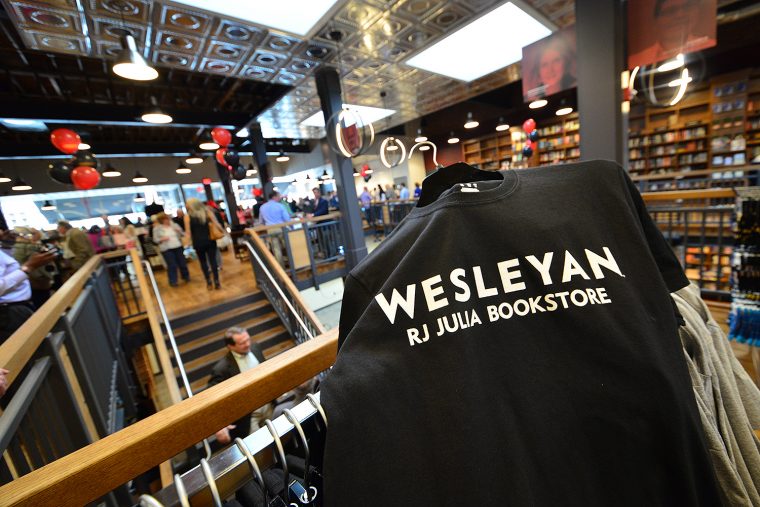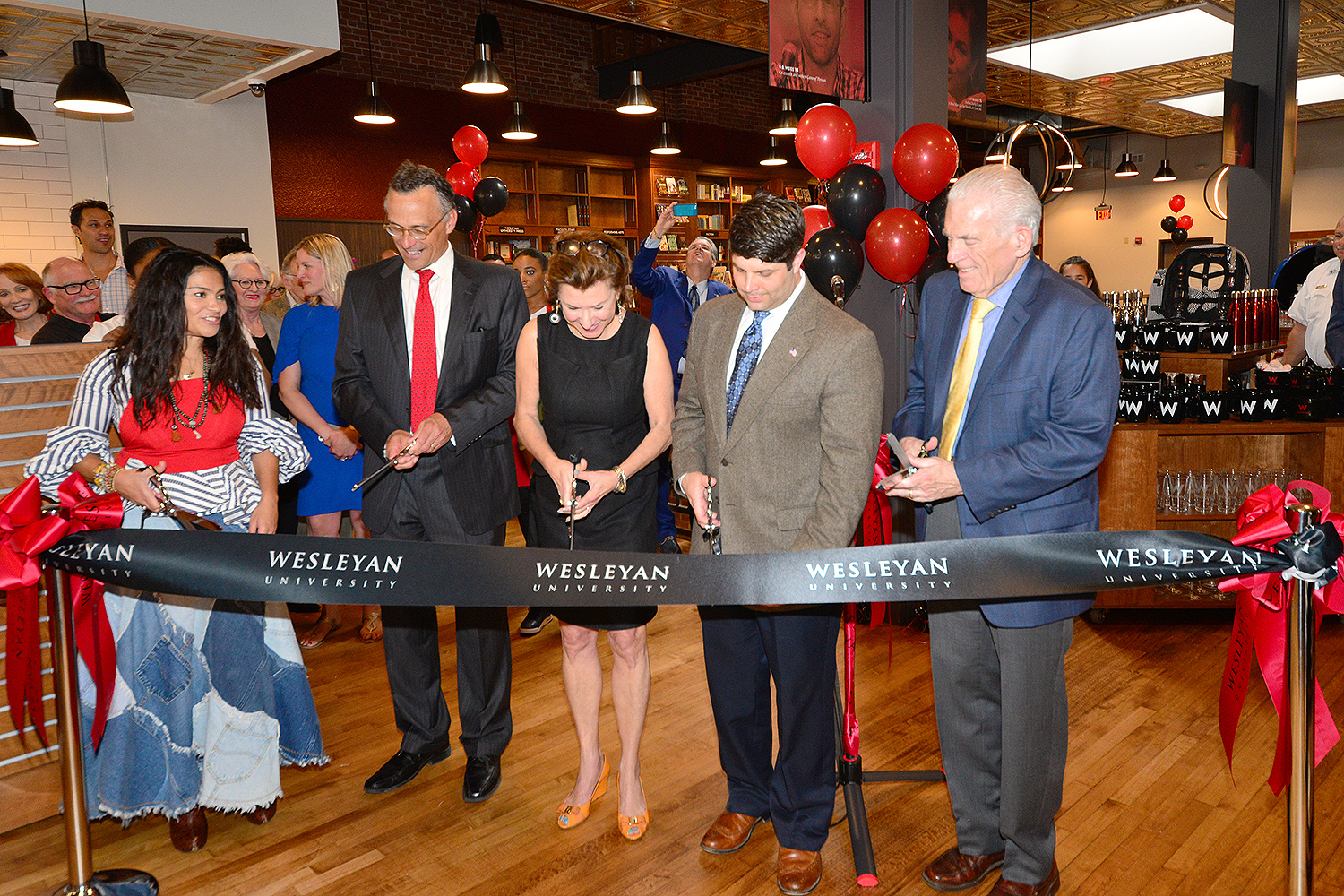 On May 23, Wesleyan celebrated the opening of the new Wesleyan RJ Julia Bookstore with a ribbon-cutting ceremony. The store, located at 413 Main Street in Middletown, was packed with Wesleyan faculty and staff, city and state officials, members of the Middlesex Chamber of Commerce and other community members, and those who worked to transform the 13,000-square-foot space into a gorgeous bookstore and café. Guests milled about and explored the store's offerings while sampling small bites provided by Grown™ café. Brief remarks were delivered by Wesleyan President Michael S. Roth, RJ Julia owner Roxanne Coady, and Grown™ owner Shannon Allen, followed by the cutting of the ribbon. (View the entire photo album in this Wesleyan Flickr album.)
Boasting high ceilings with tin detail, ample natural light, and a two-story open concourse design that provides a spacious, airy environment for reading and shopping, the Wesleyan RJ Julia Bookstore houses approximately 18,000 books, with a special section highlighting authors from the Wesleyan community. In addition to books, the store sells a wide range of both Wesleyan-themed and general apparel and merchandise. The store's quiet lower level evokes a library, with seating areas for exploring new books. This area opens up to seat hundreds of guests for author events, and also houses the store's textbook department.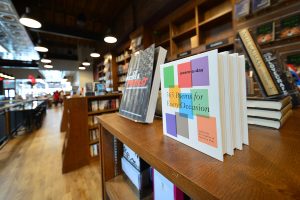 Prior to the cutting of the ribbon, brief remarks were delivered by Wesleyan President Michael S. Roth, RJ Julia owner Roxanne Coady, Grown™ owner Shannon Allen, and Mayor Dan Drew, who called this "a transformational moment for the city of Middletown."
Roth spoke about the years of discussion and planning that led to the opening of the bookstore.
"We dreamt about a place where you could go read a book, find other people browsing in a store who are also looking for things that might interest you. We were imagining a place where Wesleyan students and their families, and other Middletown citizens and their families, could get together around shopping and reading," he said. "We were imagining a place that would be sustainable as a business and would be sustainable as a community organization that serves its city."
Yet, as Coady pointed out, the bookstore came together very quickly: only about four months from demolition to the opening.
"It started with Wesleyan's extraordinary commitment to this community. I couldn't emphasize enough—this development is counter to every trend across the country," she said. "The opportunity that we have is to be a new standard for college bookstores. What we will see happen in this community, with hundreds of events a year, with books that will be responsive to this community, with story time, with activities, with books that will inspire and inform and provoke, that this will change lives. We really have the opportunity to change lives."
Allen, a Middletown native, expressed gratitude for the opportunity to bring Grown™ to her hometown.
"We can together build something that is amazing and sustainable, and it starts with cooperation, it starts with ideas, and it starts with working together," she said. "We are here in a role of support, so that as people are coming in and creating this new community, and discovering new books and their love of learning and reading and shopping and sharing, they also can share a meal. I think, if nothing else, sitting across a table and getting to know someone and remembering why you love them in the first place, this is done over food. Food is the great equalizer. It is the thing that reminds us all that we are human and that we all matter."
The store will host an all-day Community Grand Opening on Saturday, June 3 (9 a.m. to 9 p.m.), featuring face painting, balloons, and giveaways. At 10:30 a.m., the first weekly story time will be held for children of all ages. At 7 p.m., the store will host its first author event, featuring Andrew Blauner (founder of Blauner Books Literary Agency) on his new anthology, In Their Lives: Great Writers on Great Beatles Songs. Blauner will be joined by anthology contributors Amy Bloom (alumna, author and director of the Wesleyan Shapiro Center for Creative Writing), author Nicholas Dawidoff, and author Peter Blauner (brother of Andrew, and Wesleyan Class of 1982).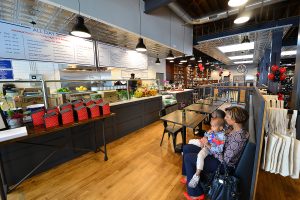 RJ Julia Booksellers first opened in Madison, Conn., in 1989. The independent bookstore has won several major national, statewide, and local awards, including Publishers Weekly's Bookseller of the Year, the Women's National Book Association's Pannell Award for bookselling excellence, Connecticut Magazine's Best Bookstore, the Connecticut Retailers Award for Community Commitment, the New Haven Advocate's Best Bookstore award, and the New Haven Business Small Business Award. The store hosts over 300 events each year at its Madison location, and will host more than 200 events annually (2-3 a week) at the Wesleyan store.
Grown™ is a highly celebrated USDA Organic Certified restaurant created in Miami, Florida. The innovative farm-to-fork concept is owned and operated by husband and wife team Shannon and Ray Allen. Shannon (The PreGame Meal) created the concept in frustration after searching unsuccessfully for an organic nutrient dense meal on-the-go for their five children and especially their son Walker who lives with Type 1 Diabetes. She and husband Ray (retired two-time NBA Champion, 10-time NBA All-Star and Olympic Gold Medalist), are committed to promoting a healthy diet and lifestyle by providing freshly prepared meals inclusive of guests with dietary needs such as gluten sensitivities, food allergies, vegans, vegetarians, pescetarians, and those on the Autoimmune Protocol or paleo diets.
Both bookstore and café will be open 9 a.m.– 9 p.m. Monday–Saturday, 9 a.m.–6 p.m. Sunday.
See media coverage of the ribbon cutting in The Hartford Courant, Fox 61, and The Middletown Press. View photos of the construction in this News @ Wesleyan post.
Additional photos of the ribbon-cutting ceremony and grand opening are below: (Photos by Olivia Drake).