818 Students Welcomed on New Student Arrival Day (with video and photo gallery)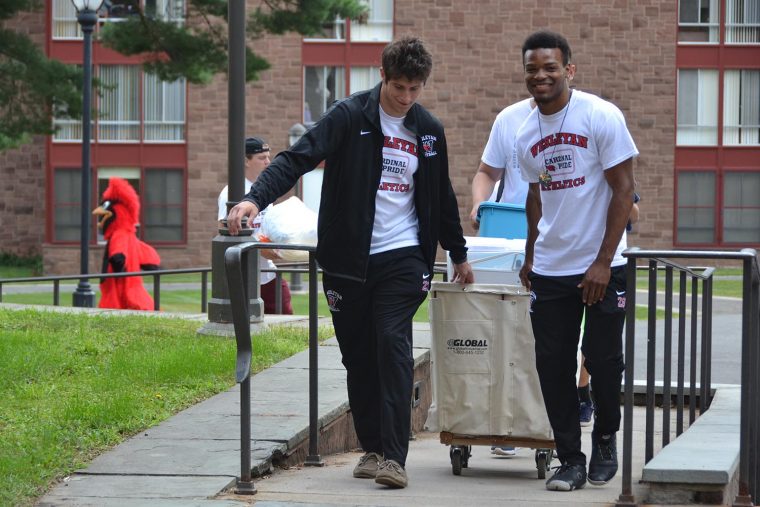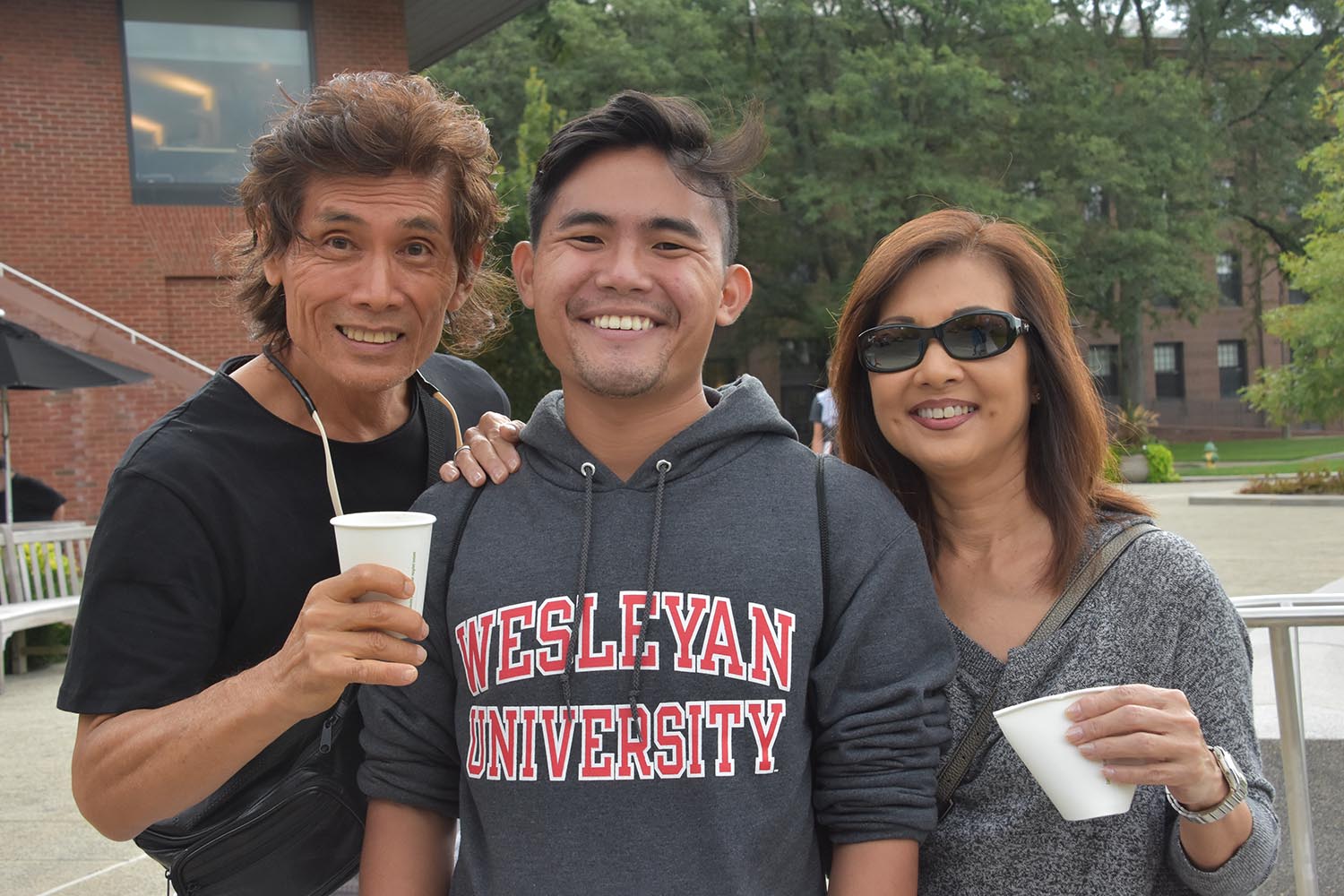 On Aug. 30, Wesleyan welcomed 766 students to the Class of 2021. An additional 52 transfer students also arrived.
Student athletes, Wesleyan staff and faculty — and Wesleyan President Michael Roth — assisted families with unloading vehicles and hauling suitcases, boxes, lamps, microwaves, computers, bed linens, and more to the students' residence halls. The Wesleyan Cardinal made the rounds, even hitching a ride on the golf carts used to help haul carloads of belongings into new dorm rooms.
Watch a video of New Student Arrival Day below:

Making the trek to campus to the sound of favorite tunes—ranging from Bruce Springsteen to Car Seat Headrest, and "everything on my iPhone"—the Class of '21 arrived on campus, cars loaded down with everything needed to turn a dorm room into home, along with family members to help carry the gear, set up equipment, make beds, and hang clothes. "I knew this was the right place for her," noted one father, "but I didn't say a word. Happily, she came to that conclusion, too." Another parent had been surprised: "This was a late-in-the-game choice. He called us from campus last spring and said, 'This is the place!'' Another student confided, "I knew I wanted to go here the moment I stepped on campus." Whichever end of the spectrum, the results were smiles and an eagerness to jump into life at Wesleyan.  (See photos below to meet a few of the newest members of our community.)
The Office of Admission received more than 12,450 applications for the Class of 2021, of which 2,014 students were admitted (16.2 percent). This is the highest number of applicants received in Wesleyan's history.
The Class of 2021 is 46 percent men and 54 percent women.
The students hail from New England (20 percent), Mid-Atlantic (31 percent), Midwest (5 percent), South (8 percent), West (20 percent) and outside the U.S. (16 percent).
15 percent of the class are international students.
Students of color, including international students, make up 44 percent of the Class of 2021. Students identify as Asian/South Asian (23 percent), Black/African American (11 percent), Latino/Hispanic (13 percent) and Native American/Alaskan, Native Hawaiian or Pacific Island (1.5 percent).
14 percent of the students have a Wesleyan relative; 7 percent are children of an alumnus or alumnae.
15 percent of the class are in the first generation of their family to attend a four-year college.
47 percent of the students receive financial aid.
Economics, English, film, psychology and biology are the top projected majors.
Later in the afternoon, President Roth addressed parents and family in Memorial Chapel with his hopes for the newest members of the community. "The responsibility of a liberal education today is to give our students the power it takes to find what it is they love to do, get better at it, and translate what they love into productive work in the world. They learn skills outside of the classroom—in their dorm, on the athletic fields—and those skills complement what they've learned in classes, to make them better citizens, find more meaningful work, and truth be told, make them more fun to be around."
Nancy Hargrave Meislahn, dean of admission and financial aid, also spoke to the group and said, "We've assembled a remarkably engaged and talented group—the next Wesleyan generation, committed to making a difference wherever in the world they are… Here on campus and beyond the university."
"We are most proud of the variety of experiences and perspectives these young men and women bring to Middletown. And know those qualities will inform all that they—and we—do at Wesleyan in the next four years. The range of talents, cultures, and family backgrounds in this group is exceptional, even by Wesleyan's high expectations."
Individuals in the class have been honored as White House Film Festival finalist, a top 40 winner in the Intel competition, a social-political blogger featured in the New York Times, a working actor in an HBO series, a holder of a patent for an electronic violin, and a nationally-ranked debater.
"Students join us from literally all around the world," Meislahn said. "They are citizens of 62 different nations, including such places as Jordan, Kazakhstan, Moldova, Mauritius and Nepal, (that's just the middle of the alphabet!) … 125 students reside outside the U.S. regardless of nationality. This is a truly the most global and cosmopolitan class to enroll at Wesleyan!"
Starting Aug. 31, the new arrivals will participate in the New Student Orientation (NSO) Program — a comprehensive introduction to Wesleyan. The program helps students build a foundation for their academic and co-curricular success. New students, including international, visiting, exchange, and transfer students, are introduced to the rigorous academic experience that awaits them through meetings with their faculty advisor as well as faculty lectures, discussions, and skill-building workshops. Wesleyan's vast array of co-curricular opportunities, resources and services for students will be highlighted. Students build relationships with other students, faculty and administrators and have important discussions about the values, traditions, and community standards of the Wesleyan community.
In conjunction with New Student Orientation, the Office of Student Affairs and Office of Equity and Inclusion hosted "First Things First," a pre-orientation pilot program designed to familiarize first-generation students with the college experience and the Wesleyan community.
Photos of New Student Arrival Day are below. A full set of photos can be viewed on Flickr. (Cynthia Rockwell, Laurie Kenney and Bill Holder contributed to this article. Photos by Cynthia Rockwell and Laurie Kenney)