55 Graduate Students New to Wesleyan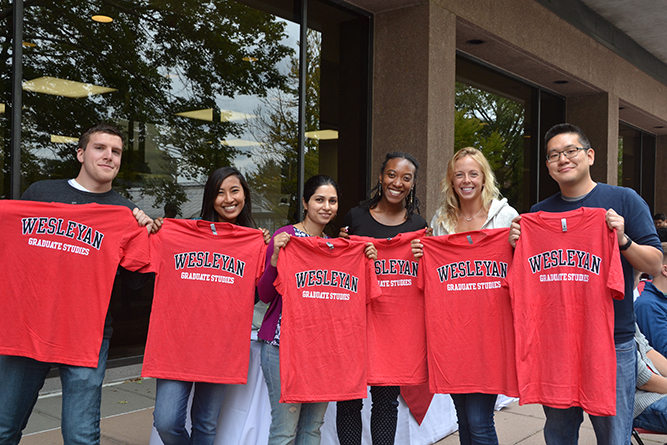 On Aug. 29, the Office of Graduate Student Services hosted a new graduate student orientation and lunch at Exley Science Center. In 2017-18, Wesleyan welcomes 15 new PhDs; 12 MAs; 17 BA/MAs (all received a BA in May 2017); nine foreign language teaching assistants in romance languages, Asian languages and Arabic languages; and two new writing fellows.
During the course of orientation, the new graduate students were introduced to the Graduate Student Association, Wesleyan culture and Wesleyan resources that can support their academic career and life at Wesleyan. Students were introduced to Wesleyan staff representing student accounts, public safety, sustainability initiatives, residential life, counseling and psychological services, athletics, Title IX and more. Librarians provided tours of Olin Library and the Science Library. Faculty and staff from the Center for Global Studies also offered a pedagogy session specifically for the new Foreign Language Teaching Assistants called The American Classroom. New international graduate students were treated to a workshop on cultural adjustment.
Photos of their luncheon are below: (Photos by Cynthia Rockwell)