Wesleyan Welcomes 57 New Faculty in 2017-18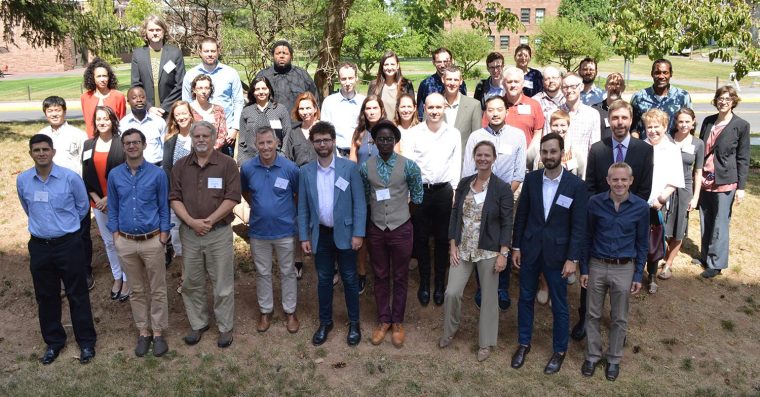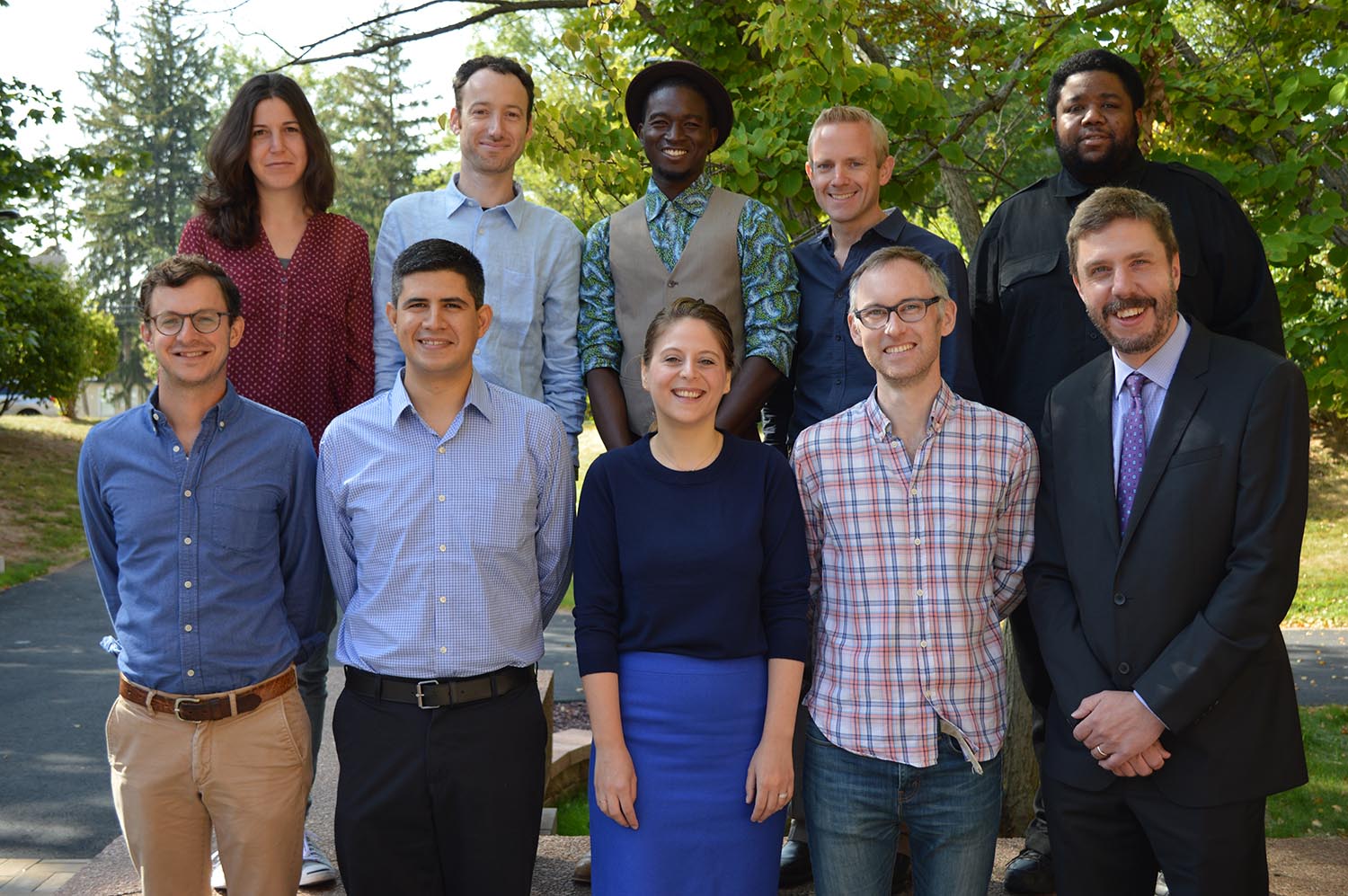 This year, Wesleyan welcomes 11 new tenure-track faculty, one professor of the practice, and 45 visiting faculty and fellows.
The new junior faculty who start this year include:
Scott W. Aalgaard, assistant professor of East Asian studies
Aalgaard holds BA and MA degrees from the University of Victoria, and MA and PhD degrees from the University of Chicago. His dissertation, titled "'Homesick Blues': Crisis, Critique, and Collectivity in Modern Japanese Cultural Production," traces critical voices in literature, music, and everyday life in modern and contemporary Japan. His areas of research include critical practice in Japan, contemporary Japanese culture, modern and contemporary Japanese literature and popular music, and theories and histories of fascism.
Samir Bandaogo, assistant professor of economics
Bandaogo holds a BS from the University of Oregon and an MA and PhD from the University of Washington. His dissertation was titled "Essays on Fiscal Policy, Monetary Policy and Currency Unions: Exploring the Role of Informality and Labor Mobility," and his areas of research include economic growth and exchange rate, sudden stops, currency unions, and quality data on the African economies.
Yaniv Feller, assistant professor of religion
Feller has a BA and MA from Hebrew University of Jerusalem and a PhD from the University of Toronto, where he completed his dissertation on "Dialogical Apologetics: Leo Baeck and the Task of Jewish Philosophy." He previously worked as exhibition curator for the upcoming permanent exhibition of the Jewish Museum Berlin.
Yu-ting Huang, assistant professor of East Asian studies
Huang earned her BA and MA at National Taiwan University and her PhD at the University of California, Los Angeles. She is currently working on a book project based on her dissertation, tentatively titled The Other Settler: Sovereign and Belonging in Transpacific Chinese Literature. Her areas of scholarship include Chinese and Sinophone literature, Asian American and Asian diasporic literature, indigenous literature from Asia and the Pacific, and comparative settler colonial studies.
Carlos Jiménez-Hoyos, assistant professor of chemistry
Jiménez-Hoyos completed his MA at Tecnológico de Monterrey, and his MA and PhD at Rice University. His dissertation was titled "Variational Approaches to the Molecular Electronic Structure Problem Based on Symmetry-Projected Hatree-Fock Configurations," and his areas of research include theoretical description of strongly-correlated systems, mechanistic insights into surface reactions, and development and implementation of novel wave-function methods.
Valeria López Fadul, assistant professor of history
López Fadul, who holds a BA from Yale College and an MA and PhD from Princeton University, has been a Provost's Postdoctoral Scholar at the University of Chicago and a Scholar in Residence at the Newberry Library. She is currently working on revising her dissertation, "Languages, Knowledge, and Empire in the Early Modern Iberian World (1492-1650)," for publication. She specializes in the intellectual and cultural history of colonial Latin America with an emphasis on the philosophy of language and history of science.
Daniel Moller, assistant professor of the practice, College of Integrative Sciences
Moller received his BS from Tulane University and his MS and PhD in biomedical engineering from Louisiana Tech University. His areas of focus include biomedical and mechanical engineering, project-driven engineering education, design, prototyping and fabrication, and MATLAB programming.
Justin Peck, assistant professor of government
Peck, who returns to Wesleyan after having served as a visiting assistant professor in the Government Department in 2014-2015, has a BA from Brandeis University and a PhD from the University of Virginia, where he was a National Fellow at the Miller Center of Public Affairs. His research on American political institutions and political development focuses on civil rights initiatives in Congress and the expanding power of the presidency.
Saray Shai, assistant professor of computer science
Shai holds dual BS degrees from Israel Institute of Technology (Technion) and a PhD from University of St. Andrews. She was previously a postdoctoral research associate at University of North Carolina, Chapel Hill, where in 2016 she received the UNC Postdoctoral Award for Research Excellence. Her area of research is the study of networks of interconnected components, such as human cells in the body and individuals in our society.
Colin Smith, assistant professor of chemistry
Smith earned his BA from New York University and PhD from the University of California San Francisco, where his research focused on protein design and developing new methods for computationally modeling protein flexibility. He was a postdoctoral scholar at the Max Plank Institute for Biophysical Chemistry. There he studied how proteins move at the atomic level and use that to regulate their activity.
Daniel Smyth, assistant professor of letters
Smyth earned his BA, MA, and PhD from the University of Chicago, and is currently a Mellon Postdoctoral Fellow in Modern Philosophy at Cornell University. His dissertation was titled "Infinity and Givenness: Kant's Critical Theory of Sensibility," and his areas of scholarship include Kant and early modern philosophy.
Tyshawn Sorey, assistant professor of music
Sorey is a Wesleyan MA alumnus, and holds a BMus from William Paterson University, and a DMA from Columbia University. He is a composer and musician who performs percussion, trombone, and piano internationally. He has been nominated for the Herb Alpert Award in the Arts and has received the Doris Duke Charitable Foundation Impact Award.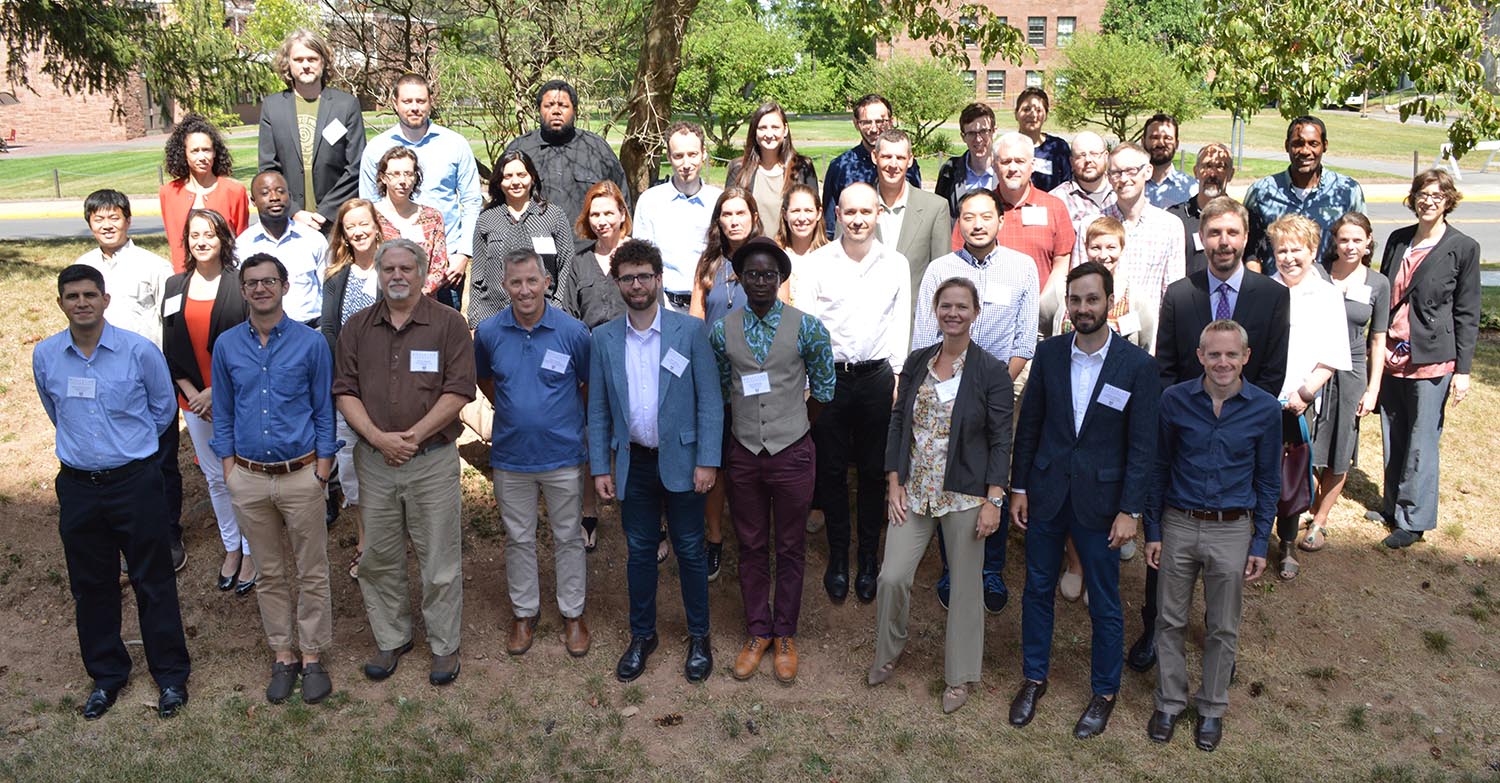 Wesleyan's 45 visiting faculty and fellows include:
Barbara Adams, Andrew W. Mellon Postdoctoral Fellow in Design
Calvin Anderson, visiting assistant professor of theater
Ernest Felton Baker, visiting assistant professor of dance
Deanna Barenboim, Andrew W. Mellon Postdoctoral Fellow in Native American Studies
Stacey Bobbitt, visiting instructor in dance
Joe Cacaci, visiting associate professor of film studies
Abigail Carter, visiting instructor in art
Robert Cassidy, retired officer teaching fellow in the Center for the Study of Public Life
Julio Checa, visiting professor of Spanish
Kathleen Conlin, Frank B. Weeks Visiting Professor of Theater, chair of the Theater Department
Jonathan Corcoran, visiting assistant professor of creative writing in English
John Dankwa, visiting artist-in-residence in music
Anthony Davis, visiting associate professor of chemistry
Morgan Day Frank, visiting assistant professor of English
Samuel Fallon, visiting assistant professor of English
Alex Feldman, visiting assistant professor of philosophy
Julie Fry, visiting assistant professor of art and art history
Amity Gaige, visiting writer in the Shapiro Writing Center
Charles Halvorson, visiting assistant professor of history
Casey Hayman, visiting assistant professor of African American studies
Anthony Hernandez, visiting instructor in theater and assistant technical director of theater
Jonathan Huang, visiting assistant professor of mathematics
Sarah Kamens, postdoctoral fellow in psychology
Jake Kara, visiting instructor in quantitative analysis
Jessica Karanian, visiting assistant professor of psychology
Kathleen Klaus, visiting assistant professor of government
Sarah Kopac, visiting assistant professor of molecular biology and biochemistry
Greg Kotis, visiting artist-in-residence in theater
Kellie Lynch, visiting assistant professor of dance
Bronwen MacArthur, visiting assistant professor of dance
Donnie Mather, visiting assistant professor of theater
Jesse Nasta, visiting assistant professor of African American studies
Andrew Olendzki, visiting assistant professor of religion
Eiko Otake, Menakka and Essel Bailey '66 Distinguished Visiting Scholar in the College of the Environment
Tira Palmquist, visiting artist-in-residence in theater
Michael Pope, visiting filmmaker
Paul Pryce, visiting assistant professor of theater
Swapnil Rai, visiting assistant professor of film studies
Hilary Robinson, visiting assistant professor of science in society
Juan Pablo Rodriguez Argente del Castillo, visiting instructor in Spanish
Mirko Rucnov, visiting assistant professor of film studies
Emily Sigalow, visiting assistant professor of religion
Peter Wang, visiting assistant professor of economics
Alex Waterman, visiting assistant professor of music
Serena Witzke, visiting assistant professor of classical studies