Shasha Seminar 2017 Convenes Experts on Gun Legislation Debate, Paths Forward, Oct. 27-28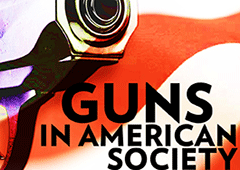 Guns in American Society, this year's Shasha Seminar for Human Concerns, will be held on campus on Friday and Saturday, Oct. 27-28. Made possible by a generous grant from the Shasha family, the 16th annual event will convene experts, including Wesleyan faculty and administrators, as well as alumni from across the country, to examine current debates about the role of guns in American society and discuss ways of reducing the national incidence of gun violence.
According to seminar organizer Jennifer Tucker, associate professor of history and science in society and researcher in the history of technology, law and culture, guns are a topic of concern not just for those advocating for gun control but also for gun rights advocates, who see the issue as a question of personal liberty. The debate, she notes, is now moving onto college campuses, with the recent passage of legislation allowing guns on campus in 10 states. Additionally, 16 more states are considering such legislation.
"Firearms possession is possibly one of the most divisive topics in the country. This year's Shasha event will create a forum for conversations about current gun ownership and laws with room for a variety of perspectives on this topic. We want for this university seminar to be a forum for discussions and a meeting point for current research about firearms possession and use from a number of different fields," says Tucker. The seminar will feature research presentations by some of the country's leading specialists in the study of firearms, across a range of disciplines including medicine and epidemiology, history, law, public policy, gender studies, campus security, art history, religion and politics. Of the 21 scheduled speakers and panelists, 11 are Wesleyan alumni, faculty or administrators.
The seminar begins Friday, Oct. 27, with a keynote by Richard Slotkin, Olin Professor of English and American Studies, Emeritus, at Wesleyan, where he taught from 1966 to 2008. Slotkin is the author of an award-winning trilogy of scholarly books, Regeneration Through Violence: The Mythology of the American Frontier, 1600-1860 (1973), on the myth of the frontier in American cultural history. Following the lecture (which is free and open to the public) there will be a public reception for the opening of a new exhibition, Up in Arms, at the Ezra and Cecile Zilkha Gallery, curated by Professor of Art Susanne Slavick from Carnegie Mellon University, as well as dinner with remarks by Wesleyan President Michael Roth '78 and a talk by John Feinblatt '73, president of Everytown for Gun Safety and senior advisor to former mayor of New York City, Michael R. Bloomberg.
Tucker is pleased with the interdisciplinary element that the art exhibit brings to the seminar. Noting that gun legislation primarily has been a topic explored by legal scholars and social scientists, "the Shasha Seminar reflects the fact that now artists, curators and others are also joining the debate in creative ways."
On Saturday, panels for registered participants will explore topics ranging from data on gun violence to recent Supreme Court decisions to Connecticut gun manufacturing history. "The Connecticut River Valley was an early incubator for the nation's gun industry—where gun companies like Colt, Smith and Wesson, and Winchester made their start," notes Tucker. "These gun companies are part of the history of industrialization in Connecticut." In fact, the nation's first official pistol maker, Simeon North, who supplied the U.S. Armed Forces with tens of thousands of handguns and rifles for more than 50 years during the early 19th century, had his factory in Middletown.
Connecticut also has witnessed the effects of gun violence, after an elementary school shooting in Newtown in 2012 became the deadliest mass shooting at either a high school or elementary school, and the third-deadliest mass shooting by a single person, in U.S. history.
"The lineup of speakers on Saturday includes a mix of Wesleyan affiliated and non-Wesleyan speakers," says Tucker, adding that an alumni roundtable discussion at the close of the event will provide a venue for all attending Wesleyan graduates to share their voice on the weekend's topic. Donald Zilkha '73, the former chairman of Colt, will offer his research and insight about Colt's role in the history of American advertising. Mary Stange, a specialist on the topic of women and hunting, will argue for gun rights from a feminist and queer studies perspective. Historians speaking at the event will include Prof. Kevin Sweeney (Amherst College) on New England colonial militias, Pamela Haag (independent scholar) on the building of Winchester Repeating Arms, and Prof. Randolph Roth (Ohio State University) on trends involving guns in the history of American homicide.
A morning panel on Gun Laws and Policies since D.C. v. Heller (2008) will feature Greg Dubinsky '11, Patrick Charles (historian for U.S. Special Forces), and Prof. Carolyn Light (Harvard), author of a forthcoming book about the effects of Stand Your Ground Laws on women and minorities. Afternoon presenters will share the latest statistical research about the links between household firearm ownership and increased risk of homicide, suicide and unintentional accidents, in addition to findings about activism and advocacy around guns across the political spectrum. Speakers for the afternoon session will include, among others, Dr. Matthew Miller (Northeastern), founder of the Harvard Injury Control Research Center at the School of Public Health; Robert Wilcox '01, who specializes in college campus carry laws; and Prof. Kristin Ann Goss (Duke), who studies social movements around guns.
Additionally, undergraduates will be both attendees and contributors. Students from Associate Professor of American Studies Indira Karamcheti's class will be participating. Her course, American Studies 206, a seminar titled New England and Empire, includes a unit of the role of Samuel Colt's technological innovations with the gun called both "the peacemaker" and "the gun that won the West." Manolis Kaparakis, director of the Centers for Advanced Computing and visiting assistant professor of quantitative analysis, notes that students, alumni and data scientists will be involved in a "data dive"—a 48-hour, round-the-clock event in the QAC, in association with the event and led by Assistant Professor of the Practice in Quantitative Analysis Valerie Nazzaro.
"In a data dive, our community partner—in this case, Everytown—provides the data and the questions they would like us to explore," explains Kaparakis. "We're organizing different teams of students to explore these questions and prepare data visualizations. They will be presenting preliminary findings to the Shasha Seminar participants on Saturday."
Tucker invites all interested members of the community to register for the weekend event.
"I'm sure we'll have robust discussions," she says. "Hopefully, we will be able to find common ground on this challenging issue."