Class of '89 Alumni Credit Wes Football for Friendships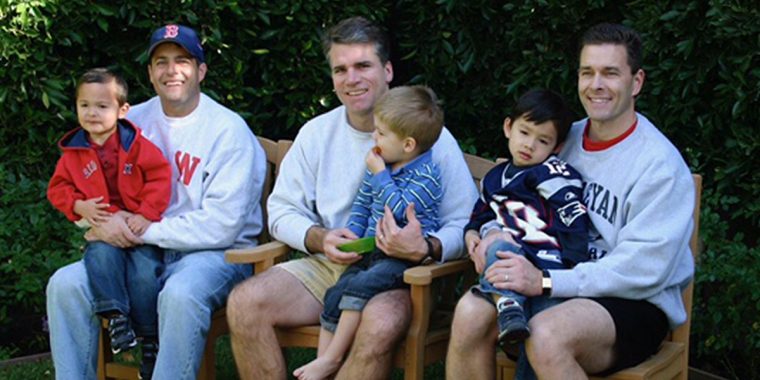 The gridiron is the foundation where lifelong friendships are built. At Wesleyan, this bond between teammates started way back in 1881 and has only flourished since then.
It would be difficult to find a better example of the friendships Wesleyan Football produces than in the three captains from the 1988 team: Mike Charlton '89, Matt Coan '89 and Jim Lukowski '89.
Charlton, a Connecticut native who grew up in Detroit, played four years on the defensive line as a nose guard. As if football and academics weren't enough, he also competed on the wrestling team throughout his college tenure.
"You miss football a lot when the playing days are over because it's not only a very fun sport to play, but it's very much a team sport and a team sport leads to friendships that—in my case with Matty and Jimmy as good examples—last a lifetime," Charlton said. "Those bonds are things that are created on and off the playing field."
Coan spent his childhood and teenage years in Beverly, Mass. The second youngest of eight siblings, he was familiar with the NESCAC growing up, having brothers that were athletes at Bowdoin and Colby. However, it was another Wesleyan football alum and high school teammate that helped him make his decision to enroll and become a Cardinal— Dave Glatz '87.
Coan, an outside linebacker and defensive end in college, also played a year of ice hockey and one year of men's lacrosse. He remembers vividly coming to Middletown as a wide-eyed freshman with doubts about how he'd fit in. Admiring the upperclassmen and the leadership they provided, his first few years flew by as he quickly became one of those leaders. It was an incredible journey that he still treasures to this day.
"To stay in touch with those guys (Charlton and Lukowski), and other guys who were a part of that four-year experience, I wouldn't trade anything for it," he said. "It's been amazing."
Lukowski grew up eight miles from Coan in Topsfield, Mass. He played quarterback for the Cardinals and was a two-sport athlete, also competing for the baseball team in the spring as a pitcher and third baseman. His name is still etched in the Wesleyan Football record books to this day; rushing attempts in a career (515), total offense yardage in a single game (430), and longest pass from scrimmage (90 yards).
"Football was the initial reason how and why we all got together," Lukowski said. "The thing about the friendships that we developed at Wesleyan—not just at school and on the field, but also in the summer times and during school breaks, everybody just wanted to get together."
Some of their great memories from freshman year include the 'Chucko Christmas Classic'—a Christmas party held at Charlton's parent's house in Wayland, Mass. during winter break, named after Mike's college nickname—which in turn became an annual event for the next 10 to 12 years.
One memory that stands out above all others, however, is the team's shutout win over Little Three rival Amherst College on Homecoming Weekend in 1988. It was their senior year, and the tri-captains refused to end their careers without a win over their archrivals. After seven consecutive losses to Amherst, the Cardinals walked away victorious that day with a 27-0 victory.
Not only was it a big moment for the football program—in which the team sang the Fight Song on the field following the conclusion of the game—but men's soccer also defeated Amherst that day, 3-1; the women's team shut out the then-Lord Jeffs, 1-0; field hockey won in overtime, 2-1; and volleyball claimed a 2-0 win earlier in the week to complete the sweep.
"It was phenomenal," Lukowski said. "I think for all of us seniors, it was icing on the cake for a great four years at Wesleyan." Coan echoed those statements, adding, "It was an amazing feeling. To beat those guys, at home that day, it was just incredible." Charlton's memory of that day is vivid as well. He recalls how he and his roommates painted the walls of their house with the statement, 'Defense Wins,' due to Wesleyan outscoring Amherst in all four sports that day, 33-2.
The house at 22 Knowles Avenue was the epicenter of a lot of activity their senior year. It featured two football captains (Charlton and Coan), two men's soccer captains (Adam Rohdie '89 and Andy Lacey '89) and two other male athletes. The camaraderie from both the football field and 22 Knowles is still present to this day. This past summer, eight Wesleyan friends and former athletes embarked on a trip to Ireland.
The Wesleyan experience is one that Coan, Charlton and Lukowski will always cherish.
"I think that the journey for me was the most memorable," Coan said. "There was a lot of characters—coaches included—and a lot of healthy personalities on every team we were on. To have all those personalities come together and be on that journey together, and have some success and some things not go over so well, it was just a great learning experience. I loved it, and I love staying connected to it now. Having Mike Whalen return to Wesleyan galvanized the athletic program and the alumni base, and to feel like you're part of that community is very special."
Charlton added, "I have such fond memories of my experience at Wesleyan, and what the University represents today in this political climate, it's a really fascinating time in all of our lives and I think Wesleyan represents what we need more of in this environment versus what we are getting force fed from the media. It's just a great place. I love the leadership that (Michael) Roth is providing and I love the leadership that (Mike) Whalen is providing."
Additionally, the alumni connection off the field has played a valuable role in the Wesleyan experience for all three former athletes.
"People go out of their way to help out alums—whether in the athletic community or not—it's a very tight-knit community," Lukowski said. "I think Mike Whalen and Danny (Dan DiCenzo) have done a tremendous job to continue to cultivate the alumni network and make us feel—even though some of us have been gone for a long time (he laughs)—like you're smack dab right in the middle of what's going on. Periodic phone calls—"Can you talk to a senior or junior? What do you have for jobs?"—I took advantage of that and was fortunate enough to have a lot of people look out for me. Where I am in my career, Wesleyan is extremely integrated in how I got here. That's why a lot of us are always willing to help out others."
The last time Lukowski, Coan and Charlton stepped foot on Andrus Field together was Nov. 2, 2013. With their fathers by their sides, they watched Wesleyan make history as the Cardinals defeated Williams, 16-14, to win the Little Three title outright for the first time in 43 years.
The three former captains will be reunited once again on Sept. 23 as honorary captains in the game against Tufts.