Garcia '88 Joins NPR with Weekly Podcast: What's Good with Stretch and Bobbito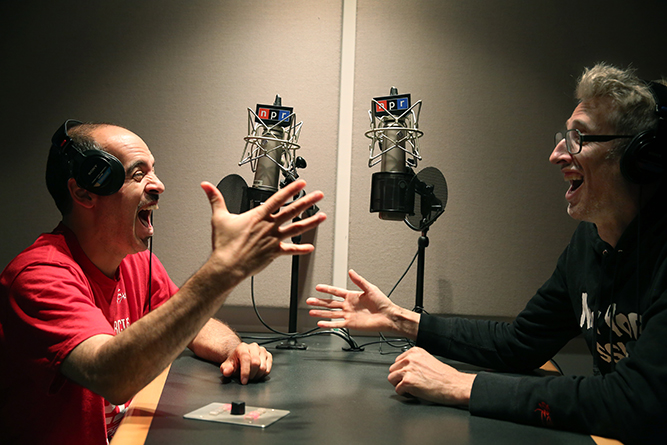 Bobbito Garcia '88 and DJ Stretch Armstrong are back broadcasting—just like they were in the '90s. Except:
It's not student radio WKCR at Columbia University; it's National Public Radio.
It's not in the 1 until 5 a.m. timeslot; it's an audio-on-demand podcast.
And the guests are not the as-yet-undiscovered hip-hop artists.
In What's Good with Stretch and Bobbito, the listener will find Garcia and Armstrong offering smart, lively conversation with trendsetters and cultural icons ranging from Chance The Rapper, to activists Linda Sarsour, to Stevie Wonder. ("The standout interview of my career," says Garcia, "with the legend of legends.")
What has remained the same, though—since those days when an as-yet-unknown rapper named Jay-Z was willing to sit outside the studio cooling his heels for half hour until the hosts were ready for him to join them on-air—is the magic between the duo that manifests as what NPR calls "warmth, humor and a fresh perspective."
Or as Garcia explains, "We retain our identities from the '90s as a sort of goofball edgy pair, but we're also journalists, now. We talk to our guests and pull stories out of them that they may not be asked in other news or event-based interviews. We really try to just have fun with our guests; we're very happy to be a part of NPR."
If you're wondering how the transition occurred, Garcia explains that his documentary was the intermediary. A sociology major at Wesleyan, Garcia is also a documentary filmmaker, with credits that include Doin' it in the Park: Pick Up Basketball NYC, which he screened at Wesleyan in 2014 for the 22nd Dwight L. Greene Symposium.
He and Armstrong decided to co-produce a documentary on their WKCR radio show, calling it Stretch and Bobbito: Radio That Changed Lives. While the film told their story, it also offered a further perspective: "It was the narrative of the artists who came to our show unsigned and who 25 years later have collectively sold in excess of 300 million records and counting," says Garcia. "And we also told the narratives of our listenership, those who had a culture of taping and recording and staying up late and sharing, pre-Internet days."
Screened at NPR headquarters in Washington D.C. to a standing-room-only crowd, the film was a hit with the audience. Garcia and Armstrong followed with a Q&A. "We had the whole crowd laughing. It was clear that in that moment we had a window of opportunity to return to the airwaves in a new format," Garcia said.
"We've crafted something new, something that is challenging to who we are now, at age 47 and 50," he added. "It's interview-based; we want to find the narratives that our audience will appreciate, narratives to uplift, move, and challenge our audience."
(Connect with Stretch and Bobbito on Facebook and Twitter.)
NOTE: John E. Andrus Professor of Sociology Rob Rosenthal notes that Bobbito Garcia '88 will be on campus Nov. 1, to speak in his Sociology of Music in Social Movements class, which meets at 1:20 p.m. In PAC 002.  Garcia will be speaking on the role of the music industry in presenting artists whose work has an underlying political theme—and Rosenthal invites interested members of the Wesleyan community to visit his class that day.