Abel '98 Builds Skate Parks, Community in the West Bank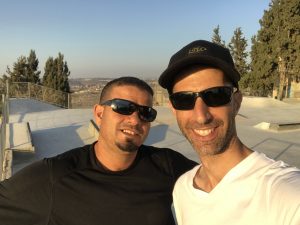 Adam Abel '98 has been a frequent traveler from New York City to Qalquilya, Palestine, in the past six years to join his colleague and friend, Mohammed Othman, in reimagining what "normal" might mean in Palestine. Their vision involves helmets, skateboards and a whole lot of concrete.
They call it SkateQilya, as a reference to the city in which their program began. And as its name might suggest, it's an organization that offers skateboarding instruction. But Abel and Othman see skateboarding as much more than a recreational activity. SkateQilya teaches community building and art: it's a way to transform perspectives, galvanize communities and teach children to express themselves.
To run these various aspects of the organization, Abel has leveraged his own individual skills and those of others. An installation artist and filmmaker, Abel teaches photography and video and serves as the program's development director. Othman is the executive director and uses his talents to offer lessons in building community trust. To teach skateboarding they recruited Kenny Reed, a former professional skater, who has taught his skills worldwide.
Their curriculum is also coeducational, which is unusual in Palestine today. In fact, parents don't hesitate to enroll their kids, especially their daughters. This is because SkateQilya provides a much-needed service in Qalqilya—structured and productive activity for youth.
Though now a nonprofit, the Skateqilya initiative actually began as something entirely different—an art installation. Back in 2011, Abel traveled to Palestine to research his project, Terra Infirma, which employed images from Google Earth to explore geographical, social and political divisions. Qalqilya, which the Israeli West Bank Barrier nearly encloses, became a subject of his project; from above it looks like a peninsula of dense concrete amidst a sea of Israeli farmland.
While visiting Qalqilya for his project, Abel learned that there was a skater there. This piqued his interest and he sought the help of a local guide. That guide was Othman. They traveled together to meet the skater and were stunned when the athlete showed them videos of himself and his fellow skateboarders "flying, [performing] hip-hop and beatboxing." It was a unifying moment for Abel and Othman.
As an artist, Abel immediately felt the urge to document this unique collective of skaters. He posed the idea to Othman, but Othman felt hesitant at first. "[I was] an activist, not a filmmaker," he remembers thinking. But Othman also was looking for a change of pace. Collaborating on the documentary project allowed him to improve his community while offering some relief from the tense politics.
However, as the two embarked on their documentary project, they became rapidly immersed in the lives of their subjects. They got to know the children and their families and it wasn't long before they were constructing skate ramps out of plywood for the locals to use. Their documentary had begun to take a back seat to their community involvement and they quickly realized that building a skate park was not enough.
"If you just open up a skate park and leave it, how are kids going to get boards, how are they going to pay for boards?" asks Abel. "You can't just build a facility; you have to do something more."
From this vital question, SkateQilya was born.
Currently, with the help of their partners at Playgrounds for Palestine, an organization that has built playgrounds in Gaza and the West Bank for over 17 years, Abel and Othman are working on expanding their organization. They have just opened a second skate facility, in the village of Jayyous–just a few miles outside Qalqilya. This new skate park was built with the help of SkatePal, another organization that promotes skating in Palestine. Here, Othman and Abel plan to open a small computer center and expand their arts and community-building programs.
While Abel's work has helped to strengthen the community of Qalqilya, it has also given him something in return—a close collaborator and a lifelong friend. "Mohammed and I have a very special relationship," he remarks, "He is a son in my family and I am another son in his."
[vimeo]https://vimeo.com/221264176[/vimeo]